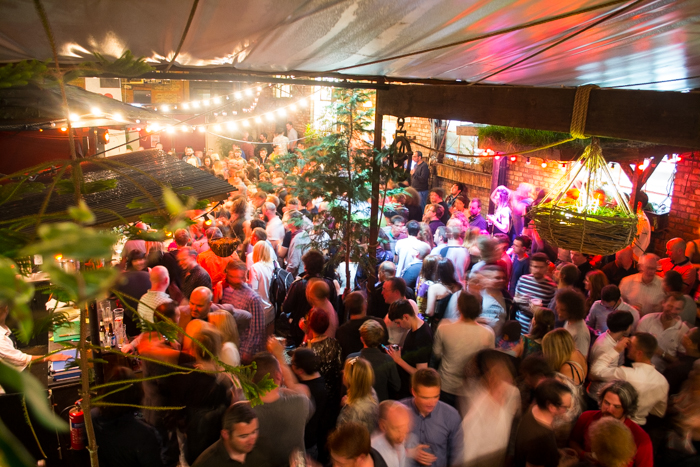 FestEVOL 2014 returns to the Kazimier promising Liverpool's finest artists and a glut of emerging new talent, Getintothis' Peter Guy, Adam Lowerson and Emma Walsh deliver their verdict on the musical summer slam.

In the build up to this year's FestEVOL at the Kazimier it's fair to say there were some mild murmurings of discontent. The line up lacked variety. There were too many familiar names. Liverpool music is eating itself up. Not only that, but Merseyside's music scene, for the first time in years, was suffering from a slump in form.
And on the face of it, there could be an element of truth to these concerns.
Two of this year's headliners were top of last year's bill while almost half played the same event in 2013
. Where are the next wave of artists ready to emulate the crop of 2008-2013? Similarly, on paper, the line up appeared heavily weighted towards the guitar-rich end of the musical spectrum. And where were the cameos from outside the region?
Young Fathers
brought fresh hip hop ferocity,
Dark Horses
kraut-infused narco-pop and
Wet Nuns
brash dumb thunder. A cursory glance at this year's bill, and you could be forgiven for thinking, is this it?
Well, waking from a stupor on Sunday afternoon, we're left thinking, if this is it, we're more than content with our embarrassment of riches – for FestEVOL once again proved, we don't know how lucky we are. Perhaps assembled quicker than in previous years, EVOL lieutenant, Steve 'Revo' Miller, must be saluted for once again laying on a 14-hour sonic marathon which (for a measly £12) not only provided numerous new surprises but contained a raft of artists which other UK cities would slather over, such is their respect among their peers.
One such band, are
Stealing Sheep
.
Rebecca Hawley
,
Emily Lansley
and
Lucy Mercer 
have been working relentlessly behind the scenes on the follow up to their critically-acclaimed debut
Into The Diamond Sun –
and on tonight's evidence the hard graft is paying off handsomely. Such is the belief and expectation on the trio,
Heavenly Records
' boss
Jeff Barrett
had made the trip to check in on one of the city's brightest group's in action. And what a performance.
A set which leans heavily on new material finds the band clearly revelling in their forthcoming songbook. One track, Too Real, is simply magical – utilising the groups characteristic tribal rhythms they marry what sounds like steel drums to an infectious melody which grips you tight from the off. Elsewhere Emily takes to the keys, perhaps more than her trademark guitar finger-picking motifs while Lucy regularly leads the vocal lines as Rebecca juggles a stack of synths while sashaying and beaming throughout. Of their earlier material, Gold, proves a real winner with it's exotic Eastern vibes permeating through the plumes of smoke which run thick inside the Kazimier club. It's a set which delights at every turn, and makes you realise how much depth there is to their armoury and how much we've missed them – that new album can't come soon enough.
The same can said for
VEYU
. Discovered on these pages in June 2013,
the band are taking their time before releasing the follow up to debut single Running
 but there's no doubt something special lies ahead. Tonight, they reaffirm our belief they could release a four track EP which would be an instant classic. 
Everytime
kicks things off as the lights go down complete with it's mellifluous duel guitar lines and almost jazz-rock time signatures before
Running
's instantly-recognisable killer hook sends shivers down the spine. Better still are
Battle Cry
's bombastic riffs and closer
Blue Voices
which is the sound of
The Verve
covering
Talk Talk
– all tumbling rhythms, cavernous noise and ridiculous bass thwacks courtesy of
Ash Hopkins
.
But it's not just the more familiar artists making a name for themselves. Two acts making a considerable dent on the days proceedings are
LIVES
and
Cavalry
. The former are de rigueur guitar-pop, all chiming clean edges with
Jonny Alderton
's clattering percussion seemingly powering their walking amphetamine frontman. Their sheer energy and crackling pop fire-power is one of the day's true highlights and their nous with a melody will make them an instant hit with fans of
The 1975
and their ilk. If there's one moan, it's the repetitive falsetto howls which permeate almost every track. However, such is their infancy and mountain of potential, this lot are certainly one to keep a trained eye on.
The same can be said for Cavalry. A band who've been on our radar for sometime – and if we're honest, we've underestimated. The two tracks they unveiled online earlier this year Leaves and Lament merely offer a glint at what's on offer. Delicate harmonies, brushed layers and catchy Americana is a path well and truly trodden and initial impressions left us non-plussed on Cavalry's chances on standing out from a well populated pile. At FestEVOL, all that changed. At 5pm, a growing throng of people, mostly sat on the steps of the Kazimier club, were fully aware they were watching a new band with considerable promise, almost blossoming before their eyes. Rivers of hushed Autumnal textures built and swelled into ecstatic song-prayer. The four voices filled the entire room, bringing many to their feet as Alan Croft's lead vocal pinged off the walls working in tandem with some magical musicianship; they were tight, steely and even a good watch – let alone listen. They support Stephen Malkmus and the Jicks later this month – we'd recommend you attend.
Our third big discovery of the day came in the shape of Chester's The Chemistry Lane. All tightly woven grooves, sinister death disco synths and in frontman, Simon Jones, a captivating yet refreshingly minimal performer. Like their sound, Jones' underlying menace adds gravity to a band whose music slowly evolves from electronic pop into something mechanical and impressive in scale recalling the likes of Oceansize (minus the metallic noise) with taut, incessant percussion married to dense guitars and cyclical rhythmic slabs. Apex Of The Circle is our pick of the bunch in a set which was beguilingly compulsive.
Earlier, the 
Kazimier Garden
, bathed in sunshine for the majority of the day, served up spectacular beef brisket sandwiches for a crowd packed from wall to wall. Seventeen-year old soul-hop, singer-songwriter and multi-instrumentalist
Tyler Mensah
, aka 
Sub Blue
oozed confidence for the day's opening set. Dressed all in immaculate white save for neon blue Reebock Classics, his use of loop pedals, guitar and keys, along with his soulful vocals really showed his talent. Among a set of
Drake
and
Kendrick Lemar
covers,
was debut single Your Call
, highlighting
Sub Blue
's potential as a songwriter.
His makeover from People's Choice winner at the GIT Award 2012
, is still very much a work in progress but such is his belief, charisma and determination, there's a reason this guy stood out from several of his peers early on in proceedings.
Thrash-dance duo Killaflaw provided something different, with a bizarre contrast between drum and bass synths and raw soaring metal vocals sounding like the result of the Prodigy remixing Megadeth. It sounds like it shouldn't work, but does and felt as if it would have been suited better later on in the evening than the 4.30pm slot. Kids On Bridges' combination of 80s electro-pop, vocoder vocals and horrendously embarrassing dancing felt like the ultimate guilty pleasure. Walls began with a killer riff reminiscent of Depeche Mode's Personal Jesus, before the remainder of the set evolved into something more cheesier than a Dairylea factory. Undeniably likeable, but we're not quite sure why. Filter Distortion's '80s inspired electro-pop continued the early evening trend of synth-lead artists. Their sound worked well among the other acts, however, lacked a cutting edge and 'unique selling point' which made the others stand out.
Later in the evening Natalie McCool's dark, atmospheric sounds worked well in the dark lantern-lit garden. Her combination of haunting guitar licks, pounding drum beats and almost ghost-like vocals created a chilling but mesmerising atmosphere. A great way to wrap up our outside entertainment feastings. Meanwhile, the 60s-infused soft-rock of The Sundowners' set was packed with their characteristic energy and tight vocal harmonies. Fronted by Niamh Rowe and Fiona Skelly, their harmonies, matched with driven rock 'n roll guitars gave their psych-pop sound added punch.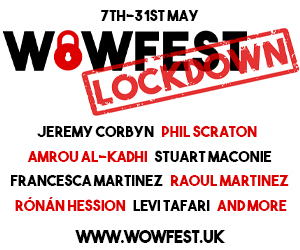 If you've seen Sugarmen before, you'll know just how impressive they are as a live outfit, and they seem to get tighter with every performance. Led by the charismatic rabble-rouser Luke Fenlon (complete with new barnet), their raw, relentless rock is a throwback to the '70s – a sound which is matched perfectly by their well measured appearance. Their songs are loud and chaotic, but always melodic and instantly memorable. It's easy to see why former Oasis manager Alan McGee has taken a keen interest. Sadly, Ady Suleiman's soulful pop which followed felt slightly middle-of-the-road resulting in a mid-evening lull after the up-beat wrecking-ball rock and roll of Sankofa. The Vril Society, not to be mistaken for the Nazi UFOs, are the remnants of The Dirty Rivers. They're still in-your-face garage rock. But tonight performed like they had something to prove, and picked up the atmosphere of the Kaz Garden as it reached the business end of the evening.
Another band from FestEVOL which seem destined to breakthrough, are Hooton Tennis Club. Their sound melds the best elements of punk, grunge and slacker-rock, with all the confidence and swagger of a band who really know what they're doing. Underneath the ruckus of the guitars the songs are melodic and instant winners; particularly Kathleen Sat On the Arm of Her Favourite Chair and Jasper  – two tracks which go down as easy as slow liquor and warm pie. We really like this lot.
Back in the club, Go Fiasco epitomise the scene they exist in; a melting pot of ideas and stylistic diversity, there's elements of glam, post-punk, furious rock 'n roll and oddball eccentricities. Daniel Duggan's impressive delivery is matched by some fine fret work by Jamie Roberts – it's a quietly impressive start to the afternoon. Despite the fact they weren't wearing hotpants, as promised on Twitter earlier this week, Oxygen Thieves, live up to their new 'sexy' persona with the usual grit and rugged tones that made this reviewer swoon so.It's a tone laced with shades of that late 80s-early 90s rock that made way for Britpop, and there's an undeniable nod to The Pixies with the sounding call in Breathing In The Mirror.
Their set staple Hell is Other People, was as ever, the biggest crowd pleaser.
They say you shouldn't judge a book by its cover, or a band by it's frontman, but its a difficult rule to adhere to, particularly when the lead singer has been walking around the darkened venue all day wearing sunglasses on a day when its not even sunny enough for them outside. When he then flaunts on stage with what is, technical terms aside, essentially a mic on a stick and all the swagger of a bad Elvis impersonator, you'd be forgiven for writing them off immediately. Except that
The Kavez
are actually really good. Annoyingly good. Swagger-infused post-garage with more than a hint of
The National
, these
Deltasonic
-backed young guns are another to watch in the future.
In contrast, when Broken Men take to a stage the audience are left in no doubt of what to expect. One of the hottest bands around at the minute it's kind of impossible to ignore them; mostly because they insist on making themselves heard. It's the kind of loud you always want more of, forcing you to shout along. Plus, they've the big sax (tonight with special guest and former Zuton Abi Harding blowing the back end out of her instrument), big brass sound and big stage presence to match it. It's like Kings of Leon (pre-haircut and stylists) meets The Blues Brothers down Stax Records.
In the past, we've had the tendency to daydream a little when Bird are on stage, not necessarily in a bad way, it's just the mollifying nature of their sound. But something has changed, tonight we can't take our eyes or ears off them; the spiritual dreamscapes have made way for something much more demanding, something that could really fill a vacuum. Were it not for the constant reverb making us grit our teeth every few minutes, this maybe the best they've played in a set which featured heavily of cuts from their debut My Fear And Me – they even threw in a cover of the Stone Roses I Wanna Be Adored for good measure – a winning formula in our book.
Another winning formula is that of
By The Sea
. Enriching their twinkling daze-pop of old with added gusto,
Joe Edwards
' organ swirls and a couple of vocal cameos from
Getintothis
-approved singer
Minnetonka
, they're clearly revelling in the impetus of forthcoming new record
Endless Days Crystal Sky.
Andy Royden
and
Daniel O'Connell
's meaty rhythm section adds an extra dimension to their sound and
Liam Power
's growing by the gig into a more confident frontman, even taking time out to joke with the crowd and salute his girlfriend. But it's not all sweetness with the likes of
Youth
adding an industrial drone and
Emily Says
 coming straight out of the
New Order
handbook. More familiar territory comes in the shape of the likes of
You're The Only One
and
I See A Crystal Sky
– all towering, celestial guitar pop.
By the time Tea Street Band kicked off it felt like the Kazimier had burst into a new lease of life with head bopping and men of a certain age throwing their dancing weight around. The Tea Streeters seem to illicit in an audience the same enthusiasm and fire in the belly that you might see around Anfield on match days – there's a sense of real camaraderie among the revellers, though that could well be the effects of ten hours knocking back beers. Push The Feeling On's robotic squelch commands the crowd to go ballistic and they duly oblige, while there's even space for a couple of new tracks which didn't make the cut from their eponymous debut. Look On Your Face, meanwhile, sounds simply magnificent.
Recently licensed to
Tim Burgess
' label 
Ogenesis
Records, DROHNE conclude the live acts with their slice of warped glass-cutting electronica. Outside, the revellers continue to groove deep into the small hours of the morning as Mr Paul concludes DJ sets by the likes of Steve Law, No Fakin, Andrew Hill and James Organ. 
Another FestEVOL done and dusted – sometimes you don't know how lucky you are.
See below for our extensive FestEVOL gallery from Getintothis' photographers Vicky Pea and Andrew Ab. Please click for a full screen image and browse away.
Comments
comments