Getintothis' Chris Burgess takes a look at the best new releases on offer this week, discovering Hare Krishna synchronised dancing, extreme DIY and bassline squelch.
Titus Andronicus: The Magic Morning – Single of the Week
What to make of this? A fifteen-minute long video– complete with synchronised dance moves – seems like a bold move from one of the most exciting rock bands around at the moment.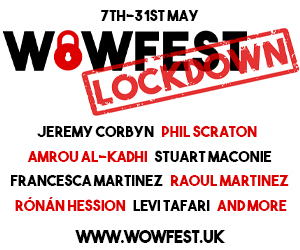 No need to worry though, The Magic Morning is incendiary, catchy and delightful from start to finish, as you'd expect it to be. Singer Patrick Stickles looking like a cheery tramp who's crashed a bizarre Hare Krishna meeting.
Their new album The Most Lamentable Tragedy is out the end of this month, and has been one of the most talked about releases for months now. This video pretty much showcases the final half of the first disc of the album, including the previously released, uproarious Dimed Out.
The band are also due to appear at The Kazimier on 12 November, in what is guaranteed to be a sold-out show.
Bandito Rey: Juicy Fruit
Liverpool's new noiseniks-on-the-block Bandito Rey have dropped a fiery and fierce new track ahead of their forthcoming 18 July gig at the city's Scandinavian Church. Juicy Fruit, despite the name, is a punchy and forthright tune, layered and intense.
William Basinski: The Deluge (The Denouemont)
The classically trained composer Basinski made his name with 2002's experimental The Disintegration Tapes, created as a response to the 9/11 attacks on New York.
The Deluge is the composer's new album, available on vinyl-only, and is a spiral of piano tape loops – recordings made to cassette tape and manipulated into sections to create repeating rhythms.
This is certainly one of the darkest feeling and most haunting tracks to ever feature on Singles Club.
Basinski brings his new show Saisonscape: Decay to The Kazimier on 17 September.
LA Priest: Learning To Love
The side project of the former Late of the Pier frontman Sam Dust, LA Priest, is a decidedly non-conformist proposition, the prog-house space-age electronica keeping you guessing.
This track, however, is fun right from the off, with squelchy basslines and funky-ass beats combining to underpin Dust's bittersweet vocals.
Learning To Love is taken from LA Priest's forthcoming album, Inji, available through Dom Mart.
Beach House: Sparks
With their new album Depression Cherry due for release on 28 August, the Maryland duo of Victoria Legrand and Alex Scally have offered up this mesmeric and whispy wonder of a tune.
Sparks is an expansive and airy tune, that simmers and glows as it floats along, showcasing the vocal talents of the duo magnificently.
Once A Tree: Take Me
Take Me is an evocative slice of Toronto trip-hop dream-pop from the husband and wife team of Jayli and Hayden John Wolf.
The track is pure twilight-toned electronic wonderment, taken from their upcoming EP Howling.
Old Best Friend: Pretty Sure
Released today, Old Best Friend's debut album Living Alone is an intriguing affair. The Brooklyn trio are without label or agent, seemingly choosing the 'extreme DIY' approach to putting out records.
Pretty Sure is a charming and melodic offering from their debut album, full of introspection and wall of sound guitars.
Hidden Charms: Dreaming Of Another Girl
The London four-piece Hidden Charms have hit us with a slice of 60s rock and roll magic with this debut single. The track was produced by the legendary producer Shel Talmy, the man behind The Kinks' You Really Got Me and The Who's My Generation, among other hits.
The group are barely out of their teens, yet seem perfectly placed to launch a bid for world domination. Good luck lads.
Stags: Through The Looking Glass
A riff-fuelled and 70s rock-toned tune from the new London-based band here. There are elements of Ten Years After and Free floating around throughout Through The Looking Glass, which is no bad thing at all.
It's a strong debut track, but are the kids into this these days? Surely their audience will solely consist of men in their 50s air guitaring along.
Buy a synthesiser guys, it'll help target the younger demographic.
Comments
comments