As the commissions take centre stage to kick off LIMF 2015 Getintothis' Paul Fitzgerald takes in a Live episode of The Record Producers with legendary songwriter Lamont Dozier. 
It was a very special evening at The Epstein tonight, as we gathered in the company of Lamont Dozier, singer, songwriter an co-producer of some of the most important, innovative, and successful music the world has ever known. The soundtrack to so many lives. The sound of the rulebook being written, without the writers necessarily knowing they were writing it at the time. With Richard Allinson as compère, and the skilled ears and knowledge of producer Steve Levine's expert dissection of some of Holland-Dozier-Holland's finest tracks, Lamont was able to describe the detail that went into the creation of so many of these complete and utterly mesmerising classics.
His relaxed, modest and affable nature only served to highlight the fact that, at the time of them recording, for instance, Baby Love, with Diana Ross and The Supremes, they were simply trying, with the limited technology of the time, to achieve a sound that was in their heads. A sound they alone understood, without them having a clue of how they actually understood it at all. The stunning simplicity of it all was baffling at times. The story of how they came to record How Sweet It Is, with Marvin Gaye reluctantly performing just one vocal take, before storming off, angry that his day's golfing had been interrupted, was a joy to hear. And how sweet it is, indeed. Stripped apart into just three recorded tracks, the song's beauty, and the arrangement was incredible. Put together though….well. You know. We all know.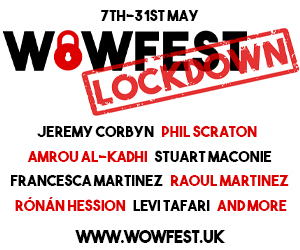 In the second half, the story turned to his post Motown career, the Invictus and Hot Wax labels, Freda Payne and the absolute class that is, bizarrely, the popular wedding song, Band Of Gold, Chairman Of The Board, his split from the Hollands, the countless awards, film work, and how even today, he's still working on new pieces, new ideas and techniques, and still searching for those new avenues of sound. An incredible night, in the warm, and welcome presence of a true innovator.
After tonight, this may be a good time to reconsider your overuse of words such as 'legend', and 'genius'.
Photos by Getintothis' Marty Saleh
Comments
comments