With Beans on Toast set to play Liverpool in support of his new album, and Getintothis' Shaun Ponsonby is clearly looking forward to his antics.  
Beans on Toast is about to release his seventh album in seven years, Rolling Up The Hill. In the weeks leading up to the album's release, he will be on a trek of the UK, taking in the Kazimier on 17th November.
This writer has seen Beans on Toast a number of times. He is probably the single most unpretentious singer-songwriter working today. In fact, it is difficult to describe his approach. He sings of sex, drugs and politics. Usually with hilarious hyperbole. For example, The Chicken Song, a laid back musing about chicken produce, ends with a verse where the chickens have their revenge against us humans and taking over the world.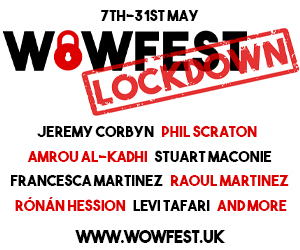 Beans' cult hero status is arguably tied to that of Frank Turner. It was Beans who convinced Turner to pursue the singer-songwriter route following the demise of his critically acclaimed band Million Dead. Since then, Turner has had two albums reach #2 spot on the UK charts, had a number of albums chart in the US and last year completed an arena tour of the UK, in which Beans acted as support with Flogging Molly. Beans is currently opening for Turner on a tour of the US.
Check out our gallery from Frank Turner's recent show in Liverpool Central Library
Usually, Beans is solo or accompanied by long time companion Bobby Banjo, but this time around he is joined by husband and wife country duo Truckstop Honeymoon, who have joined him on Rolling Up The Hill. Therefore, we are expecting something a little different from Beans on Toast, but hopefully we won't lose the laugh a minute, relaxed, conversational style that we have become huge fans of.
Comments
comments