As MCM Comic Con heads to Liverpool in 2016, Getintothis' Thomas Doyle picks out his top ten tracks from comic book and sci-fi inspired films.
Get your replica lightsabres at the ready, raise the Vulcan Salute, dig out your Guide to Learning Elvish handbook and momentarily forget you're an adult – MCM Comic Con is making its way to Merseyside. Be there and be square.
Between March 12-13 everything from post-apocalyptic zombies to The Joker will descend upon the Exhibition Centre Liverpool, and although you'd be fooled into thinking it was the usual Friday fallout from The Krazyhouse, you'd be wrong. In 2016 Liverpool will become one of few UK cities chosen to host the official world famous multi-genre entertainment and comic book convention.
San Diego Comic Con International, the mother of all subsequent Comic Cons, was founded in 1970 by five friends with a passion for everything sci-fi. Attended by 300 eager fans, the inaugural 3 day convention went well enough to make the organisers want to do it again and again, resulting in 21st Century attendances surpassing the 100,000 mark.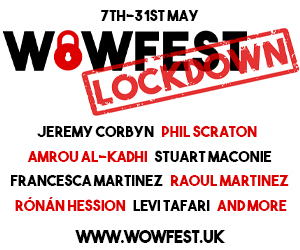 Head back to Brit-pop through the medium of a graphic novel with Phonogram: The Immaterial Girl
A key focus of these super-fan congregations is film. Major movie stars appear alongside fellow cast members to discuss their upcoming ventures in front of adoring fans. To celebrate this unique event, here's Getintothis' 10 of the best tracks featured in comic book and sci-fi inspired movies.
Rick James – Super Freak – Batman Returns
Is it a bird? Is it a plane? No wait…it's Rick James! His music has been sampled by a veritable who's who of hip hop heavyweights, including Nas, Jay Z and 2Pac to name a few. Super Freak is a hands down classic, with one of the catchiest verses out there; it also features backing vocals from label mates The Temptations. Admittedly the version heard in Batman Returns, the darkest Batman movie of them all, isn't the original; it is an instrumental interpretation played at one of Gotham's exclusive soirées, but come on – it's Rick James!
Sparks – This Town Ain't Big Enough For Both Of Us – Kick Ass
A movie infamous for featuring an 11 year old girl uttering the line 'OK you cunts, let's see what you can do now' and a band whose keyboardist Ron Mael wore a Hitler moustache – Kick Ass and Sparks are a subversive match made in heaven if ever there was one. Their 1974 hit This Town Ain't Big Enough For Both Of Us is a quirky pop piece tinged with the classical idiosyncrasies often found in Sparks' songs.
It doesn't follow the traditional verse-chorus-verse structure, something lead singer Russell Mael was proud of, and something that was very rare in the charts at the time. Rumour has it that Elton John bet producer Muff Winwood (great name) that the track wouldn't get into the Top 5, and to Sir Elton's disbelief it did.
Deftones – My Own Summer (Shove It) – 'The Matrix'
It's difficult to refute the fact that 'nu-metal' has produced some absolute dross since its emergence in the mid-to-late 90s. However it would be more difficult to deny that Deftones, one of the early champions of the genre, haven't become one of alternative metal's finest.
Lead singer Chino Moreno's ability to effortlessly switch between guttural screams and softly sung whispers can be heard best on My Own Summer (Shove It), the first single taken from the band's well received second outing Around the Fur.
The song starts with a lightly distorted guitar riff that immediately gets the head nodding as Moreno's haunting vocals set the scene. When the drums erupt in tandem with screams of "Shove it! Shove it! Shove it!", the shouting subsides, and you're left with a beautiful chorus combining heavy instrumentation and thought provoking, gentle vocals.
Read our monthly metal column here
Michael Jackson – Beat It – Back to the Future Part II
"Where we're going, we don't need roads." And where Michael Jackson was going, he didn't need sanity. Proof that you can be 10p short of a quid and still make hit after hit, the King of Pop's back catalogue reads like a History of contempory pop music.
Well known for the guest appearance of Eddie Van Halen, the renowned guitarist's distinctive solo gave Beat It a rock sensibility that MJ wanted to attain. With 'hee hees' and 'shamones' a plenty, the song is undoubtedly one of Jackson's finest, and with a repertoire like his, that's saying something.
Jim Croce – Time in a Bottle – X-Men: Days of Future Past
Written shortly after being told he would become a father for the first time, Jim Croce's elegant folk hit Time in a Bottle is the perfect accompaniment to easily one of the most impressive scenes to feature in a comic book inspired movie. The song is played when Pietro Maximoff, aka Quicksilver, shows off his super-human speed to aid his fellow mutants escape, donning a Pink Floyd t-shirt in the process. The kind of track you wouldn't necessarily expect to hear in a super hero film,Time in a Bottle is a heartfelt, acoustic love song with an angelic touch.
Frank Black – I Heard Ramona Sing – 'Scott Pilgrim vs. the World'
Now this may be a controversial statement, but I'd take Black Francis' eponymous debut solo album Frank Black over anything, other than Doolittle, produced by his band the Pixies. The record is essentially a guide to the music that inspired the singer-songwriter, accentuated with the direction he wanted his own music to follow.
One of the many outstanding highlights of the album, I Heard Ramona Sing is a jingle jangle pop piece that sounds nothing like its subject matter – The Ramones. Looking back to his early youth Francis recounts "I had so many problems, and then I got me a Walkman" kicking off the future frontman's early fascination with music.
Scott Pilgrim vs. the World is a fantastic big-screen adaptation of Bryan Lee O'Malley's critically acclaimed graphic novel of almost the same name in which the title character, who's coming across a tad too keen if you ask me, has to defeat all of his girlfriend's seven evil exes.
Look back over our top 10 Pixies songs
Echo & the Bunnymen – The Killing Moon – Donnie Darko
Accompanying the opening sequence of this science fiction teen masterpiece, it's hard to think of a better song suited to introducing the space obsessed Donnie Darko to the audience. Ian McCulloch maintains The Killing Moon's lyrics, incorporating deliberate astronomical imagery, were a result of divine intervention, something which he claims hasn't happened since. Its melancholic verse leading to the triumphant use of strings in the chorus make it one of Echo & the Bunnymen's most memorable and well-liked releases.
Take a trip back to 1982 to remember The Bunnymen's original Sefton Park gig 
Seal – Kiss From A Rose – Batman Forever
The movie had to be made so that Kiss From a Rose could reach a more than well-deserved wider audience. That's the best way to justify Joel Schumacher's Batman Forever, where the director made the impossible possible by creating a Batman adaptation even camper than the original Adam West series, bravo Mr Schumacher. All I can say is thank the Lord for Christopher Nolan.
Anyway, that's enough bat-bashing, let's talk about a really good song. Seal's Kiss From a Rose managed to artfully combine lavish harmonies in a curious waltz time signature to great effect, resulting in a track that's sombre as much as it is uplifting. Racking up a number of Grammys (not they really mean anything, but still) the song has been referenced in a number of media outlets, and has been covered countless times, cementing its place in Pop History.
Simon & Garfunkel – The Sound of Silence – Watchmen
Even if you're the kind of person who maintains that comics should be reserved solely for children and those people who work in Games Workshop, Watchmen may surprise you. The 1980s publication was the only graphic novel to appear in Time Magazine's 'All Time 100 Greatest Novels' list, and was one of the first to pose the question: what if superheroes existed in the real world?
Admittedly the blockbuster adaptation was a poor effort, but some scenes do linger in the memory, such as the funeral of the Comedian, the central character in this dystopian whodunit, when the familiar acoustics of Simon & Garfunkel's The Sound of Silence soar over the procession.
Like many of their tracks, The Sound of Silence's graceful harmonics effortlessly blend with the simple but effective finger picking of Paul Simon. The original 1964 release was an unadorned folk piece, but a year later renowned producer Tom Wilson remixed the song, adding electric guitar and drums to the proceedings.
Read our review of Art Garfunkel at Liverpool's Philharmonic Hall
David Bowie – Moonage Daydream – Guardians of the Galaxy
Not only does it grasp number one in this prestigious list, but it probably reaches the uppermost spot of many Top Ten David Bowie catalogues. The Thin White Duke's abrasive, sexually charged Moonage Daydream is, to put it mildly, a fantastic song on a fantastic album. Producer Ken Scott and The Spiders from Mars themselves felt it was the best song on the album, high praise indeed. It's also highly significant song within the record's story, in that it serves as a musical introduction to the character of Ziggy Stardust.
Another movie where the soundtrack is presented as the favourite music of its lead character, Guardians of the Galaxy was a surprise hit in 2014, mainly because the majority of movie goers were asking "who on earth are the Guardians of the Galaxy?". The song's classic riff and psychedelic lyrics can be heard early on in the picture, as the title characters arrive at the interdimensional Knowhere.
Comments
comments