As Daughter reach a crossroads in their career, Getintothis' Paul Higham urges them to ditch the formula and be a bit more bold.
Judging by the crowds massed around the O2 for the earlier than usual Friday night start, it was quickly apparent that this was not going to be your usual humdrum affair.
Despite Daughter having played a gig in Manchester already on this tour, it was clear that people had travelled from far and wide for this sold-out show at Liverpool's functional O2 Academy.
Youthful, fresh-faced and on-trend this was a different crowd reflecting the band's crossover appeal.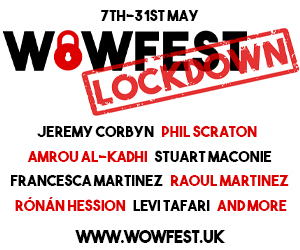 Handily homed on 4AD, Daughter hark back the label's halcyon days, evoking that peculiar and dreamlike indie sensibility. In attempting to marry this with more mainstream sounds the band are at a career crossroads. While it is true that certain bands have been surefooted enough to tread the tightrope between artistic credibility and mainstream success, for many it seems to be one or the other.
Find out about James Endeacott's revival of 1965 Records in our Label of Love feature
It is this decision that faces Daughter currently on the back of the release of their second album, Not to Disappear. In building on the promise of their first, would they strive for greater commercial success or pursue a purer artistic vision?
On the basis of this performance it appears that the band appear uncertain to their direction, allowing their songs to be constrained by formulaic arrangements and obvious progressions. The loud/quiet dynamic is a well-used effect which works when employed sparingly but can become dullingly predictable if over-used.
Too often that is the trap that Daughter can and do fall into. Often the best music grips and startles you, demands your attention and captivates with a sense of danger and unpredictability. Other times it bowls you over with its sense of craft, beauty and structure.
Daughter achieve neither. Coming across as bland bedfellows of London Grammar, aspiring to sound like The xx but falling short. This in itself is a shame and a source of frustration for there's a good band in there struggling to set themselves free from the shackles of convention.
On occasions they manage it and hint at their clear potential.
Human excels as a dream-gaze tour de force demonstrating that building on a singular riff and affording the time and space to develop sonic layers in a subtle and almost imperceptible way makes for a more arresting and challenging sound than what had hitherto preceded it.
This is followed up by Doing The Right Thing, which succeeds in its eerie atmospherics and discomfiting claustrophobia. When set against the unambitious blandness that came either side a sense of frustration sets in. For it's not that Daughter are a bad band. They're not.
Musically they open doors creating opportunities to linger, dwell and explore; hints of invention and creativity are frequently alluded to, particularly in the rhythmic drum patterns and guitar stylings. Yet too often the scenic detour is turned down in favour of the more obvious map to a song's conclusion. Likewise the undeniable fragility of Elena Tonra's lyrics is undermined by the calculated precision of the music that accompanies it.
As the set draws to a close, the striking intensity of No Cares and a monumentally prolonged Fossa offered further evidence that this is a band that can, such is the talent at their disposal, be whatever they want to be. Unfortunately that direction seems to be towards a big stadium-filling sound.
A conscious choice it may be but we'd urge them to reconsider. Ditch the blandness and reject the safety net. Be bolder, show some adventure take more risks. They might lose a few 'fans' along the way (although a fair few were seemingly not that bothered about listening to them anyway) but they'd make the sort of music we know they're capable of.
Support act and label mate Pixx was altogether a more impressive proposition in a short set that gave indication of her talents and hinted at a lot more to come. With a compelling sound entirely in keeping with 4AD's illustrious heritage what was immediately striking was the power of her voice.
Yet with power comes responsibility. Rather than merely be content to belt out her numbers she addresses them with subtlety and sensitivity allowing for an emotional range and a sense of intimacy that belied the soulless expanse of the 02. Imbued with a sense of melancholy, songs such as Flee fill the space with a delicate cinematic quality.
Her band provided sympathetic and understated backing augmenting without overshadowing her voice which is the understated star of the show. The only slight drawback is the backing tape accompaniment which, without not entirely undermining, feels slightly at odds with the raw resonance of the performance. The addition of a live drummer will improve matters no end.
Nonetheless, this set provided evidence of a real talent fit to rank alongside the likes of Cocteau Twins as a worthy inheritor of that very distinctive 4AD sound.       
Pictures by Getintothis' Tom Adam
Comments
comments