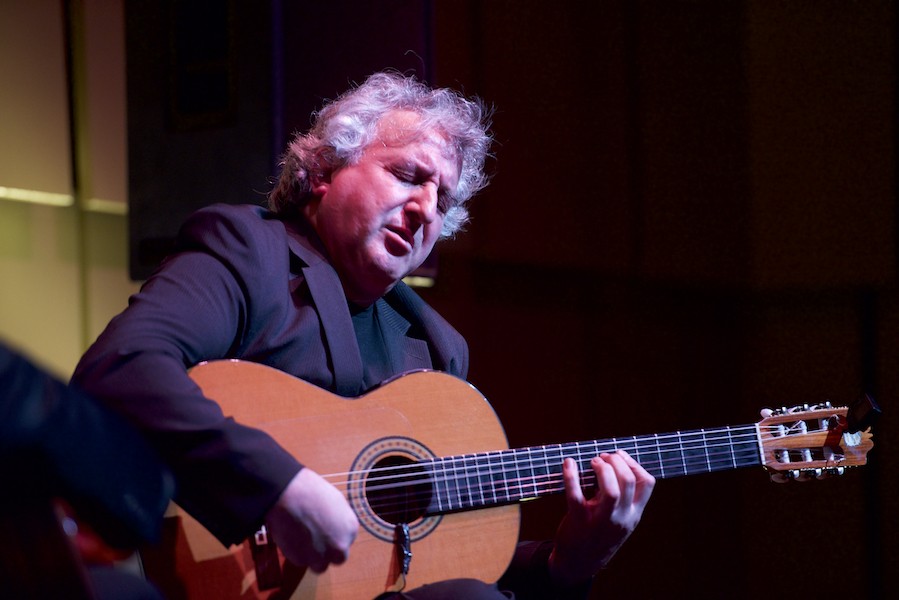 As the Philharmonic brought another flamenco luminary to Liverpool, Getintothis' Paul Riley had front row seats for a fascinating show.
We'll be honest; it has taken us a while to warm to the Phil's new venue The Music Room. It is not exactly the most inspiring small venue in the city, with its plain acoustic-panelled walls and spartan appearance. While this writer's last visit to the venue did provide some incredible music courtesy of Bassekou Kouyaté and Ngoni Ba, the atmosphere left something to be desired.
However, after a quick bite to eat at Quick Chef (best falafel in the city FYI), we were practically the first through the door on Friday, eagerly anticipating something a cut above the average Liverpool show. Eduardo Niebla was born to Andalucian parents in Morocco, before moving back to Catalonia. He had studied various styles of guitar playing throughout his life, and yet, amazingly, he does not read music.
Self-taught and yet internationally renowned as a guitar virtuoso, his career has also included jazz, classical, Indian and Arabic styles.
The last flamenco legend to come to Liverpool, Paco Peña, sadly fell foul of the Philharmonic's refurbishment programme. His spellbinding performance was moved to the Liverpool Metropolitan Cathedral, and the acoustics and natural reverb were not natural partners to the percussive and passionate music.
Niebla's performance, in much less statuesque surroundings, really brought The Music Room's raison d'être into focus. This room sounds incredible. Every tap, slide and rasguedo (briskly striking the strings with the nails) was perfectly audible. In such an intensely pitched performance, the accumulative effect was hypnotic and exhilarating.
Niebla played a selection of songs from different traditions, often interspersed with explanations, introductions and self-deprecating humour, but he was most expressive when he was playing. From the opening bars of the first song, he threw himself into the performance with a passion that was intoxicating.
Eduardo Niebla featured on our 2016 Merseyside gig guide, check out who else did here
As a self-taught player, it was clear that he played with his heart more than his head, and this provided the opportunity for an utterly enthralling juxtaposition with his accompanist, English classical guitarist Matthew Robinson. Having studied classical guitar in London, he was approached by Niebla to accompany him, and the two have been playing together for a number of years now.
Where one is wild and tempestuous, the other is studied and restrained. The interplay between the two, with Robinson often playing a grounding bass counterpart to Niebla's frenetic higher passages, created a tension and a rhythmical ebb and flow that was far greater than the sum of its parts. Both performers were clearly masterful in their own styles of playing, but together, they created music that was nothing short of spellbinding.
Pictures by Getintothis' Marty Saleh
Comments
comments