Gaining faith in Ovvls, Getintothis' Josh McMahon was converted with the band's first public appearance.
Entering the Scandinavian Church on a bitter Friday night, having only heard the one song on SoundCloud, you would be forgiven for being sceptical of what Ovvls' first public appearance would entail. But luckily, they did not disappoint.
The venue itself is spacious and melancholic, with gothic arches and symmetrical domes. This in itself sets the tone for the evening, along with the natural acoustics of the space adding to its own innate spine-tingling reverb.
Nine o'clock
strikes and the crowd become silent as the church bell rings several times. Lurking from the shadows, a man in a black Druid-esque cloak approaches the front of the church. This menacing ringleader recites an enchanting introduction – not dissimilar from that of Vincent Price's speech in Michael Jackson's Thriller – as his thunderous voice echoes around the air. This surreal speech crescendos with an 'initiation ceremony', requiring a drink to the musical, social and pseudo-religious values of
tonight's
idols – Ovvls. The crowd of thirsty punters gladly complied with this instruction and queued for complimentary shots.
The band takes to the stage and makes an immediate impression, with their audience gripped from the outset. Playing by candlelight and projections of trip-glitch onto the Nordic backdrop, the sound fills every crevice of the ominous surround.
Both of the pair dressed in matching goth-tastic hoods, there is a strong visual theme that is instantly driven home. Singer Stef Stokes is wearing a leather dog collar, black lipstick, and basically looks like Robert Smith's soul mate, as tentacles of blond protrude her cloak.
A mid-set the addition of Pixies cover Where is my Mind? is an absolute stomper. This momentarily causes the dense, dark and moody atmosphere to lighten somewhat, to something marginally more nostalgic. The duo master this song, which suits Stef's vocal to a T, without detracting from their consistent funeral party vibe.
One of the most notable features of Ovvls performance was the sheer standard of their ability in playing. Lee's drumming was extremely powerful, effective within the acoustics of the space and brilliantly executed, considering he was jumping between playing live drums and triggering his Roland sampler. Stef's vocals were outstanding – awesome for a band that has barely performed live, more like that of seasoned veterans where consistency is concerned. Imagine the gloom of Joy Division's Unknown Pleasures, but with John Bonham on drums and vocals that hang somewhere between Florence Welch and Wolf Alice.
Wanderlust is one of the most raunchy songs of the set with strong choral piano riffs and a rock-gospel feel that harks back to songs like Doorbell by The White Stripes, with extra titillating off-beats and dotted stormy grooves.
Ovvls' only online track Pain is Beauty was a highlight of the night. They absolutely smashed it to be frank, and threw in some extra vocal gymnastics for good measure too. Although the aesthetic of Ovvls may be specific, their music is universal, appealing to audiences beyond the kid dressed in black at the corner of the party, to a much wider demographic by means of their use of ambient samples, portamento synth parts and rhythms bordering RnB at times. These guys truly own their niche market of experimental goth-psych. Totally.
With the set's end arriving there is a definite sense that the band had left the audience hungry for more with persistent screams for an encore. Ovvls are a moody yet fresh band that kept all on the edge of their seats. This experience was just as much of a mass conversion as a gig.
We certainly have gained faith in these guys, will you?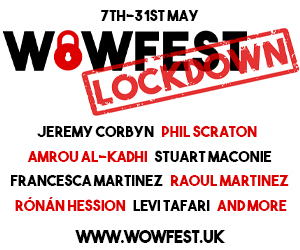 Pictures by Getintothis' Billy Griffiths

Comments
comments