As the Mercury nominated C Duncan came to town, Getintothis' Adam Lowerson enjoyed a night of laser-precision pop.
There was a tangible feeling of anticipation in the air tonight at Leaf. Surprisingly busy from very soon after doors opened and plenty of faces of regular Liverpool gig-goers about the room, it had the feeling that it was going to be 'one of those nights'.
C Duncan is not exactly a household name, although his stock has certainly risen since his 2015 Mercury Prize nomination for his debut LP Architect, but this show certainly seemed like one that you wouldn't want to miss. Performing in Liverpool for only the second time following a support slot with Lucy Rose late last year, the Glaswegian songwriter didn't disappoint.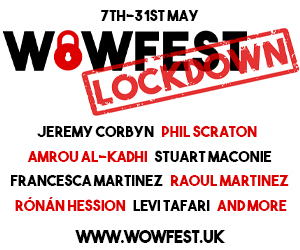 You'd be forgiven for thinking that some of the vast, sweeping sounds of Architect on record might not translate on the live stage, especially in the relatively small confines of Leaf, but that couldn't be further from the truth. Duncan and his band sound huge. It's a rich, textured sound and the four part Fleet Foxes-esque vocal harmonies add dreamy layers on top of their delicate, baroque pop.
Between tracks Duncan is instantly likeable, with the success he has enjoyed over the past year clearly not having gone to his head. He comes across as modest, and a bit geeky, bumbling his way through between song chit chat and unsuccessful shout outs to fans (they must have been at the bar), and seems genuinely made up to be here. A loveable geek.
Tracks such as Say and Here To There are huge standouts, with the latter combining faraway vocals and beautiful melodies floating above the guitar and drums giving it an almost Byrds-y psychedelic sound. The music is incredibly well crafted and sophisticated without being self indulgent or snobby. They're just brilliant songs put together by a very talented songwriter. C Duncan is an architect of sound.
Earlier was a solid showing from a talented, rising Liverpool songwriter in Tom Low. Just like tonight's headliner, Low used tight vocal harmonies and experimental arrangements to create an interesting sound showing a lot of potential. The sound was reminiscent of Smile era Beach Boys, and although slightly rough around the edges, there was enough signs from the short set that Low has got a big future ahead of him.
Pictures by Getintothis' John Johnson.
Comments
comments