As Kris Drever stopped off in town for a lesson in pure and honest songwriting, Getintothis' Paul Fitzgerald discovered the characters and tales within his new album If Wishes Were Horses.
In terms of new Scottish folk music, the acclaimed multi award winning Kris Drever is practically royalty, and rightly so. As a founding member of progressive electronica-folk trio Lau, one third of Drever Mckusker Woomble, and an accomplished and well respected solo performer, the artirstry in which he blends the contemporary with the traditional with such relaxed simplicity is what folk music is all about.
Opinions remain divided about the Philharmonic Music Room, but it's on nights such as this where it really does come into its own. A wide open space, seated in this case, with a strong focus on the single performer, and a sensitive, clear, and reactive sound in all corners.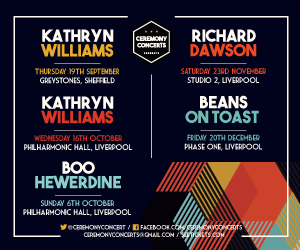 If Wishes Were Horses is the title of Drever's stunning new album, a lift from a 1968 song of the same name by close harmony New York act, Dan Eliot and The Monterays,  'If wishes were horses, then beggars would ride', Drever's characterisation, coupled with his incredible playing is a great and omnipresent strength throughout his work, and it would be a cold hearted fool who didn't feel the evocation of the extreme surroundings of this child of Orkney, now resident on Shetland. These lilting, drifting melodies speak of the wind and the waves of the Scottish islands. Of stone and heather, wood and fire. The album takes a semi-biographical look at life, love, politics and social migration, through the wild and untouched influence of Shetland, and is a dazzling celebration of his ten years as a solo performer.
Capernaum, another LP highlight, is a cover of Ed Miller's song, based on a none too kind poem about Edinburgh by Scots poet Lewis Spence. While not a traditional piece as such, the ghosts of hundreds of years of Scottish history walk their way hauntingly through the song, through Spence's condemnation of the city.
This was a deft and assured performance by an accomplished performer, both traditional and very much forward facing in his attitude and delivery, and just the sort of showing we'd expect from real folk royalty. Wondrous and stunning in equal measure.
Support on the night came from Glasgow's Siobhan Wilson, who delivered an all too short set of sweet folk, soul styled musings, and a warm honey doused vocal, Wilson is a sure fire one to watch, and we look forward to hearing more. And soon, we would hope.
Pictures by Getintothis' Martin Waters.
Comments
comments