LightNight makes it's return to Liverpool in May, with a sparkling programme – Getintothis' Cath Bore has the whole night planned out for you so you don't miss a thing
'Liverpool is culture city,' a friend said to us last year when she visited for the first time, bug-eyed at the culture we have. A true enough observation, and LightNight, taking place on 13th May is the city's annual celebration en masse.
Over 100 free nocturnal events, this year on the theme of 'Experiments', are scattered across Liverpool city centre from tea time until the early hours, in galleries, museums, streets and unconventional spaces.  Most events are free, opening cultural experiences to all. As ever, vintage double decker buses will circle the city to carry visitors from venue to venue.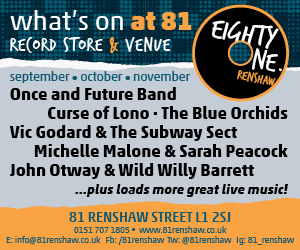 LightNight can be seductive, with so many twinkling delights pulling you this way and that. It's wise to start with the best of intentions and have a vague plan for your night at least, though the chances of being waylaid and distracted by something unexpected and beautiful are high.
Here's our guide to the best bits:
17.00 – 23.00 Theophany (free)
Gostins Building, Hanover Street
The Revolutionary Army of the Infant Jesus collaborate with painter Paul Mellor. Contains images sourced from and inspired by Russian filmmaker Andrei Tarkovsky with music and field recordings from their recent album Beauty Will Save The World.
20.00 – 23.30    Dance the night away with STΔTK and Shush! Silent Disco in the incredible surroundings of the Picton Reading Room in Liverpool Central Library. Choose your channel and genre…but shhh! You're in a library, after all. (free)
Evening of Film and Music at Liverpool John Moores University Redmonds Building (free)
Violet City is a black & white micro-budget feature film directed by John Maxwell and written by Dave Jackson. Set in a fantasy world version of Liverpool and influenced by German Expressionist cinema it uses composited images to create a dark fairytale ambience, a tale of a demon-haunted city where airships glide above scenes of treachery and violence.
18.30 The Last Resort (5 min)
18.40 Gnomes (15 mins)
19.00 Dave Jackson & The Cathedral Mountaineers (20 mins)
19.30 Violet City (1 hour 45 mins)
Music for Empty Spaces : In Situ. (free)
21.00 (meet on the steps of the Metropolitan Cathedral)
A walking tour of Liverpool's streets with specially commissioned music from local artists including Jo Bywater and Dan Wilson. Music from the tour can be downloaded here.
So You Think You Know Anime? (free)
20.00 – 23.30 Liverpool Central Library: Discover, Ground Floor
Relaxed introduction into Japanese Animation followed by a Cosplay Catwalk. LEAF (League of Extraordinary Anime Fans) will take what people already know about anime and expand on it, and challenge conceptions.
LightNight at Baltic Creative. Unit 51.
17.00 – 23.00
Live music, food and drink with an experimental twist.
18.00 DJ Christovert
DJ Christovert rings his good time mix of world, afrobeat, funk, disco and electronic music.
20.00 – 21.00 Rimka
22.00 – 23.00 Rimka
Rimka perform, an African percussion driven seven-piece band, developed in Liverpool but rooted in Senegal.
Liverpool Philharmonic Celebrates LightNight 19.00 – 22.00 (free)
Music Room
Welsh harpist Catrin Finch and ensembles from the Liverpool Philharmonic Orchestra perform a lively programme of different music.
Bollywood Nights (free)
19.15 – 21.00 St George's Hall
Street dance meets Indian dance. Workshop for all abilities delivered by Bollywood dancers Movema, learn hand gestures and foot movements working to a choreographed dance sequence. The workshop is followed by a Bollywood and Ceilidh mash up with live Ceilidh band Gallimaufry.
Rewind Fast Forward (free)
19.30 – 19.45 Liverpool Central Library: Discover, Ground Floor
Archive of feminist, DJ and filmmaker Sandi Hughes exploring Liverpool's music, club and fashion subcultures. Features a special performance by Sandi and Liverpool drag legend Sean McKenna, using archive footage and new material.
Katumba brings together Liverpool and Brazil (free)
20.45 – 21.15 Pier Head
Liverpool's largest drum ensemble, 80 strong, present a fusion of unique beats and moves in this collaboration with Capoeira For All. Katumba celebrates diversity and multiculturalism through music, movement and visuals.
No Worst, There Is None (free)
21.00 and 22.00 Liverpool Anglican Cathedral
Bill Ryder-Jones' response to No Worst, There Is None, the ultimate dark night of the soul" poem by Gerard Manley Hopkins. Ryder-Jones worked in collaboration with IMMIX Ensemble founder Daniel Thorne and features Liverpool Cathedral Youth Choir.
More on the No Worst, There Is None collaboration here
21.00 – 23.00 The Ceilidh (free)
St George's Hall
With live Ceilidh band Gallimaufry, learn dance steps and experiment with traditional dance forms in the beautiful surroundings of the Great Hall.
22.00 – 02.30 LightNight After Party (£4 adv/£5 OTD)
Constellations
Bringing events to a close, No Fakin' DJs plus Abandon Silence resident Andrew Hill and Faux Queens (formerly Brewski Beat). In February, Dazed described Faux Queens as "DJs who are killing it right now." Also on the night, light projections from Sam Wiehl and pop-up performances.
More information on lightNight 2016 can be found here.
Comments
comments