The Liverpool Arab Arts Festival (LAAF) 2016 has recently announced this year's line-up and Getintothis' Glyn Akroyd picks just a few of the many gems to watch out for this July.
Running since 2002, Liverpool Arab Arts Festival (LAAF) has grown in size and stature each year and  once again will showcase the best music, film, dance, theatre, literature and visual arts in contemporary Arab culture.
Kicking things off at The World Museum on July 16, the afternoon features a live large scale painting performance by muralist Nazir Tanbouli alongside traditional dance and storytelling.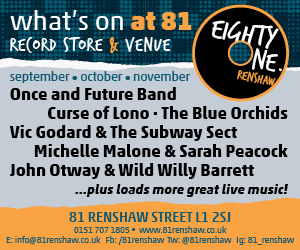 Long term collaborators The Bluecoat host the family friendly Big Sunday (July 17) which includes performances from Ruba Shamshoum, whose blend of Middle Eastern jazz/pop is sure to delight, and festival favourite Reham Al-Hakimi.
Also at The Bluecoat, dance fans can catch a UK premiere from Egyptian troupe Ezzat Ezzat based on commonly used body language, Ancient Modernity, a piece by Joon Dance which promises to do away with the stereotypical Egyptian icons of  Pharoahs and hieroglyphs (July 18), and stand- up showcase  Arabs Are Not Funny! with Omar Hamdi and Prince Abdi (July 23).
FACT host three days of documentary films exploring diverse issues such as women and gender and cities and chaos, and featuring A Day in the Life of War, a series of shorts made by Yemeni children in Yemen and Liverpool which tackle their experiences of living in a conflict zone.
Taking advantage of the rescheduled LIMF Summer Jam, a first-time collaboration with LIMF sees a Mellowtone Bandstand in Sefton Park (July 23/24) featuring Anwar Ali, Dave Owen and the Yaz Fentazi , while in the Palm House a superb line-up features Tarabband's blend of Arabic and Nordic styles, 47 Soul's Middle Eastern electronica and the spectacular colour and motion of whirling dervish Mahmoud Pharaon.
There's plenty more, so for full details of the programme check out www.arabartsfestival.com
Comments
comments