With the International Festival for Business taking place at Liverpool Exhibition Centre this month, Getintothis' Cath Bore picks out the best of the festival's Blue Skies Sessions.
Featuring creative leaders from across Merseyside and around the world, the Blue Skies Sessions, between June 14 and 29, are free to attend and open to all. They aim to challenge how we think about business, society and culture.
The Business of Music session focusses on how Liverpool's new UNESCO City of Music status can ensure that music's role in our heritage will boost our contemporary and future music industry and music making.  Just as importantly it asks, what is the accolade actually for? Facilitated by Craig Pennington from Bido Lito, GIT Inspiration Award 2016 recipient Kevin McManus, Head of Liverpool UNESCO City of Music, is joined by a panel of experts.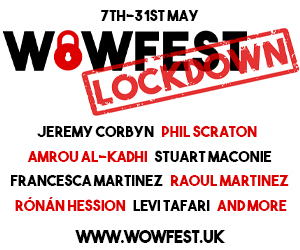 Will Virtual Reality Kill Culture? has the Invisible Wind Factory's Liam Naughton, and Iain Christie from Liverpool's Royal Court Theatre, talking about the lasting appeal and value of cultural events in theatres and live music venues. Can technology and the arts work together to provide new experiences in traditional places? Or are people best staying at home and letting technology explore the world for them?
Read our coverage of the Invisible Wind Factory opening here 
In The Business of Women, a panel including Women of The World (WOW) founder Jude Kelly will examine what prevents women from achieving their full potential and considers possible solutions, including how men and boys can make gender equality their priority.
The Creative Industries Federation brings together the arts, creative industries and cultural education, from advertising to video games, publishing to performance, universities, fashion and more, all combining to add £84.1bn GVA to the British economy. During The Business of Creativity session, Chief Executive John Kampfner shares his thoughts on how creative thinking at the heart of business leads to success.
The International Festival for Business takes place at Liverpool Exhibition Centre from 13th June to the beginning of July. A complete list of Blue Skies Sessions is here.
Comments
comments