As Positive Vibrations brought roots and conscious vibes to Liverpool in full effect, Getintothis' Glyn Akroyd and Ste Knight were there to feel the unity.
Positive Vibration enters its fifth year with an expanded, two-day format and a frankly mouthwatering line-up of live acts and DJ's laid on by promoters Rebel Soul. Friday night is worth the price of a weekend ticket alone, boasting Mad Professor and Trojan Sound System and kicking off outdoors with Keith Marley's feel good mix of dancehall and ragga, and Walrus Said's classic set of 60's hits by luminaries such as the Skatalites and Desmond Dekker.
As always, although billed as a festival of reggae, you know that the performers and selectors at Positive Vibration will lovingly embrace every aspect of the Jamaican music scene from 50's calypso, through ska, rocksteady and bluebeat to dub and dancehall.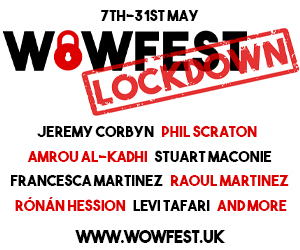 Constellations looks the part, decked out with flags and bunting in the colours of Jamaica and Ethiopia and featuring Derek's Shack, a mocked up wooden DJ shack in tribute to the sadly departed DJ Derek. A special One Love Pale Ale, which we can confirm is extremely palatable, has been brewed for the occasion, proceeds from the sale of which are to be donated to the Trinity Centre for community arts in Derek's hometown of Bristol.
In addition, Constellations is also home to the International Reggae Poster Exhibition which features artwork from around the globe. The graphic designs are as colourful and punchy as the music that inspired them, they are being auctioned and again proceeds are being donated, this time to the Alpha Boys School in Kingston. So the festival organisers are staying true to the ethos that is promoted throughout the weekend: that reggae is a unifying and, indeed, positive international force.
The crowd is building nicely as Josh Ray takes us on an eclectic dub journey which includes John Holt's Police In Helicopter and Prince Fatty v The Beatles Day In the Life, and in doing so confirms that tonight's sound system is well up to the task.
Mad Professor takes the stage accompanied by MC Panafricanist, and tells the crowd "I'm going to dub you up crazy". This he proceeds to do, showcasing songs from his new album African Panorama, with swirling electronic effects washing over the heaviest of beats and Panafricanist stalking the stage delivering rapid-fire vocal salvos.
The Prof plays around with textures, taking the bass out and leaving space for echoey, skanky guitar chops which sees the crowd, flooding in from the garden, moving as one, before he drops in the bass again. Panafricanist takes time out from vocal duties to play the steel drum on several numbers adding a vibrant calypso feel to proceedings and the red, green and gold lighting highlights the crowd.
There are some fabulous soulful vocal samples until Sister Aisha takes to the stage and delivers the real thing, her presence and superb delivery taking the atmosphere up a notch further. She only performs three numbers, which is a great shame but the Professor holds a rapt crowd thereafter and builds to a storming climax.
Out in the garden, Hot Plate and Long-E have a healthy crowd strutting their stuff before Trojan Sound System enter to a fanfare of ska brass and continue to imbue the crowd with a mixture of right on grooves and right on messages. Soulful vocal harmonies are counterbalanced with staccato toasting and the heavy dub is woven through with classic samples.
Written into the DNA of this music is the gospel, soul and R'nB that crackled and popped over the airwaves out of the southern states of the USA into the Jamaican heartland during the 50's and early 60's and it is expressed here tonight not as a fossilised relic, but as a living, vital component of the contemporary Jamaican music scene, and the audience are animated throughout.
It's been a superb opening evening to a festival that combines the maximum amount of fun with the maximum amount of integrity.
Check out our Glastonbury festival North West ones to watch list, here
Day two of Positive Vibration seemed to be somewhat of a more unified affair (in the 'reggae' sense of the word). Despite the rain, families had turned out to the Constellations garden with children and dogs in tow, to grab a little bit of sunshine from the music, seeing as the sky wasn't offering any.
Rumjig got things off to a lively start, with their ska-infused set getting rumps shaking and bodies swaying. Unity Creator himself, Levi Tafari performed some excellent beat poetry, after a DJing interlude of bass heavy reggae from Danny Fitzgerald. Tafari's poetry carried the positive message espoused by many of the Rastafari faith – one of peace, love and unity – with a little humour thrown in for good measure.
Les Spaine took to the decks once Levi had delivered his final stanza, to deliver some excellent selections, before Shanty swamped the small outdoor stage. These were a really tight band instrumentally, and both their vocalists offered silky delivery.
Indoors, the party was getting started too, with a number of acts flying through their sets in a spectacular fashion. Indoors was very much band-based, although some DJ's such as Monkey, Funk Dub could be seen between sets. It has to be said, Kioko, Solko, and Cut Capers all played a blinder, with energetic performances being delivered by all three.
Big Audio Dynamite's Don Letts took to the decks outside in his own spectacular fashion, whilst indoors DJ Vadim was ripping it up with a boombastic set that covered all sorts of styles, from drum and bass, through dancehall and dub.
It is fair to say that this year's Positive Vibration really pushed the boat out in terms of the big names playing there. Everyone's set was on point and props to the promoters and curators of the event for bringing something special, and a little bit different, to Liverpool.
All images by Getintothis' Mark Holmes and Glyn Akroyd
Comments
comments