Viola Beach's posthumous debut album is full of the spark, energy and passion of four extremely talented young lads, Getintothis' Jake Marley reflects track by track on a rather bittersweet offering.
This was never going to be easy. In fact, it's a struggle to even listen to Viola Beach's songs these days. Knowing the lads, knowing their journey and knowing exactly the heights they were heading for, it's difficult to then go and analyse a posthumous debut album. An album released by close industry friends with the support of the band-members' families to offer a small ray of light in a tragic and extremely cruel storm.
For Viola Beach, four young, exuberant lads from Warrington, the sky was indeed the limit. Anyone in close contact with the band knew it, and the industry knew it too. There was barely a festival in the land they weren't booked to play, and it felt like you couldn't have the radio on for an hour without hearing a Viola Beach track. As Chris Martin now famously alluded to during Coldplay's Glastonbury headline set, they could one day themselves have headlined the biggest festival stages.
Bands like Viola Beach don't come along everyday. Forever willing to open doors for young freelancers, both written and photographic, making their way in the industry; supporting our work just as we supported theirs. All the while having barrel loads of fun (see their photoshoot on top of telephone boxes and wielding colorful umbrellas), honing their craft and learning from their peers, ever evolving as a young band.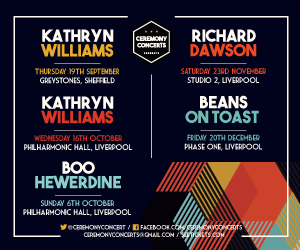 An evolution that tragically leaves us with merely a debut album to remember them by. Made up of two early singles, Boys That Sing and Swings and Waterslides, as well as six previously unreleased tracks and a live version of Get To Dancing from a BBC live session the band recorded.
Uncover our best new LPs in the latest edition of the Getintothis Album Club
Let's reflect on Viola Beach's forever smiling musical legacy: Viola Beach.
1. Swings And Waterslides: Viola Beach's diamond in the rough, opening the album with a sample of the mainstream hooks that would have no doubt have become a staple of our musical diet for years to come, shaping our musical future. This track always did sound massive and now it takes pride of place, fronting this fun, shake-your-summer-till-it-fizzes-out-the-bottle album. Kris Leonard's half-rap, full-pop vocal nature flowing along streams of youthful pop vibrancy is a joy to the senses and you can't help loving every second of this.
2. Like A Fool: Full of traditional indie-pop ingredients and summery hooks galore, Like a Fool embodies all that Viola Beach stood for as a band: free-spirited, gentle-minded, no-fucks pop, designed to put smiles on stressed, fed-up faces that just want to cut loose and dance into the sunset. This one has a tough act to follow and could easily be interpreted as slightly empty, although its simplicity is rather charming, how can you not love the lyric: "When you lie awake at night, you're probably wishing you were tired, right?"
3. Go Outside: One of the best they produced and also one which will probably never get the recognition it deserves. This could quite easily have been the lead single on an EP. Full of kicks and plenty of groove, that chorus-flick is the thing of dreams.
4. Cherry Vimto: Just like Swings and Waterslides, this song's title does the talking. Only Viola Beach would name a song after a can of pop. Just because they could, so they would. The central beachy riff is the maker and shaker of this one, another solid outing.
5. Drunk: Opening with a cinematic ten second drift before absorbing River Reeves' consistently infectious, Peace-esque guitar lines and letting them quite simply take over. The Soundtrack of lost-in-love teens everywhere.
6. Really Wanna Call: There's a distinct Hawaiian flavour to this one. Reeves' guitar is doing a jig round a sun-kissed beach without a single care in the world.
7. Call You Up: Opening with near three and a half minutes of subtle, gentle-riffage, allowing Leonard's empassioned vocal display to take centre-stage, you feel every word. There's even a synthy drone here, who'd have thought it.
8. Get To Dancing: This live version gives a small insight into the live chemistry of the group. It's oh so easy to hear this track on every main stage on the festival circuit in front of thousands and thousands of people. It's a nice inclusion on the record as that BBC session was rather special and is as true a reflection as you'll get to what Viola Beach were like without knowing them or seeing them live in person.
9. Boys That Sing: Viola Beach's encore during their Glastonbury 'set'. An anthem. Probably the hardest to listen back to. Arguably the clearest indication of the direction the band were heading. To this day we've not seen so many people collectively welling up than when this echoed around Worthy Farm on that Sunday night. Absolutely beautiful.
Overall then, there's rough edges, of course there is, this album was never finished.
However the unmistakable sound of being young, having a laugh with your mates, and displaying scant regard for negativity, perfection and routine shines through in an album full of as much charm and heart that you could wish for in a debut.
Viola Beach have, in this album, left behind a collection of songs that embody what they stood for, what music is all about and why we all fell in love with it in the first place. Natural, genuine, honest and fun, a fitting way to remember Kris, River, Tomas, Jack and of course Craig Tarry too.
Pictures including rare photographs at The Cavern by Getintothis' Tom Adam, Chris Flack, Simon Lewis and Martin Saleh.
Comments
comments