Bill Ryder-Jones wraps up his West Kirby County Primary campaign with a rare Wirral date as Getintothis also reveal our special GIT Award 2016 highlights video featuring the man himself.
Bill Ryder-Jones is to conclude his West Kirby County Primary album tour with a date on Wirral home soil and in Manchester.
Ryder-Jones and his band will play New Brighton Floral Pavilion on Saturday November 26 and Manchester's Gorilla on November 28.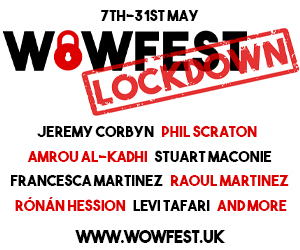 The Wirral songwriter has enjoyed a hugely successful 12 months and wraps up his busy summer schedule following trips across the UK and Europe while also providing main tour support for Mumford & Sons.
Having won the GIT Award 2016, Bill has been named Patron of Liverpool Mental Health Festival, played Somerset House with Courtney Barnett and recently been announced to play alongside Richard Hawley and John Grant in Sheffield.
Last weekend he headlined the Lost In The Woods Friday night slot at Festival No. 6 were he told Getintothis about his imminent trip to New York to work alongside pioneering photographer and documentary artist George Colbert.
Back stage laughs & personal photographs from Bill and his band's tour with Mumford & Sons
Toronto's Colbert specialises in photography which mixes natural subjects with evocative mysterious imagery and is primarily noted for his award-winning installation Ashes and Snow (watch a short film here) which has toured the world in what's called the Nomadic Museum.
Bill said: "I'm off to New York this week to work with George Colbert, it's a genuine pleasure as he's an incredible guy – everyone should look up his work. I'm really excited."
Meanwhile, following on from Ryder-Jones' GIT Award win, Getintothis editor Peter Guy caught up with Bill and his band at Liverpool's Buyers Club to present him with the £1000 winner's cheque.
Ryder-Jones intends to put the money towards a new recording studio which will not only be for personal use but will provide a new hub for rising new talent.
Finally, what with Bill's news, it seems an appropriate moment to reveal the highlights video from the GIT Award 2016. We once again teamed up with film-maker Mark Beno and here's his film from a special evening at Constellations.
GIT AWARD 2016 | Beno | Getintothis from Beno on Vimeo.
The GIT Award 2016 shortlist: Clean Cut Kid, Dragged Into Sunlight, Hooton Tennis Club, L U M E N, MiC LOWRY, Mugstar, RongoRongo, Bill Ryder-Jones (winner), Stealing Sheep, Trudy, TVAM, The Vryll Society. Inspiration Award: Kevin McManus, One To Watch Award: Tayá. Thanks to all the artists and everyone who made The GIT Award 2016 so very special – see you in 2017.
Tickets for Ryder-Jones' gigs are on sale on Wednesday September 7.
Comments
comments