Hangar 34 are set to launch a new club on the site of the old Garage nightclub in the Baltic Triangle, Getintothis' Ste Knight has the news.
Saturday October 15 sees new nightclub, Hangar 34, open on the site that once housed The Garage nightclub. The club has been closed since an unfortunate incident of violence led to the license being suspended by police pending review.
However, the club has now changed hands, with new licensees at the helm, and a makeover to boot. The space still boasts a beast of a Funktion One sound system – anyone who previously attended The Garage for one of the techno nights held there will remember how every cell in your body would vibrate when stood within ten feet of the speakers in that room, while top DJs like Nick Warren, Todd Terje and Rebekah ploughed awesome music into your earholes.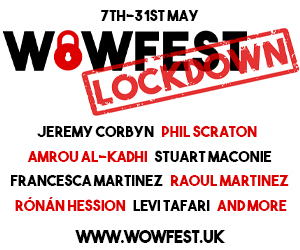 Hangar 34 look set to offer the Baltic Triangle something a little different to what it is used to seeing in the area, with several of the nights planned in the forthcoming months focussing on spectacle alongside the music on offer. In addition to the sound system, the club now comes complete with CO2 and confetti cannons, and a VIP area for those willing to throw an extra tenner on their ticket price.
Chibuku, now one of Liverpool's longest running, and most well-respected club nights, kick-started the club on October 15, with one of the two official after-parties to their Camp and Furnace daytime shindig taking place at Hangar 34. The night played host to Chibuku residents, and special guests, and went down a storm for all involved – a great start to proceedings.
Moving forward the club has a number of nights planned, each of which is completely different to the next. Listings for the upcoming dates are as follows:
October 29: Back to the Anthems meets Sunrise
Old school classics collide and combine in a cataclysmic meeting of minds as Liverpool nights Back to the Anthems and Sunrise go head to head with their Halloween extravaganza. Acts include Deedee, Francesca, and Ian Van Dahl (now re-branded as AnnaGrace – remember Castles in the Sky?), alongside residents Lil' John, Mikey Dee, Jed Clark, Jase G, Adam Maddox, and Carl Williams.
November 5: Karuba
Liverpool's own Kydus brings his Karuba parties to Hangar 34 on bonfire night, hopefully with a bunch of techy bangers ready to go off at any given moment. Spanish DJ and producer De La Swing heads the bill, with Adrian Hour in support.
November 19: Control
Liverpool club night, Control, comes to Hangar 34 on November 19, with a slew of tech and house DJ's in tow. Tough Love, Endor, Manual & Forbes, FNJ, Liam Cooper, and Josh Millar are all set to grace the decks at the underground house night.
Tickets for the above events are available from all good retailers.
Comments
comments