Hanna Peel makes beautiful music out of memories, Getintothis' Rick Leach chatted with her about her new solo album, Skelmersdale and the prospect of a third Magnetic North record.   
Sometimes in life things are just destined to be. Things happen in a way that you shouldn't really call fate but nevertheless, that's the closest thing for me in respect of both The Magnetic North and, in particular, Hannah Peel.
Earlier this year, while idly browsing for a new record to buy, just for something new, I caught sight of a distantly remembered logo on the sleeve of a CD in the record shop. It was one of those slightly familiar icons that tugged at memories long forgotten.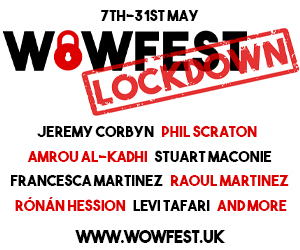 What was it? I was sure I'd seen it before.
I picked up the CD. All there was on the cover was a black and white photograph of a young girl in a plaid shirt. She was holding a chicken and standing in what looked like some sort of allotment. I was intrigued.
Squinting at the spine through my glasses I saw that it read, 'Prospect of Skelmersdale. The Magnetic North.' And then the memories came flooding back. Skelmersdale New Town. The logo from the 'New town.'  The Development Corporation.
This had a direct and personal connection for me. My maternal grandmother was born in 1880 in Skelmersdale. She lived in that town for all of her 104 years, most of the twentieth century and through two World Wars and one depression. The amount of changes she witnessed in her lifetime was staggering; the rise and fall of Communism, the invention of flight, mass communication through radio and television, mass transport with cars and trains, the right of women to vote, the inception of the NHS, the atomic bomb – the list is endless. But one of the biggest and nearest changes she saw was the transformation of her small Lancashire mining village into the 'new town.' She always seemed a bit perplexed as to why and how it changed. Why Skem?
But she liked the change as it happened. Her generation could cope with change. It was an exciting time.
And I remembered the change as well. I remembered all the houses being built and watching as a child all the heavy machinery, all the diggers and concrete mixers turning nondescript empty fields into something new and exciting and fresh. We stood on the top of the hills watching it unfold under us, like a massive Lego set.
And that logo was everywhere. On every sign you saw. Skelmersdale Development Corporation.
So I had to get the album and see what it was all about.
It was a revelation.
You know when you hear a record and you know that it's just right? When the more you play it and the more you listen to it that it sounds better and better, to the point where you find yourself mesmerised by it, staggered that someone could make music of such beauty? Well, that's how it was with The Prospect of Skelmersdale. It sounds like the past and the future; gentle washes of sound, fragments of familiarity and not a note out of place. Music that evokes memories.
And with Hannah Peel's crystalline vocals running all the way through the record like sunlight pouring through a quiet glade of trees on a summer day, this was a band I needed to find more about.
This is where fate kicked in.
I searched around a bit and discovered their first album, Orkney, Symphony of The Magnetic North.  While The Prospect of Skelmersdale was rooted in Skem and memories of the new town from Simon Tong, guitarist in the band and late of The Verve, who grew up in Skem, then the Orkney album was based on a trip back to the Orkneys, back to the home of Erland Cooper of the band.
And that debut album was just as good as the Skelmersdale record and for me there was another connection.
My wife's maternal Grandfather came from a small island in the Orkneys, Papa Westray. Like Erland Cooper, he grew up somewhere so different and remote. Until the Second World War came along he'd never left the Orkneys and we always knew that it had a special place in his heart.
Speaking with Hannah Peel for this interview and just prior to what was possibly the best gig I have ever seen, The Magnetic North at Liverpool Central Library, I mentioned this dual connection and she was equally as staggered as me. 'What's the chance of that?' she said, 'The Orkneys and Skem!'
She was right of course. In a Venn diagram of happenstance I suppose it's very slim. I guess I was destined to love The Magnetic North.
But there's more than this. Hannah Peel's incredibly moving new solo album, Awake But Always Dreaming, was inspired directly by her own grandmother and in particular the long hours she spent with her as she succumbed to the heartbreaking disease of dementia.
It's a measure of Hannah Peel's skill and talent as a musician and as an artist that she can turn something that is so cruel, random and callous and sadly so prevalent as dementia into a thing of beauty and ultimately a tribute to a clearly very loved person.
During a long chat with Hannah, we discussed the long gestation of her album, how The Magnetic North came about, the grumpiness of her fellow band members and whether or not there was ever going to be a third Magnetic North record.
Getintothis: So how did the new album Awake but Always Dreaming come about? What was the process?
Hannah Peel: "Well, it was quite a long-winded process. I started it about four and half, five years ago and during that time I picked up a book by Italo Calvino – Invisible Cities. It's like fifty five prose stories, really fifty five prose poems about different imaginary cities and it's quite fantastical."
"I set out to score songs for each and every one of the invisible cities. So what came from that was a couple of E.P'.s, a few things on television and a soundtrack that got used because I was doing it for so long and people wanted things and I just went 'I'll just use one of these!'"
"But it went to the point of obsession y'know, when people said 'Why are you doing that?' and I had no idea why. I just loved the idea of maps and going into another world and…it just wasn't an album. It never felt like an album until I had this experience with my Grandmother and she unfortunately passed away this year – she was 98 -she'd fallen into dementia probably ten, eleven years ago. It got gradually, gradually worse, to the point where she no longer knew any of us and she only remembered things from when she was six years old, that kind of stuff."
"I think I read somewhere of the impact of music on people with dementia and this was in the last two and a half years or so. It was near to Christmas and I said to my Dad, 'Come on. Let's sing her some carols and see what happens.' And she automatically woke up and sang the songs and all the lyrics and turned around and said 'Oh! Happy Christmas!' and from that moment I thought that I can't believe that this is actually true! I just couldn't believe it! So we did various things, because she'd always sang. She was in a choir and so she always loved music and…it's really hard but I realise I could have done this a long, long time ago."
"She would sing a version of WB Yeats The Lake Isle of Innisfree. I don't know where the melody came from, but she could do it all the way through until the day it all really started to fall back".
"She would always end a conversation with…you know if you went in and you told her the same conversation of who you where and where you'd been and what you did and she would always end it with 'Oh!But I don't know, but I love you,' and that ending of a conversation with 'I love you' became one of the tracks. I wrote down the conversation, what I always said, I put it onto a tape and looped the tape and looped it and looped it and thatbecame the bedrock of the 'Conversation' song."
"And from that moment on and when I saw her awake I knew that this was what the album had to be about!"
 "I'd spent the last few years before thinking 'where has she gone?' and 'where had she gone?'In my head she had a map of her own and she lived in a completely different world-just like Invisible Cities- yet she was still present with us, so it kind of just all gelled together."
"So it was at that moment I thought 'Right! It's got to be like this!'"
Getintothis: It's a very hard thing to cope with. How did you feel about making music about it, about baring your soul to the world? Did you find it difficult putting it out onto the world? I know it's a cliché, but did you find it cathartic?
HP: "Without a doubt it's cathartic".
"One thing that helped massively with the album was putting the songs into an order, from a beginning to an end and ending up in a different place. You go through that journey, placing those songs and if something was missing then adding it into what could be what the journey into the mind."
"In the production it really helped seeing the symptoms, the hallucogenic side of things, and the loss of speech and having that in terms of music in respect of the instrumentals. Things being repeated constantly. Like there's a lot of little motifs, a lot of references to being awake. And always dreaming in all of the songs."
"I think the most cathartic thing was when I started researching it, someone said on Facebook that I should talk to this girl, Selina. She's from my town of Barnsley and she's one of the main researchers at UCL working on dementia research. She makes brain neurons in petri dishes by taking some skin and growing them. It's just amazing!"
"And the other amazing thing is she's from the same town as me and the same age as me!"
"I learned from her loads about it scientifically and then it completely shaped how I adapted and changed. If anyone thing that came out of doing the whole album, if I could go back in time and do one thing differently, I would try to understand and try to connect with my grandmother. And not …emotionally get so dragged up in it. And watching my aunts and uncles coping with it; and my father, of course."
"I wish I could have had that musical connection earlier. If anything and if anyone reads about the album and has a grandparent, I would hope that they would just get some music on! I just want people to know from the album that you can do that and make that connection."
Getintothis: So I guess it's a rare thing, making an album and making music that not only pays tribute to your grandmother but all those of her generation? There's not many people who'll be inspired by that generation in an artistic sense?
HP: "No,and it's very hard to do without being nostalgic and playing nostalgic music".
"But a lot of what comes across in the first half of the album is me always looking at the way you should live your life – to the fullest. And the first track… All that Matters, is just me saying that no matter what, whatever you're left with, then you're never left with material stuff. You're left with your family and people that care for you so… so…it came out that way, without knowing. It just happened!"
Getintothis: You mentioned Calvino's Invisible Cities as the inspiration for the album. Have you read any other of his books? If, On a Winters Night A Traveller… is an amazing novel.
HP: "Well, funny you should say that!"
" I did something for Radio 3's Late Junction and they used to give you a book and you'd have to make a piece of music about it. They gave me If,,.  and I'd never read it before and I was blown away and that's how I got into Invisible Cities. An amazing writer! Just brilliant."
Getintothis: I notice you do a Blue Nile cover on your solo album, a Paul Buchanan song, 'Cars in the Garden.' And someone asked me what The Magnetic North were like and I said 'You know The Blue Nile? It's like that. Adult music.' Not AOR, but music for adults. You know what I mean?
HP: Laughs.
Getintothis: Not like Dad rock of course!
HP: "No, of course not!"
"But The Blue Nile are stunning. You know what I love about them?"
"I've always been a fan of them. The first song of theirs I heard was Easter Parade and the moment of hearing that and I went 'Oh my God!' It's like a photograph. You could create something so simple. You hear the things on there and it's so stunning because it's so simple. When we were mixing the album in Ireland we kept going back to The Blue Nile album over and over again and it was to hear how beautiful things could be with a minimal amount of stuff on there."
Getintothis: Less is more?
HP: "Exactly, and it's so stunning, and I love his voice."
" And ever since his Mid Air album came out in 2012- I love that whole album, it's just perfect- but that one song I just knew it would fit onto the album perfectly."
Getintothis: It bookends the album so well.
HP: "Initially I asked him if he would sing it with me but he said no of course!"
" But he mailed me and said when he first recorded it that he wanted a music box sounding thing. So I was really really happy that Paul Buchanan gave us the go ahead!" 
Getintothis: So, moving onto The Magnetic North. Good things happen in threes. There's been an album about The Orkneys and one about Skem- is there going to be one about your sense of 'home'? There should one! There has to be a third one!
HP: "So we've started it! We've been on a research trip last weekend."  
"It's funny because the first album wasn't supposed to be part of something. It was just on its own, it was just a project. We weren't even supposed to be a band! But as we got into the album people said 'You're a really good band, you should do more' and between that and there was a 4 year gap between releases."
"So in that time gap Elrand and I went to Skem to research it in 2013 and we came back with load of pictures. We met loads of writers and loads of local people who gave us story books. We got loads of the history about Skem and made a video. And we wrote a song while we were there."
"Then we sent it to Simon and he hated it!"
Getintothis: Really?
HP: "Yes!"
"To the point he said 'I never want to work with you guys again. That's it. It's over. It's not a record about Skem, you're stupid.'"  
"He basically completely hated it!"
"And I think it was the utter shock of his childhood kind of facing him. It took a long time for him to come round. We even went to the place where he spent his summer holidays in Eskdale up in the Lake District and we recorded for a whole week."
"And on the way back to London in the car all the way back we played what we recorded and he said "Um, I think that next record has to be that Skem one, hasn't it?" And we were just like 'Yeah?'"
Getintothis: So you nagged him into doing it or gently nudged him?
HP: "We just let him come to his own decision!"
Getintothis: And you knew you were both right all along!
HP: "It took a long time, but you know what, 'cos the way we approached it and we weren't supposed to be a band, there was a lot of finding things out on the second record that weren't expected. We worked out what our vibe is. And starting to work on this third one we've realised that it doesn't matter who writes a song we just share it but…"
"I've been very resistant. A bit like Simon was. Not because I want to be like him but it's hard when you bring someone into your life and you bring them into your community where people live and they have their own perceptions. You don't want to offend the people that come from there; but you want to give out what you've experienced of how it should be."
"So finding that balance was really difficult. It was really stressful, but the one thing that made us really happy was the show we did in Skem in May because it went down so well with everyone in the audience. There was just so, so much love and appreciation and you couldn't ask for better. It was the best gig I've ever done in my life."
Getintothis: It must be hard to strike the right balance between being over sentimental or overly cynical?
HP: "Yeah. You don't want to put people off or upset people".
"It is a hard balance. Actually what we've found is tapping into childhood and tapping into personal memories is the way to present it rather than 'This is grimy and this is this.'"
 "People say Skem is an industrial town, but that's people who've never been there or people who've just driven past it from Manchester on the motorway. People seem to have this ideal about what Skem is because it's not easily accessible. It's hidden from view."
Getintothis: There's a lot therefore about memory with The Magnetic North. Is it difficult dredging stuff up from your childhoods or do those memories come easily?
HP: "I think it's already easy for me because I already do solo stuff because I'm open to that I think."  
"It's not exactly dredging stuff up because I think on a daily basis I deal with the dredging the past."
"But the place I took Erland and Simon to in Ireland is so special and magical to me in my heart. But I wanted them to go where I was and wanted them to go through the same things and I think that they did."
"And you know Ireland in particular is full of melancholy and is full of…everything. So I think what they experienced is how I wanted them to see it. The lyrics that came out of it all were from being there for only a few days and the songs were perfect for the next record. So rather than it being four years before the next album, I think it'll be a lot quicker!"
Getintothis: As a band then you're kind of getting in your stride?
HP: "Well, although Simon was the guitarist in one of the most famous indie bands ever, he never really had a voice in it and never had all the focus on him in that, so this was a massive, massive step for him compared to Elrand. Even on the first Magnetic North record Simon never really had a voice."
"And in life Simon never says much, he's just grumpy, he just grunts at you!"
"So you never quite know what he's thinking! So it was a big upheaval but in the end he loved, he loved it! And it's become a treasure for him, so it's amazing!"
Getintothis: A life changing experience?
HP: "I think so. But he wouldn't admit that! You ask him and he's say 'Oh I always felt that!'"
Getintothis: As The Magnetic North you're playing live in libraries. How does that feel? Is it different?  
HP: "It doesn't belong in a church or a concert hall. Maybe a working men's club but it's not as rough and ready so the library side of things works. It seems to suit it really well."
"So we tried to book the Library in Skem for our album launch, but it didn't work out and we ended up at the E Rooms. We had the guy's details for the E Rooms in Skem and we rang him. He said 'Do you want to come up and see us?' and we said, 'We're here in Skem right now!' And we went and saw him and got it sorted. We played there and it seemed right and destined to be!"
Getintothis: There's a sense of place about The Magnetic North. The Orkneys and Skem. How does that sense of place and sense of 'home' work for you, personally?
HP: ""Well, people ask, 'Where are you from?' and all I can say it's a caravan!"
"That's where I'm from in a sense of 'home'. But I've lived in Ireland and Yorkshire. I lived in Liverpool for nine years and now live in London so I don't know really about a state of 'home'".
Getintothis: And memory. A sense of memory with the Magnetic North? That seems to be the overriding thing.
HP: "Yeah. Memories."
"The summers used to be hotter and summer holidays used to be longer. And maybe more people can relate to it more because of those memories."
And that's what Hannah Peel and The Magentic North are all about. Those memories. Of the past and for the future.
Hannah Peel plays Shoreditch Church, London on November 24 in a special event with writer and filmaker Lavinia Greenlaw and filmaker Shelley Love in aid of Alzheimers Research UK.
The Magnetic North play The Polar Bear in Hull on November 6.
Comments
comments