Ahead of The Burning Hell's forthcoming Liverpool performance Getintothis' Martin Summerfield takes a listen to their latest release.
Following on from the loquacious lyricism of People and Don't Believe the Hyperreal, the lit rock quintet led by Mathias Kom are like an upbeat Lambchop or Lou Reed with an eye towards the absurd. They are now set to kick off their headline UK tour with a Shipping Forecast gig on December 3.
We could see the duet Fuck the Government, I Love You Too becoming a lo-fi singalong in these dystopian times – "Pass the wine, fuck the government, I love you/Three statements overheard at once in the crowded room/But I couldn't be sure which one had come from you".
The GIT Award 2017 returns at Liverpool Music Week Closing Party, plus party stage times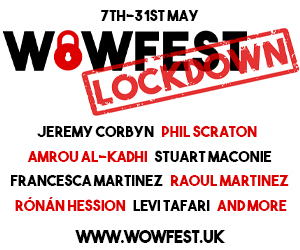 Whilst their track The Road is about the band's ride breaking down whilst touring in England, comparing touring on the road to the Cormac McCarthy novel with "less cannibalism but a similar look."
Each song is a story sardonically told to humorous effect, littered with literary references about the Dewey decimal system, Herman Melville and Christopher Columbus whilst also being undeniably catchy, sprawling indie rock earworms. Catch them in a Merseyside basement, conjuring up some fire and brimstone, soon.
The Burning Hell play The Shipping Forecast, Saturday, December 3. Doors 7pm.
UK tour dates:
December 3: The Shipping Forecast, Liverpool
December 4: Cluny 2, Newcastle
December 5: Gulliver's, Manchester
December 6: The Hug and Pint, Glasgow
December 7: The Musician, Leicester
December 8: Brudenell Social Club, Leeds
December 9: Start The Bus, Bristol
December 10: Oslo, London
Comments
comments