Cat's Eyes deliver a standout show at Leaf for Liverpool Music Week and Getintothis' Del Pike was sure glad he attended.
Leaf provided an inspired venue tonight for Cat's Eyes, the most unusual of bands, made up of Faris Badwan of The Horrors and Canadian all rounder Rachel Zeffira. Touting their new album, the delectable Treasure House and gracing the line-up of this year's outstanding Liverpool Music Week with class, they are more than welcome tonight.
Able support tonight comes from our own Tom Low. Presenting possibly the tightest set this writer has seen him pull off, Tom and his band start with the inevitable Telephone and working his way through the tracks from the self same titled Deltasonic E.P, he doesn't phone in the performance. He just seems to get better as time rolls on. Origami is effortless and Sailor offers Glen Tilbrook style vocals over a summery arrangement.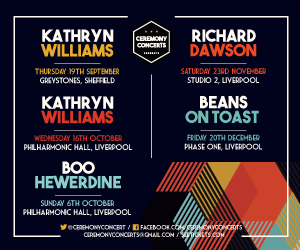 Blue Wave plays around shamelessly with Purple Haze a little, backed with BBC Radiophonic Workshop keyboard noodlings and Train would sit comfortably as one of those whimsical Parklife era Blur B sides. No bad thing. Tom finishes with the dreamy Balloons, which he assures us are "fun from the start" and the set is over too quick.
Cat's Eyes bring with them a full band with backing singers who start up Falling, the haunting theme from Twin Peaks, as Faris and Rachel wander slowly through the audience to the stage. Rachel approaches the mic, bathed in blue light with red curtains behind her and begins to make noises in a stunning soprano vocal. not strictly lyrical but atmospheric as hell. It's a David Lynch fan's wet dream. The blue light and red curtains are important here. Goosebumps all over.
Faris introduces drummer Dave who apparently only met the band two hours ago and has never heard their albums. The original drummer has fallen sick. Dave rules tonight.
Chameleon Queen from the new album really does sound like Riz Ortolani's Cannibal Holocaust soundtrack riffing on Procul Harum's Whiter Shade of Pale. Imagine that if you will, difficult as that may be. It's a wondrous thing by the way. Cat's Eyes are undeniably cinematic and their music swings from French New Wave through Italian Giallo to 50's Drive-in with no effort whatsoever.
Face in the Crowd, the standout from their first album is a lost classic that should be on every summer playlist. 60s swagger meets 70s rebellion in a lush little gem. Backing singers add to the pleasure of it all, like a breeze. Drag, their more recent single just adds to the pleasure even more.
Things get heavier with the pounding Standoff from Treasure House and reminds us that Faris is indeed one of The Horrors. The Cure comfortably reside somewhere deep in this song.
Discover Cat's Eyes' movie tastes in Getintothis' interview with Faris Badwan
Faris has had his rock n' roll moment and leaves the stage. Rachel delivers an impossibly mesmeric version of The Beatles' Because. A song that often becomes lost on the medley structure of Abbey Road but shines tonight when singled out. Rachel's piano skills and beautiful vocals make this a special moment in the set.
Be Careful where you Park your Car, the poppiest track from the new album is pure Shangri-las. A motor-revenge song from Rachel about an ex boyfriend who smiled a little too much when he said goodbye and got his wheels trashed as a result. Rumour has it, that ex was Mr Badwan himself. An American woman who screamed ridiculously throughout The Beatles cover offers loudly that she too took out revenge on an ex's car. Rachel may have regretted asking how she did it; "I threw everything at his car and then fucked him in it!" she cries. The song is a pop classic in the style of Leader of the Pack and begs to be released as a single. A wonderful ear worm that has kept this fella awake for weeks.
Sunshine Girls and Over You (the latter another song about an ex) bring the mood down to a slow smoky pace, and the trombone led The Lull, another Treasure House highlight adds warmth, not that it's needed. It's the closest thing to a traditional love song we're going to get tonight.
I Knew It Was Over (yet another song about an ex!) closes the main set and is as good as a set closer as you could wish for. But the encore is immediate, the stage is too far away from the dressing rooms to merit an exodus. Rachel takes to the vibes whilst Faris sits on a sofa in the audience heckling, and the most magical version of I'm Not Stupid fills the air. It's a fragile song that starts with the line "I know I'm not the prettiest girl – I'm realistic." Wow, did she actually just say that?.
Cyndi Lauper's classic, Girl's Just Wanna Have Fun closes the night and being the unconventional Cat's Eyes this most girly of anthems is sung by Faris with Rachel relegated to backing vocals. The snarly delivery over the 80s synth-pop is pure Psychedelic Furs' Pretty in Pink and it's the most fun way to end the most intimate of evenings.
Cat's Eyes are pretty unique and added another outstanding component to an already eclectic / electric Liverpool Music Week. We are being spoilt rotten this week, the cats who got the cream no less.
Pictures by Getintothis' Tom Low
Comments
comments