Cult director Jim Jarmusch finally delivers his tribute to his beloved Stooges and Getintothis' Del Pike considers their legend and what to expect.
When assessing great American directors, Jim Jarmusch has remained the epitome of cool now for over 35 years. His films (Mystery Train, Ghost Dog, Coffee and Cigarettes) have always riffed with the most iconic of music legends, Elvis Presley, Screamin' Jay Hawkins, Joe Strummer, Tom Waits, Jack White, RZA and Iggy Pop have all featured in some capacity in Jarmusch's canon.
His influences have always been there on his sleeve for all to enjoy but his latest venture, Gimme Danger is perhaps his most direct attempt to show his love for music, and of course Iggy Pop and The Stooges.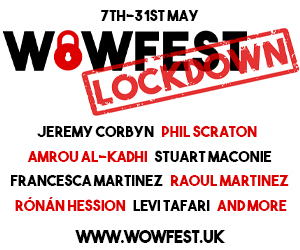 This new documentary that is currently showing at FACT, is a labour of love for the director usually better known for his narrative work. The Stooges are a band who are difficult to ignore, their self-titled debut album, released in 1969, was a relative flop at the time, but stands as one of the most visceral, hypnotic albums of the era. The sneering 1969 was an acidic nail in the coffin of the 60s and the album put Michigan on the musical map. It's an album that still merits being played on a loop, infectious doesn't even cover it. The rumour that the album was written the night before it was recorded is believable in the immediacy of the performances and the rawness of John Cale's production.
1970's Funhouse and 1973s Raw Power were both much more positively received, the latter being co-produced by Iggy Pop and David Bowie which has clearly affected its iconic status. The fact that the band effectively split between the two albums also adds credence to the strengths of Raw Power. As a trio of albums there is little to fault, other than to selfishly wish for more. They were a band that needed to exist in that time zone of the early 70s and it was over too soon.
During this period The Stooges provided the ultimate in aggressive live performance with Pop expressing himself as only he knew how. Stripping down and flashing his genitalia was all par for the course. He was still wearing transparent jeans (commando style) during his Real Wild Child period in the late 80s. Anyone who has read Danny Sugarman's Wonderland Avenue will know of Pop's Rock 'n Roll tendencies that made Keith Moon, Led Zeppelin and The Gallaghers seem like pussycats. The wild-man shenanigans may be one of the reasons that killer tracks like I Wanna Be Your Dog, Real Cool Time and Search and Destroy hardly ever bother the radio-waves, with the legend overshadowing the talent.
1976's Metallic K.O, a live album, satiated fan's needs for a while but it wasn't until 2007's The Weirdness album, that The Stooges truly reformed. They had dabbled a while, helping out on solo projects, but The Weirdness meant that fans could see the original three piece band play live again and hear new material, something they thought would never happen. The new material was unfortunately poorly received and the consensus of many, was that the legend should have been left alone.
We love film at Getintothis, check out our film section here
Any chance of a long term reunion was dashed when guitarist Ron Asheton was found dead in early 2009. The Stooges continued to play without Asheton for a while but his brother, Stooges drummer Scott Asheton also succumbed to a heart attack in 2014 leaving Pop as the sole surviving member.
Possibly due to Iggy Pop's successful solo career and string of classic hits including The Passenger, Nightclubbing and Real Wild Child, The Stooges remained a little more in the shadows than they deserved. Contemporaries, The Doors enjoyed cult status for many years after their demise whereas The Stooges failed to ignite to the same extent. Hopefully Jarmusch's film will help to generate some interest within a new generation.
The film promises to tell the story of the band through a mix of archive footage, interviews, photos and animation. For anyone unfamiliar with the band, this is possibly a perfect place to start with Jarmusch a master storyteller and an embarrassment of Stooges clips, you can't go wrong. In a recent press conference Jarmusch stated that he wanted his movie to be like The Stooges in its approach, so it will be interesting to see how far he succeeds.
Gimme Danger is currently showing at FACT.
Comments
comments