As his autumn tour draws to a close, Getintothis' Edward Feery catches the Liverpool new-wave stalwart's triumphal homecoming show.
It's no surprise Pete Wylie opted to end his latest tour with a home-town show.
Having played a number of acoustic gigs over the last few years, several of them at the legendary but tiny Zanzibar, tonight's show is in the comparatively capacious O2 Academy 2, about as big a venue as it's possible to get while still feeling intimate.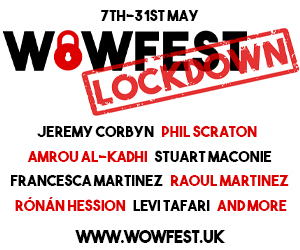 The crowd are still arriving in dribs and drabs as Adrian Gautrey takes to the stage. Gautrey doesn't seem phased by the paucity of attention; along with collaborator Ben Gonzalez (who, in addition to playing drums, plays basslines on a synthesiser in a truly impressive feat of co-ordination) he seems to be having a fine time, interspersing his stripped-back, bluesy numbers with the merest hint of self-effacing banter and just generally enjoying himself.
The space in front of the stage fills up rapidly in the next twenty-five minutes, so that when the house lights go down it's pretty much cheek-to-jowl most of the way down the room.
Freddie Mercury 25 years on – the enduring appeal of The Great Pretender
Ostensibly out on the road with the latest incarnation of The Mighty Wah! in support of his as-yet unreleased album Pete Sounds, Wylie is in the form of his life. Wah! have never sounded tighter – a big bar-room rock vibe, one that suits their leader's big chords and big-hearted lyrics.
The causes close to Wylie's heart – the Hillsborough Justice Campaign, Stop Funding Hate and the poisonous legacy of Margaret Thatcher to name but three – are all expounded upon at great length.
The vast majority of the set comprises classics; almost every Wah! song of note gets a run-out, each one greeted rapturously by a home-town crowd waiting for their favourite. Only a few new songs are aired tonight; one, 'Free Falling' – dedicated to Wylie's new wife, Kate – is a classic-in-waiting, a mid-paced minor-key number about how great it is to be in love.
The ghosts of those no longer with us loom large at points, with snippets of '"Heroes"' and 'You Spin Me Round (Like A Record)' giving nods to David Bowie and Pete Burns respectively. The most emotional moment, however, is 'Four-Eleven-Forty-Four', dedicated to Wylie's former bandmate and friend Josie Jones.
The night ends, as it was always going to, with Wylie's big homecoming anthem 'Heart As Big As Liverpool'. As the band leaves the stage, Pete stays behind for a moment to thank us "for making Saturday night in Liverpool the best".
Pete Wylie is definitely back; may it be a long time before we lay him down by water cool.
Photos by Getintothis' Brian Sayle.
Comments
comments