Taking a deeply personal stroll through Prefab Sprout's back catalogue, Getinothis' Rick Leach wrestles with the task of choosing his personal top 10 tracks.
Sometimes you don't need an anniversary to write about why a group, their music or a particular album is special. It doesn't always matter if it's from five, ten or twenty years ago. Somethings are timeless.
Alongside The Fall, Springsteen and Bob Dylan, Prefab Sprout are probably one of the bands/artists who've meant more to me than anyone else over the years. It was inevitable that somewhere along the line I would write something about them but I've been wondering what I could actually say.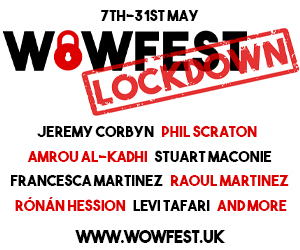 It would be all too easy to fall into what may appear as over-the- top raptures, the over-enthusiastic ramblings of an obsessed fan (who eagerly wishes everything was post-punk 80's once more). It would certainly seem like an exercise in nostalgia and a desperate attempt to convince the sceptical that Prefab Sprout/Paddy McAloon are the epitome of musical genius, unmatched by hardly anyone else in the past thirty years or so.
The thing is, if you've never heard Prefab Sprout then however much I go on about them, however much I try to convince you of their greatness it will only end in disappointment. I'm not as skilled a writer as to accurately encapsulate their genius with words.
Irrespective of the above, they've meant so much to me since their debut album back in 1984 that I couldn't just leave it there. So I  decided to compile a list of memories that are are entwined with Prefab Sprout,  although not being an exhaustive list nor in any particular chronological order, in the hope that this will portray how much they mean to me.
Hearing Swoon for the first time, having had it heavily recommended to me by my best friend and musical guru. I didn't get it on that first, second or third hearing. I must have played it through at least a dozen times before something finally clicked and I realised exactly what he'd been going on about. To this day, this is still my favourite Prefab Sprout record, though ironically, it's the one Paddy McAloon likes the least. No accounting for taste.
Walking down the street on a cold autumn evening with leaves crackling underfoot on the way to see them live for the first of three times. This was sometime in 1985 and they played at Liverpool University. I remember wearing a pair of Levi 501's, a white t-shirt, a cardy from Marks and Spencer and a pair of Doc Martens. (Back then I was intensely fashionable. Or tried to be. Nowadays, I don't bother).
More than just a Top 10 ! All of Prince's album's ranked for Getintothis! All 65 of them!
A clear memory of the gig was that they played a number of songs from the then yet unreleased Protest Songs album. As if it was only last night, I can picture Paddy McAloon, wearing a fedora and denim jacket, singing a song I now know to be Horsechimes and being totally blown away. This was possibly one of the best performances of a song at one of the best gigs I've ever been to. It was truly magical.
Going to buy the Andromeda Heights album on the day of release and getting drenched to the skin.
Being shocked at seeing a photograph of Paddy McAloon, in 1999, with long grey hair and an almost Gandalf-style beard. There had been no news of them for so long and it was like seeing one of those shots of Syd Barrett when he turned up unannounced to the recording of Pink Floyd's Wish You Were Here album.
On finding out, with eternal thankfulness, that the internet was really designed to be a repository of all the music you never managed to get hold of,. And making it a mission to collect every single recorded Prefab Sprout track possible-b-sides, re-mixes, live shows, snippets off the radio, Swedish television interviews etc.
By the time I'd progressed from dial-up to broadband my mission was almost complete. Although I already had every album and a fair few singles, I ended up with a 3CDr collection of all b-sides and demos in chronological order. I wouldn't have normally been so arsey as to do anything with CDrs except scribble details on the disc and stick them in a jewel case or plastic sleeve, but for these I made an exception; I spent ages creating sleeve art and using software to make them look like a proper CD set. They're still on the shelf, filed next to the official releases.
The fact that Prefab Sprout are quite clearly a Northern band, They couldn't have come from anywhere else.
The sleeve notes to Swoon written by Emma Welles.
Waiting ages and ages for anything new to be released by them, surviving on scraps and hints from the internet and being staggered in 2000 to hear they were touring again. Getting tickets front row, dead centre, for their 2000 show at Liverpool Philharmonic. A massive sense of disbelief when they came on stage; I never thought they play live again.
At that same gig, when Paddy McAloon asked the audience if there were any songs that they wanted to hear, some wag, associating McAloon's long grey beard with music from the 1970's, shouting for Wizzard's See My Baby Jive.
Knowing that, apart from a very short period, Prefab Sprout have never been fashionable, hip or cutting edge and being thankful for that. Such fripperies are irrelevant. It's the music that counts.
Reading Nick Hornby's novel, Juliet, Naked about a middle-aged music fan's obsession with an obscure rock star and seeing the parallels re myself and Prefab Sprout, as well as being a bit pissed off that Hornby had nicked an idea I'd been harbouring for a good while.
Thinking that From Langley Park to Memphis wasn't their strongest album, hearing Hey Manhattan once again, and understanding that it beats most other songs by most other artists out of the park.
Paddy McAloon coming out with the (then) unfashionable line that Paul McCartney is one of the greatest songwriters of all time and knowing he was so right.
The overall intelligence, humour and humanity that you can see shining so clearly through Prefab Sprout, every step of the way.
Does all this warrant a Top 10, a best of? Of course it does!
But trying to pick just ten songs has been nigh on impossible. I've been sitting here for a couple of days now off and on, surrounded by scribbled notes, lists and lists, with furious crossings outs. Post it notes stuck everywhere with rankings for different Prefab Sprout songs and certainly more than just ten. I've been going to bed of a night convinced that I've come up the the definitive Top 10, the best of the Best Of, only to realise the next morning that I've left something out that really should be there, something that simply cannot be excluded. It's a good, albeit frustrating, dilemma to have to deal with.
There has to be an end to it though.
So this is the definitive, Prefab Sprout Best of/Top 10 (for today, at least.)
The greatest songwriter of all time? Macca's Top 10 for Getintothis
10. Electric Guitars (Andromeda Heights 1997)

The opening track from the Andromeda Heights album.
'We were songbirds, we were Greek Gods, we were quoted out of context …it was great…'  McAloon's unashamed homage to The Beatles demonstrates and celebrates the fact that all pop music is not simple and simplistic, but great art in its own right.
Like us, he is a true fan.
9. Rebel Land (John Peel session track 1985)

Recorded for a John Peel session in 1985 and in the immediate aftermath of the Steve McQueen album, this never commerically released track priovides a tantalising glimpse of the quality of material that lays languishing in McAloon's vaults, alongside works such as the Zorro the Fox musical. the Total Snow Christmas album and the Michael Jackson project. A treasure trove akin to what Prince amassed at Paisley Park
8. Till The Cows Come Home (Protest Songs 1989)

Underneath all the carefully constructed and at times slightly overblown 80's productions, it's all too easy to write Prefab Sprout off as a band that wrote only about love; the promise of love and the loss of love.
You would not readily associate them as a 'political' band. Yet here they are on Protest Songs, defiantly railing against a decade of Thatcherism and equating (rightly) what we'd all been going through with the folk history of the North East of 50 years earlier.
'Even the fishes are thin…' sang McAloon and he was right.
7. The Streets of Laredo/Not Long For This World (The Gunman and Other Stories 2001)

Follwing a break for nearly five years, Prefab Sprout returned with a Tony Visconti produced country and western album. They were now reduced to a two piece of Paddy McAloon and his brother, Martin McAloon, with Wendy Smith having departed to further a career and drummer Neil Conti similarly gone after completing live dates with the band.
The record was recorded in County Durham, mixed in New York by Visconti and used acclaimed session musicians such as Carlos Alomar.  The majority of the abum was comprised of songs that McAloon had wriiten for others (five for Jimmy Nail and one for Cher.) The album itself was the least successful commercial release under the Prefab Sprout name, only reaching number 60 in the charts. Doesn't sound very promising at all, does it?
Yet this radical working of the classic cowboy song, made famous by Johnny Cash amongst others, is startlingly good. It's impossible (for me) to listen to it without inexplicably ending up with a lump in my throat and a tear in my eye. 'I've just got a bit of of a cold,' I'll explain to my family when this song comes on. They know me better than that. I haven't got a cold at all. It's this song.
6. Don't Sing (Swoon 1984)

Where it (kind of) all started. Track 1, Side 1. Swoon. Swoon.
Still remarkable.
McAloon may disown this album as mere immature ramblings, poorly produced and not representative of his work as a whole. It matters of course, but not that much. Swoon is not merely a record that signposted what was to come, a debut of forthcoming promises but much more. If it was the only thing they ever released, then they would still up right up there.
It's utterly unique, fascinating and really is like no other record made before or since.
.

5.The End of the Affair (Electric Guitars b side 1997)

From another abandoned and mythical McAlooon project, Knights in Armour, this track is worthy of much more of ending up as mere b side fodder. A tale of sadness, betrayal and doomed love, this is what he can do with ease-turn out songs like this at will.
Listen and marvel.
4. When The Angels (Steve McQueen 1985)

I could have picked a whole bunch of tracks from Steve McQueen. Most of them would be worthy of a Top 10 placing but what makes When the Angels (the final track on the album) stand out is the complete command of the lyrics. There's an assurance and self-confidence within in the song that's rarely been bettered and an inventiveness with words that Dylan would be proud of.
'Must get so blase, knowing you'll never die/ Lounging on a harp. polishing the sky…..hard-faced, little bastards.' Someone needs to ring the Nobel Prize Committee.
3. Hey Manhattan (From Langley Park to Memphis 1988)

With possibly one of the worst album sleeves ever, the From Langley Park to Memphis album is unfairly overlooked within Prefab Sprouts work because of that sleeve and because it was the follow up to Steve McQueen (which has a good sleeve.)
Yet hidden inside the cover art – truly a 'will this do?' job – were a collection of songs that possibly bettered the more feted tracks on Steve McQueen.
Enchanted, Nightingales (featuring Stevie Wonder on harmonica – what higher recommendation do you need?) and Venus of the Soup Kitchen could very easily have nabbed this spot, but I plumped for this magnficient widescreen vision of New York; Kennedy, Sinatra, swirling and swooping strings, doo-be-doos and all.
2. I Trawl The Megahertz (I Trawl The Megahertz 2003)

Sometimes artists can come up with something so different, unexpected and so unlike anything they've done before that it can leave you open-mouthed and slack-jawed. It might be so different that you wonder what they are playing at. Are they attempting to deliberately alienate their fans? Is is what they wanted to do all along and anything else before was,well,a bit of a fake? Are these their true colours? The aforesaid Bob Dylan is a master at this. Neil Young isn't too bad at it either.
In 2003, McAloon came forward, out of the blue somewhat, with the I Trawl The Megahertz album. A solo album, but by that time (and subsequently thereafter), Prefab Sprout were a McAloon solo project in all but name anyway.
His recurring bouts of serious eye problems, which led to retinal surgery and severe and continuing tinnitus, seem to have led him along a very different path than before. I Trawl the Megahertz was composed after a long period when he was recovering from surgery and unable to read, write or make music. He was confined to listening to the radio; talk shows, emergency transmissions and CB broadcasts. Twirling the dial led him to coalesce what he heard over the airwaves into the quite bewitching and marvellous title track.
For over twenty minutes we hear a woman's voice narrate – in a quite matter-of fact way – a story of love, loss and travel. Paris, 'quoditian Angels'; and more. It's as if she's relating a story second-hand; like reading a letter. McAloon doesn't sing on the track at all. It's all backed up with not a rock band or pop music, but a warm and comforting string quartet. It's all so unlike the Prefab Sprout we knew .
And yet, And yet. It's still Prefab Sprout and unmistakeably so. It's as if the circle has been completed and the taut mystery and mystique that started with Swoon has returned with Megahertz.
1. Doo Wop In Harlem (Jordan:The Comeback 1990)

'Acapella meets pure prayer…if there ain't a heaven that holds you tonight, they never sang doo-wop in Harlem.'
This truly is the finest song even written about death, loss and hope. Mere words cannot do it justice. It only lasts for three and half minutes but in that time (less than it takes to boil a kettle and make a brew) Prefab Sprout always, always hit the mark with this song.
Put the kettle on and listen to this.
Comments
comments