As TOY visit Liverpool as part of a nationwide tour to promote their third album Clear Shot, Getintothis' Andy Holland finds them on top form.
Critics have claimed Clear Shot establishes a departure from their earlier style, perhaps provoked by the departure of their original keyboard player, Alejandra Diez.  We were determined to find out if this was true or not, so visited The Magnet to find out.
First up, though, were the support bands.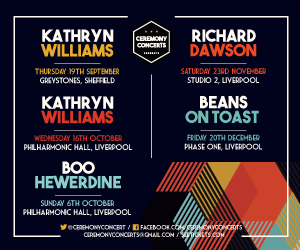 It was clear from the off that psychedelic rock band Indigo Moon weren't accepting the status of a mere support band.  Being a five-piece, with an excellent rhythm section, they were powerful and thunderous.   Fronted by singer Ashley, who uses her strong voice to its utmost effect, their set was shot through with Sabbath-style riffs, distorted keyboards, and bolts of electronic feedback.   Their songs kept the audience on their toes too, with time signature changes aplenty, and harmonies with an occasionally Eastern texture.
Being a duo, Prince Vaseline's arrangements were sparse, and their opening song was icily slow.  This seemed unnerving to the audience.  The obvious reference point for their sound is 70s Krautrock and post-punk, crossed with present day technology.   The male guitarist sings in a deep register, while the female keyboard player's voice soars away in the ether, Cocteau Twins style.  The latter was demonstrated to its full extent on their final track, when the guitarist took over keyboard duties to allow her to sing more freely.  For us, it was the stand-out track of the set.
It was clear from the moment that TOY arrived on the stage that they were going to deliver a night to remember.  The band's strength is in their natural ability to be tuneful, which they combine with their modish affinity for drone-rock.  From the outset their set was propulsive; energetic and powerful drummer Charlie Salvidge, combined with muscular riffs from bass-player, Maxim "Panda" Barron, provided some breath-taking grooves, which the rest saturated with guitar-riffs, keyboards (courtesy of Max Oscarnold) and effects.  We were reminded at certain times of Silver Apples's Oscillations and, more obviously, Neu!  At others the band's sound brought to mind that old space-rock, biker band, Hawkwind.
The whole band look like rock-stars in waiting, but lead singer Tom Dougall is the one who seems to be embracing the idea with open arms, wearing dark eye make-up, looking moody and haunted, with a mid-60s style helmet of hair.  His vocal style is similar to Lou Reed's but, dare we say it, more musical, and this is demonstrated on TOY's newer tracks which seem to indicate a change in direction to more melodic material.  Early comparisons were made with My Bloody Valentine, but we think that TOY are becoming more sophisticated than that.  Max Oscarnold's keyboards, in particular, sounded lyrical and neo-religious, this seemed to steer the band towards progressive rock at various times during the set.
Generally speaking though, tonight's set focused on high-octane, dancey grooves, with the whole band putting on as great a show as they could.  Lead guitarist Dominic O'Dair played some spiralling guitar textures that he enveloped with feedback and dotted delays, while aforementioned keyboardist organ-tones seemed to turn each jam into a religious experience.  At one point blond curtain-haired bass-player Maxim even ended up dancing in the audience, still riffing on his bass, not missing a beat.
Yes, this is a band that seem happiest when they are as one with the audience, and they played magnificently tonight.  Liverpool welcomed them with open-arms, so let's hope they return to us soon.
Photos by Peter Goodbody.
Comments
comments