With the announcement that Delays' vocalist Greg Gilbert has been diagnosed with stage 4 bowel cancer, Getitntothis' Peter Goodbody has the details of his fiancée, Stacey's crowdfunding campaign.
Greg Gilbert is known to many as the singer and guitarist of the band Delays and as an artist, but to his fiancée, Stacey he is more importantly, the daddy to their two baby girls Dali (3) and Bay (1).
Greg has recently been diagnosed with stage 4 bowel cancer that has spread to his lungs and, to the family's horror has been told that the NHS is limited in what they can do to save him.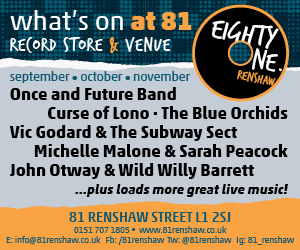 Following an x-ray, the family were told there is a cancerous blockage in his bowel. Further investigation revealed the devastating news that the bowel cancer has also spread to Greg's lungs and because of the extent of these tumours, the NHS can only offer him a 12 week course of chemotherapy as he is currently not a candidate for surgery to remove the primary tumour in his bowel.
Greg's fiancée Stacey said: "We were told this heart breaking news on our daughter Bay's 1st birthday. I cannot put into words the terror and shock of this moment. To hear Greg ask the consultant how long he had left to live is the darkest moment of my life and something that will haunt me forever".
Then there was the terrible news that Greg is genetically incompatible with the only free immunotherapy drug available on the NHS. There are other drugs that would match his gene profile, most notably Avastin for advanced bowel cancers, but it is currently not funded by the NHS.
However, Stacey says the family is not prepared to accept this bad news lying down. Greg is an otherwise fit and healthy 39-year old man who has never smoked, taken drugs and has rarely even drunk alcohol. Through extensive research and correspondence with specialist clinics in the UK and abroad, they have discovered new and groundbreaking treatments that had astounding results on others that share the same prognosis as Greg.
The treatments are currently not offered on the NHS due to not meeting their cost efficiency criteria. Stacey says: "We have always been huge advocates for the NHS but this is just heartbreaking – I just cannot let Greg die and our daughters grow up without their daddy because of money".
These treatments are expensive and at least £100,000 is needed to give Greg any chance of survival. He has begun his chemotherapy but the family needs the money to be able move quickly when this finishes in mid March.
Stacey says: "I know Greg will not mean the same to you as he does to me but I know his music and art have touched people all over the world. He has so much left to give – Delays have new songs that they want to release and tour, he has sketchbooks filling our home with ideas for drawings and paintings and of course, we have two baby girls who absolutely adore him. We desperately need him to be here to watch them grow up".
At the time of writing the campaign had raised more than £64,000 of the £100,000 target, hopefully that will have increased by the time you read this.  Details of Stacey's crowdfunding campaign can be found here.
Comments
comments