Waveforms, sequencers and oscillators reign supreme this week on Unknown Pleasures as Getintothis' Mike Stanton plunges into familiar waters and samples some electronic goodness.
Having been on the constant look out for anything that echoes the golden era of industrial (1970's to early 1990's) it was a joy to stumble across Postura and his wintry synthpop.
Sounding at times like early Cabaret Voltaire, Clock DVA and Front 242, Inscenare is brutalist industrial pop that manages to combine raw electronic rhythms with hard-edged atonal disco pop.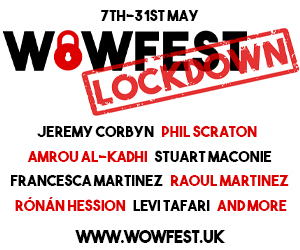 Rådgärd Lyndsay's plaintive and detached vocals are perfect for delivering lyrics concerned with alienation, gender dysphoria and warped identity. Minimal analogue synths and bass/melody combinations gives the track a feel of early Depeche Mode (you know, when they were good) even down to the hollow and ominous beats.
Released in cassette form to please the purists and hipsters alike, Inscenare has all the feel and sound of a 1981 industrial music release which is a very good thing.
Want some more sounds from the other side? Get onto our Unknown Pleasures archive, here
Vactrol Park are Guido Zen and Kyle Martin. Probe Into Static is a repetitive, looping electronic grind of percolating beats and dynamic ambient atmospheres.
London-based Vactrol Park are not averse to constructing vast and expansive vistas of noise and Probe Into Static is a more focused and conventional track that has its roots in the motorik world of krautrock. Dense and tactile rhythms act as a framework for the slow-emerge synth patterns interspersed with otherworldly electronic elements.
The mix of old-school flow and electronic programming keeps the listener focused on the hypnotic whirl of patterns and interstitial flow.
Perpacity is a collaboration of Ian Harling and Martin Nyrup, who reside in Bristol and Copenhagen respectively. In The End is a song of lush, dreamy textures and melodies. Dark moving electronic soundscapes and evolving production prevents it becoming too saccharine. Often evoking the darker moments of Depeche Mode or Camouflage, In The End exists both as  heavy electro-pop and stark, low-key ballad.
Filmic in atmosphere, it is evident that Nyrup has a background in composing soundtracks for computer games. His instinct for dream-washed sonic tapestries is on full show throughout In The End. Apart from a slightly cheesy spoken vocal (à la late 70's Human League) In The End is a dynamic, slow-core burn of synth pop atmospherics.
Comments
comments