A royal host of Uk acts lead the charge as Getintothis' Matthew Wood welcomes some favourable returns and uncovers some unbelievable emerging talent.
Single of the week 
jellyskin – Milk Of Magnesia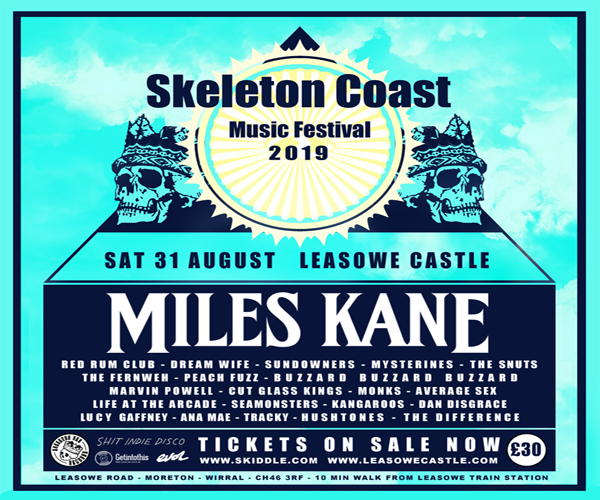 Leeds 'apocalypso' trio, jellyskin, stand patiently poised on the edge of doom in their latest, deeply haunting number.
Milk Of Magnesia needs little more than a dread-filled pounding drum beat, cacophonous guitar strikes and ghostly vocals to create something that seems to encapsulate both the eerie march of the Uruk-Hai and the sublime setting of Rivendell (for those Lord of the Rings fans among you).
It's been a while since I heard something so moody, so downcast, and yet still so fantastically compelling and listenable. Props to you jellyskin, you're Single of the Week for me.
Lucky Shivers – Human By Night
A little tricky to define, Lucky Shivers title themselves as a 'screw-you-alt-pop-no-fi-preschool-nihlist-spazz-folk-notrock-superband', so i'll take their word for it.
The London based act opt for a candy-coated, and at times, sickly sweet brand of alternative pop that recalls Danish rockers Mew, along with the Boise, Idaho sound of Built To Spill and The Halo Benders. 
Jarring, scorching guitars add a gutsy blast while that syrupy chorus worms its way into your system like a hefty sugar rush.
H. Grimace – Land/Body
A rip-roaring effort from London-based quartet H. Grimace! They seamlessly incorporate the discordant, sinister realm of post-punk with the sparkling elements of shoegaze and the intricate guitar work of the likes of DIIV and Beach Fossils.
Land/Body begins with a patient, gentle build up; a natural soundscape floats over the precise guitar work before the track trips into full flow with a fast-paced drum beat and metallic guitar plucks.
Hannah Gledhill's lead vocals are impressive, recalling the work of Jehnny Beth of Savages; dark, sinister and a perfect match for this band's desired sound.
The Sneaky Nixons – Returning Home A Failure
With their debut album, The Barbie Syndrome, expected out in March, The Sneaky Nixons mark their return with this buoyant jam that cruises along free and easily, all the while characteristically tinged with a sense of solemn dread.
The addition of horns to their set up has worked wonders for their progression, and the tooted melody here recalls a somewhat downtrodden version of Bob Marley's, Don't Worry Be Happy; undoubtedly catchy and tapping into a brand of socially relevant Ska.
Top this one off with a sweet slide guitar solo and you've a dose of the Snixons at their most tailored and prudent. Albeit this one feels somewhat weary, but it marks the start of new lease of life for this enduring outfit.
Red Rum Club – Alone Together
Harking back to an age of Old West saloons, moonshine and lover-related shoot-outs, Liverpool sextet, Red Rum Club return with a monumental track made all the more dramatic with a top drawer music video.
It charges to life like a cavalry, big, booming guitars and tight bursts of horns delivered over a supremely uplifting brew of alternative rock.
Demonstrating the real power of having six members, it's a track that owes as much to the ale fuelled open mic nights as it does to the soaring anthems of British Sea Power and Arcade Fire.
Shrinking Minds – Something Better
Tipped for big things by the likes of Annie Mac and Radio X, Liverpool's riotous Shrinking Minds are a kick to the head and a shot to the veins with their snarling, grungey-pop.
As melodic as they are punchy, the trio harness the thick, sludgy undercurrents of Dinosaur Jr. and the most nasal, 90's pop-punk vocals for a reminiscent sound that taps into something perhaps we've begun to miss within today's music scene.
With their name proudly etched onto The Label Recordings, home to the magnificent Hooton Tennis Club, this  band is in safe and capable hands, and they're channeling some fuzzy, melodic wonder that could really take them places.
Mac DeMarco – This Old Dog
Dropping the electric guitar and riding completely solo, Mac DeMarco has announced his new record, This Old Dog, marking a new direction for himself, and of course he's got the whole world climbing on board.
A man who can do no wrong; Mac DeMarco channels an undying lust for life, music and  above all else, Viceroy cigarettes and he's single handedly won over generations with his records.
Once again Mac lays his heart on the table and finds a bunch of chords that suit his mood, reciting lyrics that come delivered with a stamp of authenticity and earnest wisdom. Perhaps the anomaly of DeMarco is that he can move between comedic doofus and a serious master of his craft.
This Old Dog is out May 5.
Malaika – I Don't Feel The Same
Belfast-born, Leeds-based wonder Malaika offers a contemporary dose of soulful pop that shines with resonances of Amy Winehouse and late Noughties pop.
With a strong host of forces behind her, Malaika's latest track boasts the production team of Corrine Bailey Rae's Put Your Records On, and deservedly so as her vocal melodies seem to flood us with a sense of nostalgia, yet simultaneously offer something soulfully and brilliantly new.
Real Estate – Darling 
Tried and tested: you cannot feel blue while listening to Real Estate, it's a physical and emotional impossibility. Take the New Jersey outfit's latest effort, Darling, which twinkles in their typical style, typifying the quartet's undying revelation of groove and melody that frankly no other band has managed to date.
A gracious horse trashes their set up in a peculiar music video and there's an added psychedelic flavour to the mix with a dose of flange to enhance their crystal clear sound. Also, watch out for the mysteriously alternating drummer, I haven't figured that one out yet.
St. Tropez – Democracy
Just under 2 minutes of gloriously lo-fi punk here from Amsterdam's St. Tropez. A truly brilliant mess of dusty garage chords, a mind-numbingly fuzzed out guitar solo and sucker-punch vocals, the Dutch quartet haven't come to mess about, and they certainly aren't here to waste our time.
Take a cheeky couple of minutes from your day to pump this one into your headphones and let it liven your limbs until they flail uncontrollably and take a break from the monotony of the mid-week trudge.
Comments
comments