Renowned British composer Andrew Poppy will be re-imagining his 1985 album The Beating of Wings at The Capstone Theatre, Getintothis' Janaya Pickett has the details.
In association with Hope University, post-minimalist composer Andrew Poppy will bring a special performance inspired by his debut solo album The Beating of Wings to The Capstone Theatre, March 29.
Considered a cult classic, The Beating of Wings is a largely instrumental album that combines classical sounds and styles with electronica to create driving and addictive music that is fresh and timeless.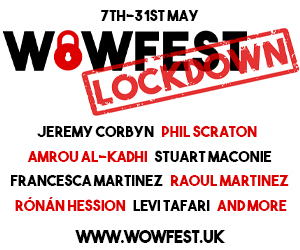 Poppy has enjoyed a rich career, first as a founding member of composers ensemble The Lost Jockey in the early 1980s. As well as his body of solo work, Poppy has through the years continuously produced, from arranging music for bands such as Erasure, The The, Psychic TV and Coil to scoring films, as well as live performances with world renowned orchestras.
For this show, Poppy will be collaborating with some Getintothis favourites including Stealing Sheep's Lucy Mercer, Simmy Singh of Liverpool Philharmonic and GIT Award 2017 nominee Daniel Thorne of Immix Ensemble.
Find out more about Immix Ensemble and check out our full GIT Award nominees list
It's been two decades since Poppy's last visit to Liverpool when he joined forces with Liverpool Philharmonic Orchestra on the high energy piece Horn Horn. "Liverpool is one of those mythical and magical places" he says.
"But it's not just about the history of the place. There's an amazing creative spirit; a great sense of people getting on and doing things in their own way: Musicians like Ex-Easter Island, Stealing Sheep and Immix Ensemble".
This is guaranteed to be a stunning show which will include sound design by Fred De Faye, lighting by Marty Langthorne and visuals by Julia Bardsley. We couldn't think of a better way to end a 'hump day'. There's not long to go for this beauty so be sure to snap your tickets soon.
Andrew Poppy – The Beating of Wings takes place at The Capstone Theatre on Wednesday March 29.
Comments
comments