Forest Swords is back with his first new music since Engravings, Getintothis' Peter Guy reports on an artist reborn.
Forest Swords, aka Merseyside producer Matthew Barnes, is back with new single The Highest Flood, out today via Ninja Tune.
Striding beats, rapturous fractured bass and those characteristic otherworldly choral voices are all in the mix but there's a swaggering epic intensity at work which is in marked contrast to some of his earlier material. In short, this is bigger, bolder, fuller music.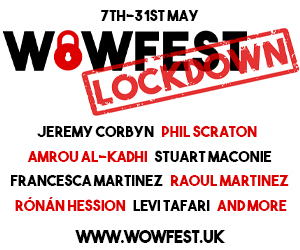 "It's a challenge to navigate the world we're living in now and I've been thinking a lot about the ways we need to forge new paths in language, communication and our connection with the natural world – it's becoming more and more important to try and steer these in a positive direction" says Barnes.
It's three years since Barnes won the GIT Award 2014, and almost two since his evocative ontemporary dance piece Shrine piece was unveiled in Liverpool.
He added: "The Highest Flood distills some of the frustration and hope that I've been working through over the past 18 months whilst making new material."
The single is the long awaited first studio material since 2013's critically lauded debut album Engravings.
Over this period Barnes has composed for the Assassin's Creed video game, collaborated with Massive Attack on their new music and soundtracked the first movie made entirely with drones – In The Robot Skies – which debuted at the 2016 BFI London Film Festival.
Watch The Highest Flood video below.
Catch Forest Swords live at the following festivals:
March 24- BBC Radio 6 Music Festival – Glasgow, UK
March 31- Rewire Festival 2017 – The Hague, Netherlands
April 21 – Safe As Milk Festival – Prestatyn, UK
May 24- Hyperreality Festival – Schloss Neugebäude, Austria
June 3 – Field Day – Victoria Park, London, UK
June 15 – Sonar by Day – Fira, Barcelona, Spain
August 2 – Dekmantel Festival – Amsterdamse Bos, Amsterdam
Comments
comments