With Lungfest, a non-profit raising awareness for cystic fibrosis (CF) and organ donation, set to put on their first Liverpool show, Getintothis' Cath Bore reports.
Starting off as a one off gig five years ago in Manchester, this week Lungfest Live travels to Liverpool,for a night at The Magnet on March 24.
The event will be headlined by power duo Rival Bones, who advise 'attend, rock out, donate, it's all for a boss cause.'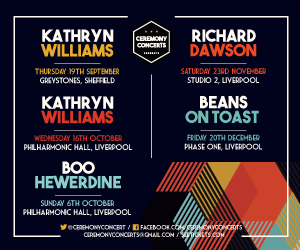 And they're right. Cystic Fibrosis (CF) is a genetic condition affecting more than 10,800 people in the UK. You are born with CF and cannot catch it later in life, but one in 25 of us carries the faulty gene that causes it. The gene affected by CF controls the movement of salt and water in and out of cells. People with Cystic Fibrosis experience a build up of thick sticky mucus in the lungs, digestive system and other organs, causing a wide range of challenging symptoms affecting the entire body.
There will be support on the night from Fight Fathers, fresh from releasing second single Antares last month, and Chasing Shadows from North Wales, who no doubt will play songs from new EP Storytellers.
Dane Pollard, who set up Lungfest, says "I have CF and was lucky enough to receive a double lung transplant that saved my life in 2008. It's a charity that I run in my spare time as a way of giving something back and I hope it will be a long lasting tribute to my donor."
Sam Roberts, singer and guitar for Chasing Shadows has also had a double lung transplant.
Lungfest takes place at The Magnet on March 24.  You can make a donation on the door on the night.
Comments
comments