It really feels as if summer could be here and Getintothis' Rick Leach has three ace tunes lined up.
Summer and music. Two things that fit together perfectly.
Although it's not summer quite yet, we've had a few days of clear blue skies and little to no rain. Shorts are being worn and pale legs are being exposed for the first time in months.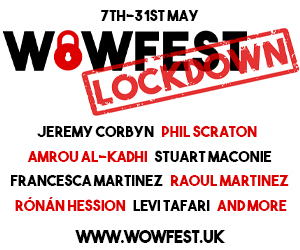 Something to celebrate then. Something to bring a smile to our faces.
On top of that, there's music. And we've got three brand new tunes here for you, sparkling and fresh, and giving more than a hint of the glorious summer of 2017 that undoubtedly lies ahead of us.
GIT Award winners All We Are are back. And how.
Burn It Out and Human bring a taste of how their forthcoming second album will sound and heralds a shift in sound, with psychedelic, post-punk and krautrock influences more to the fore.
These tracks are their first new music since 2015 and the Liverpool-based but international band of Guro Gilking (Norway), Richard O'Flynn (Ireland) and Luis Santos (Brazil) say they are determined to show their increasing cohesiveness as a unit and belief in friendship as a force for good in a world that seems to be becoming more and more fragmented.
Not only is there a new album on the near horizon but with festival dates at Latitude, Dot to Dot, End of the Road and Glastonbury this summer as well as a hometown gig at FestEvol on April 30, there's a lot happening in All We Are's world and we at Getintothis welcome them back with open arms.

St Jude the Obscure not only a have a great name for a band but songs to match.
Moving on from their previous band, Feral Love, the electro art-pop duo of Christian Sandford and Adele Emmas merge soft and gentle vocals with strong melodies to produce something special.
Their new track, Wonders of Youth, the follow up to their second single Wreckage, shows that they are a force to be reckoned with.
This could well be the song of the summer. It's the perfect tune to hear as a hot day cools down and the sun drops below the horizon.
Her's return with a new eight track collection of tunes on May 12.
I'll Try is a just one of the tunes taken from Songs of Her's and it comes complete with burbling guitar work in the vein of Vampire Weekend's Afro-beat inspired pop and a spoken French narrative. What more do you need?
It simply sounds like summer. Songs of Her's contains all their previously recorded output as well as four brand new songs. They've recently supported Wild Beasts and Dutch Uncles on tour and now head out on a long UK jaunt to support Happyness. They're going to go down a storm.
Comments
comments