As the inaugural Wrong Festival prepares to turn the docklands into a barrage on the senses, Getintothis' Spuds McKenzie details some choice picks – and there's two tickets to be won!
After Threshold clears off the festival cobwebs for the year, they start to come thick and fast, with FestEVOL and the Smithdown Road Festival just around the corner, but 2017 brings something new: Liverpool label Loner Noise's self dubbed "festival for the freakscene", Wrong Festival – taking place on 22 April. Assembling a wealth of underground rock veterans and newcomers, it touches down on punk, psychedelia, noise, the avant garde, and pretty much any other style of rock music that's left field.
Taking over three venues in the docklands, the festival spans the beloved Invisible Wind Factory, the North Shore Troubadour, and DIY sanctuary Drop the Dumbulls. Headlined by Anglo-Japanese psyhonauts Bo Ningen, and with a supporting cast that includes such underground luminaries as Evil Blizzard, Heck, The Wytches, The Cosmic Dead and Blacklisters, it's shaping up to be an event like no other that Liverpool's seen for a long time.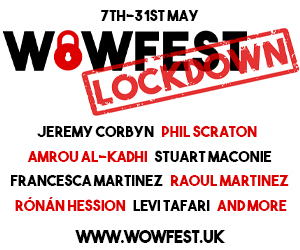 With a whopping 35 acts to take in over the day, it'd be impossible to take it all in, but we've done our best to highlight some of our picks in order to help you navigate the chaos, because we're just that kind. We've even included those all important stage times.
Oh and if you were still thinking of missing it, think again as we've got two pairs of tickets to give away to the big day itself. To enter our competition simply:
Like the Getintothis Facebook page
Find this post on our Facebook page, or share the embedded post below
Share the post to your wall
Tag two of your mates in the comments of this post
That's it!
Now in no particular order, our picks.
Part Chimp – Invisible Wind Factory – 20:00
Riff wielding heroes Part Chimp don't come around very often. Following on from their hilariously titled third album Thriller, which was marketed as the album that killed Michael Jackson and might be one of the best noise rock albums ever made, they're back with a fourth record IV after an 8 year wait. Generating a mind bending state through sheer volume, they're touted as one of the loudest bands in the world, and have a knack for fantastic songwriting buried beneath the wall of sound.
Pocket Apocalypse – North Shore Troubadour – 17:30
Liverpool post-rock/alt rock stalwarts Pocket Apocalypse were declared finished just last year, but the team at Wrong Festival have coaxed them out of their early retirement to bring their sweeping, powerful sounds to the stage once again. Favourites at ArcTanGent, they're masterfully dynamic, and have an uncanny ability to marry post rock grandeur to tight, catchy songwriting. When they're on song they can spellbind and make your hairs stand on end.
Black Pudding – Drop the Dumbulls – 16:15
Black Pudding are a garage rock band with a twisted sense of humour. Born from the ashes of Leeds noiseniks Stilts, they filter their righteous anger through a seductive veneer, with a knowing wink and a punk sneer. With a touch of the Ty Segall/Thee Oh Sees thickness to their riffs, The Wytches' foreboding gloom and The Cramps' weirdness, they have everything a growing boy needs.
Kapil Seshasayee – Drop the Dumbulls – 17:15
Glasgow's Kapil Seshasayee is a one man combination of Scott Walker, Mark Hollis, Bjork, and Richard Dawson, creating something wholly unique. He combines Big Black style drum machine beats with thundering baritone guitar, stunning vocals and and a penchant for unorthodox instrumentation such as the aquaphone. Truly experimental yet still accessible.
Cowtown – Drop the Dumbulls – 22:15
Cowtown describe themselves as "Variant Mutant Pop", though that just begins to scratch the surface. Sounding like if Devo drank too much fizzy pop and got let loose on the bouncy castle, they're fantastically immediate, cutting, and most importantly, huge fun. Their most recent effort, Paranormal Romance is a high octane wonderland, and their shows follow suit.
Super Luxury – Drop the Dumbulls – 20:15
Super Luxury are probably the dumbest band in Leeds, maybe the country, and that's the highest compliment. With a complete disregard for taking themselves seriously, a host of wonderful song titles such as Kellog's Wasps, Crunchy Boy, and Ian MacKaye Made So Much Money From Fugazi That He Lives In A Solid Gold House And Drives A Solid Gold Car And He Sits On The Driveway But He Can't Go Anywhere Because The Wheels Are Made From Solid Gold, and a live show that may or may not feature hoovers, snapping microphones, floor fans and teeth, they're surely not to miss.
Mums – Invisible Wind Factory – 16:00
Mums are purveyors of More is More. With a hulking wall of sound generated by amplifiers taller than its members, and a knack for insidiously simple but effective songwriting underneath the heft, as well as a glorious sense of humour. Mums play rock and roll for what it's supposed to be, gloriously dumb music that speaks to your caveman brain whilst putting a smile on your face. They just do it louder, noisier and with better riffs.
USA Nails – Drop the Dumbulls – 23:15
USA Nails are one of the finest noise rock bands around. A blend of punk, no-wave and hardcore, they infamously created their cacophonous debut Sonic Moist in a day, and contains members who've played with the much lauded Future of the Left, Hawk Eyes, Kong, Silent Front, Sly and the Family Drone and Mayors of Miyazaki, making them something of a noise supergroup, if you want to think of it that way. Thunderous drums and razor sharp guitars abound.
Complete Stage Times:
Doors Open – 13:00
Invisible Wind Factory
14:00 – Wild Fruit Art Collective
15:00 – SPQR
16:00 – Mums
17:00 – Indian Queens
18:00 – False Advertising
19:00 – Elevant
20:00 – Part Chimp
21:15 – The Wytches
22:30 – Bo Ningen (Headliner)
23:30 – Growls (DJ Set)
North Shore Troubadour
14:30 – Bernaccia
15:30 – Indigo Moon
16:30 – Rongorongo
17:30 – Pocket Apocalypse
18:30 – Salt the Snail
19:30 – Gravves
20:30 – JazzHands
21:30 – Housewives
22:30 – Heck (Headliner)
00:00 – Evil Blizzard
01:15 – Bonnacons of Doom
02:15 – The Cosmic Dead
03:00 – No-Wave (DJ Set)
Drop The Dumbulls
14:15 – Federãles
15:15 – Fancy Dress Party
16:15 – Black Pudding
17:15 – Kapil Seshasayee
18:15 – Chupa Cabra
19:15 – Cattle
20:15 – Super Luxury
21:15 – The Hyena Kill
22:15 – Cowtown
23:15 – USA Nails
00:30 – Skinny Girl Diet
01:45 – Blacklisters (Headliner)
Comments
comments