Following a week off, Getintothis' Matthew Wood returns with bucket loads of new music for you to feast upon. This week includes the reform of not one but two influential 80's bands, plenty of local acts and an astounding journey into the world of psychedelic folk. 
Single of the Week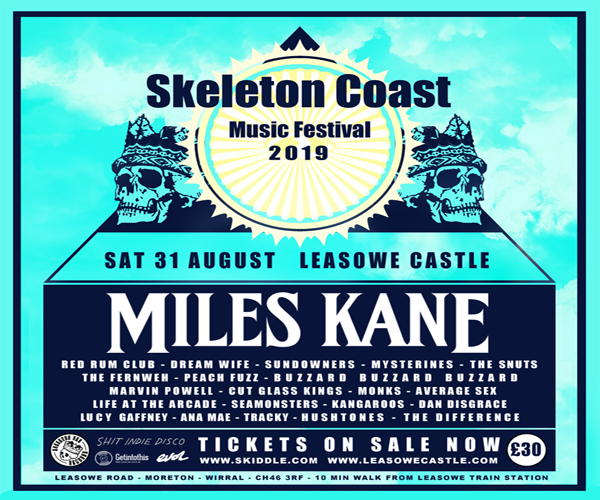 The War On Drugs – Thinking of a Place
Another epic, touching piece of music from Philadelphia's rock outfit The War On Drugs. Their latest, Thinking of a Place extends over 10-minutes, rolling like the hills, propelling us across the American landscape- it's a perfect travel companion.
Built on soft, generous, gorgeous layers of folk and Americana, Adam Granduciel's vocal as iconic and captivating as a certain Bob Dylan, laying down soft poetry while the rest of the band offer fuel for pondering with a relentless, laid-back energy including  sumptuous riffs and solos of both guitar and harmonica.
Hazy, soothing and extensive; this one will be sounding throughout what we hope is a lengthy summer.
Tycho – Horizon
Ambient chillwave project, Tycho, aka Scott Hansen releases a new music video for his single, Horizon taken from his chart topping, Grammy Nominated album, Epoch.
A sumptuous track filled with a familiar myriad of bouncing snyths, smooth grooves and an irresistible, aquatic guitar tone that fidgets amid the reflective yet fantastically dancer-friendly soundscape.
At times a dominating, dark synth treads heavily over the circulating backdrop before Hansen's echoed guitar parts helps the track spread it's wings once more. The visuals are produced by Hansen himself and recall Windows Media Player visuals combined with soaring across the tops of mountains.
Tycho plays the Albert Hall in Manchester on June 7.
The Afghan Whigs – Arabian Heights
Originally a four-piece started in 1986 by Greg Dulli, The Afghan Whigs are well into their fourth decade as a band announcing their eighth studio album, In Spades, set for release on May 5.
The band have acquired somewhat legendary status on the Sub-Pop label harnessing a rich, refined blend of psychedelia, soul and RnB. Arabian Heights is everything you'd expect from the powerful six-piece with snarling tremolos of heavy guitar twinned with Dulli's lofty vocal for a combo that recalls the work of Josh Homme and Queens of the Stoneage.
Super-charged with a baggy 90's drum beat and launching into a two-pronged attack of ferocious guitar work, Arabian Heights is a track to savour as it subtly transforms into a meaty battle of strings.
Peaness – Same Place
Chester's finest up and coming pop outfit, Peaness reveal another single ahead of their latest EP titled, Are You Sure? due out on May 5.
Their charming brand of DIY pop is delightfully catchy and revels in simplicity with jangly chord progressions and sweet harmonies. Same Place is a view to life through a positive reminiscent lens; content with what has been and happy if nothing were to change, 'same place, different time'.
You can catch the pea-powered trio at FestEvol Gardens 2017 this month on April 30 where they'll be playing alongside massive acts Wild Beasts and Pulled Apart By Horses.
Shame – Tasteless
South London post-punk outfit Shame channel waves of youthful anger, anti-establishment tendencies and a well humoured sense of political outrage. They've made their mark through their abrasive sound and bone-shattering live performances, including a tour with Fat White Family so early in their careers; it's clear what Shame came here to do.
Raspy snarls from front-man Charlie Steen already sound like the powerful voice for a troubled generation of youth amid the out of hand political climate. A looped, catchy TOY-inspired riff charges the track creating a dichotomy in sound with repeated expletives screamed over the psych-tinged backdrop.
On April 22 Shame launched into their hefty world tour including a date at Magnet on April 25 as well as a royal host of festivals this summer. Brace yourselves for fat lips, beer-drenched suede and taking a Doc Martin to the skull.
The Babe Rainbow – Peace Blossoms Boogy
Byron Bay's finest psych-poppers The Babe Rainbow are finally starting to get some purchase and recognition for their fruity, feel-good, tripped out numbers and are due to release their debut album on June 2.
Following a tour with Allah-Las, the Aussie trio keep proving that they're not just riding a single wave of hype, but they mean business. I saw them at Fallow Cafe in Manchester back in 2015, totally broke, living out of a tour van and sleeping on any spare sofa that was offered to them.
Peace Blossoms Boogy is aptly named and you're a certified bore if that lick doesn't get your hips swaying. Once again the chaps are travelling by bus joined by their whacky family and friends and a cute pup. Despite the minor headroom they still whip out their maracas and get their groove on. Right On.
The Veldt – Symmetry 
Part A of an exclusive Record Store Day release, shoegaze pioneers The Veldt have had a turbulent career since their formation in 1986. Their unique, roaring soul-psych earned them slots alongside the likes of Oasis and Pixies in the 90's before they disbanded in 1998.
Their sonic sound blends shoegaze, soul and atmospheric guitar work which has been hailed by Doc McKinney, producer of The Weeknd as a true inspiration and arguably The Veldt's work is paramount in modern day hip-hop.
Symmetry twinkles and roars to great effect; a massive wall of psych dominance cushions the trip-hop drum beat and works perfectly with a mesmeric vocal. We can learn a lot from The Veldt and their lengthy career; keep in tune with these guys.
HICARI – Stellar
Liverpool-based, multicultural five-piece HICARI take their name from Japanese, meaning 'Light' and seek to spread their universal love with their genre-spanning, uplifting synth pop.
Claiming influence from the likes of St. Lucia and The Naked and Famous, their vibrant pop owes just as much to 90's boy and girl bands and is a pleasant throwback to the chart toppers of the time.
Racking up hundreds of thousands of listens already, HICARI are shooting for the stars and are here to make you dance!
Alx Green – Downhill From Here
A mighty fine singer-songwriter hailing from Chester, Alx Green is a multi-talented musician, combining his love for rhythm and astounding guitar talent into one great performance of voice, strings and finger-tapping.
Downhill From Here is a pensive fusion of folk and pop, tinged with a sense of melancholy, yet remaining vibrant and uplifting. Harmonic strikes of the guitar neck produce a unique blend of rhythmic folk and Green's powerful vocal is well trained and prudently utilised in this excellent piece which will no doubt earn him more and more plaudits.
Roxanne de Bastion – Heart Of Stone
Berlin-born and now based in London, Roxanne de Bastion took a one way ticket to the UK looking to allow her musical talent to blossom and flourish, and frankly she's done just that.
Taken from her upcoming album Heirlooms & Hearsay, Heart Of Stone is a fine example of what de Bastion is all about. Owing much influence to the likes of Regina Spektor with her sweet vocal, riveting and jumpy piano work and well structured tracks.
Fortunately for us, de Bastion is set to bring her piano-pop to Leaf on Bold Street on May 5 as well as a set at The Jacaranda on June 25.
Comments
comments