Back at the helm of Unknown Pleasures this week, Getintothis' Jake Marley unearths three more under the radar gems.
Atlanta quartet Art School Jocks are an utterly brilliant DIY garage-pop band. Essentially they're about fizzy guitars, deadpan delivery and tonnes of female empowerment.
Their debut Just A Gwen is a powerful early statement penned about the many perils that can face women on a night out, from worrying how to dress and dealing with sleazy blokes to watching out for your drink being spiked and feeling vulnerable walking home alone.
All the above subjects work as inspiration for some truly wonderful lyrical statements, such as the line – "Carry your keys, between your knuckles, you never know who's trying to follow you home." Followed by another absolute gem "I want to be certain dark is just night."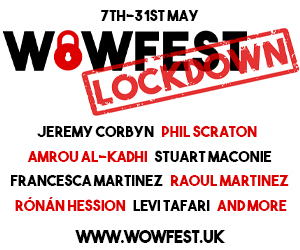 Just two of many lyrics throughout a scuzzy gem that really hits home the stark reality of the many perils that can face women on a nightout, all of which shouldn't be worries they need to have. It's a glorious debut and very powerful statement from a band still very much in their infancy but with a lot, lot more to come.
Ever since coming across their Instagram page a few months back, featuring a few shoots with a mutual friend, photographer Phoebe Fox, I've been very much intrigued by London duo SUGARHOUSE. 
So it came as a lovely surprise to see their debut track Love Anyone Else doing the rounds last week, and upon listening it quickly became a certainty for this week's column. There's often a beautiful moment to be had when male and female vocals cross and interchange from verse to verse in a track and Charlie Sinclair and Connie Craven absolutely slay it here.
Couple that with the happiest melody imaginable; a killer combination of jangly guitars and tight summery rhythm and you're onto a serious winner. It's just so damn lovely. It makes you want to binge on ice cream and run down the beach without a care in the world.
Finally, we've got Harrogate-based duo Litany – made up of Beth Cornell and Jake Nicolaides, who both grew up in the 90s on a musical diet consisting of the likes of George Michael and Jamiroquai, something that is clear for all to hear on their new synthy alt-pop slice.
Chosen as the lead track from their forthcoming debut EP, Flaws lays lead singer Beth's crystal clear clear vocals over a beat-heavy backdrop that's just oozing 80s & 90s esque synth lines. It's a gloriously fresh track that offers a perfect first taste of their many new sounds to come.
Comments
comments