A regenerated Imelda May rocks the very foundations of The Phil tonight and Getintothis' Del Pike is clearly in approval.
Imelda May's return to the Phil tonight, brought with it the party vibe that only Imelda brings, despite her major overhaul into a less rockabilly and more soulful artist.
Her new album, The T Bone Burnett produced Life Love, Flesh, Blood has divided audiences and Imelda is more than aware that it will have lost her a few fans along the way, but won her a few new ones.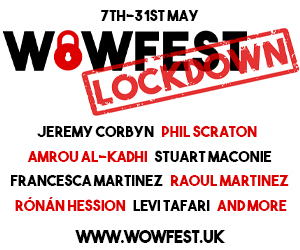 The audience tonight are a much more mature bunch than this writer witnessed on her Mayhem tour a few years back, with quiffs and pin curls making way for combovers and blue rinses. Well maybe.
Jack Lukeman is a perfect support tonight for those in fear of a lower key affair based on hearing Imelda's Call Me single. A rabble-rousing Irishman with an incredible voice, darting between his own compositions and some inspired covers. He has the audience joining in immediately on his singalong King of Soho before ditching his guitar for a breath taking vocal workout on Old Man River. A little surreal.
A brilliant version of Jaques Brel's Amsterdam, once a Bowie B side, raises hell and perhaps the most bizarre moment comes with the audience participation of a song that begs "Take the world off your shoulders a little man". On the call of "You're released" the audience roar like random banshees into the night.
The Velvet Underground's Venus in Furs heralds the arrival of Imelda and when she appears she is alone at the front of the stage, curled around a chair almost whispering the intro of Call Me. The song which introduced the new look Imelda last year clearly references her split with husband / guitarist Darrel Higham and is one of a brace of  autobiographical songs on the album that deal with this period of her life.
It's heartfelt and moving but this is not a mood that is going to permeate the night as we are straight into When it's My Time. Rocking gospel piano and wailing vocals lift the mood instantly and its clear this is going to be the best party in town.
Imelda announces her love of our city with warm tales of her visit and wins over the crowd just like that. One guy shouts from the back "Do you remember me in the HMV?" Another guy called Neil starts off his evening-long bantering of leering compliments that are tolerated and used as ammunition for Imelda's natural humour. Some sort of relationship may have been forged by the end.
Human is a song that rallies against the labels too often aimed at women in songs "Sweetheart, Princess, that kind of thing" and Sixth Sense brings a real sense of sass to the set, dedicated archly to Neil.
The set is dominated by the album, all fifteen songs are performed, but they're so punchy and fresh, nobody seems to mind. It's still good to hear Big Bad Handsome Man pop up though, to remind us that this is still Imelda May stood there in her Knee-high stiletto boots, ripped black dress and Chrissie Hynde hair. No lies, from the circle it is impossible to recognise the Imelda of old. It's a look that suits though, particularly in big brassy songs like Leave Me Lonely and The Longing.
If the charts were a little more diverse some of these bigger tunes would be smashing it now, but this is not the time, sadly. Despite reviews playing up the more sombre side of the new album, it's as eclectic as hell. Flesh and Blood, which sounds incredible tonight is a straight polka but with a New Orleans setting and the poppy Should've Been You is pure Phil Spector, sounding uncannily like Liverpool's Candie Payne.
Love and Fear is dedicated to those who died, including close friends of Imelda's, in the Bataclan shooting, which took place while Imelda was in Paris herself. This is one of the more tender moments in the set. There is fragility in Black Tears too, a song which features Jeff Beck on the album. Beck also appears on Morrissey's Black Cloud, a strange pattern emerging there.
The GIT Award and 10 Years of Getintothis: She Drew The Gun triumph at Constellations
As the gig draws to a close, the emphasis is on big, bombastic songs and the audience are up on their feet and it's starting to feel like an old-style Imelda gig again. Older rockabilly tunes, Wild Woman, Mayhem, Johnny got a Boom Boom and a beautifully chaotic work out of The Animals' I'm Crying almost bring the ceiling down and the band depart leaving just Imelda and her new guitarist.
An acoustic The Girl I used to Be, dedicated tonight to her "mad irish" family is a gentle song which flips the protagonist from a young Imelda to her own daughter Violet, without getting too schmaltzy. A short encore sees Imelda approaching the stage to the spine-tingling strains of The Shangri Las' classic,Walking in the Sand, incredible. The closing Game Changer says it all really. Another song that by rights should have hours of radio play, yet almost unrecognisable as Imelda May based on her previous work, a massive, pounding slice of rock-pop that defines what this amazing singer / songwriter is now capable of.
With a game-changing re-boot, Imelda is developing into a potentially massive star, not entirely abandoning her roots but moving on into some exciting and mature territories. Those who disagree still have those three scorching rockabilly albums to replay over and again, but they're missing out on a great party. Imelda thanks the crowd for "Sticking with her", and we reckon that's pretty sound advice.
Photos by Getintothis' Peter Goodbody
Comments
comments