As Simple Minds bring their  'acoustic' show to the Phil, Getintothis' Banjo wonders what it all means.
Acoustic albums can tricky things to successfully pull off. They can have an air of middle age about them, a way of saying "turn that down, you know I don't like my music too loud these days!" And  they can be imagined to fall into one of two camps. They can be a reimagining of a bands back catalogue, or they can be a way of releasing a new album without actually having to write any new material. Nirvana's Unplugged album is a great example of the former, while there are many terrible Unplugged examples of the latter.
We need also consider the fact that Simple Minds and the term acoustic can easily be considered strange bedfellows. Starting out as pioneers of electronic music and turning into purveyors of stadium sized bombast, an introspective acoustic album may be an odd fit. Can any good occur at  the meeting point of middle age and mismatch?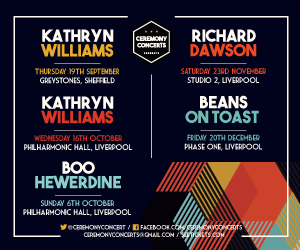 Simple Minds, troopers that they are have found a third way to deal with an acoustic album – rock it out regardless!
But before all that, support act The Anchoress takes the stage.  Her album Confessions of a Romance Novelist was on of 2016's delights, an album that defied easy categorization and provided countless thrills. Introduced by no less than Jim Kerr himself, The Anchoress takes to the stage in a glittery gold trouser suit, sits down at the piano and opens her legs . For some reason, it is an image that suits her music.
Catherine Anne Davies, to give her her full name, sings of love, sex and betrayal but gives her own twist on these topics and tonight, her voice filled the Phil with ease. Tonight she is accompanied by just a violin and a guitar, paring her songs to their bare bones and allowing the soul of them to shine. Free of studio production and full band backing, her songs sound more candid and confessional.
The audience listen in rapt silence and The Anchoress wins over a room full of fans with ease and charm. Having a go at Thatcher may have helped. Graduating from Simple Minds backing vocalist to support act is one step, but if there were any justice in the world, she would be filling venues like this on her own. The Anchoress would seem to be one of those artists who are but a lucky break away from huge success. Our fingers are crossed for her.
The Simple Minds set we hear tonight is not really what pops into the mind when hearing the word 'acoustic'. As a fierce Amazonian drummer walks on stage and starts battering seven bells out of a drum kit, the realization hits that the Minds have taken this as an opportunity to breathe new life into old songs, more than likely making them fun to play again after all these years. As far as Jim Kerr and Charlie Burchill are concerned, tonight's show means no keyboards, acoustic guitars turned up to 11 and a full on Simple Minds gig.
It must be a long time since they toured venues of this size, and Jim Kerr takes immediate advantage by leaving the stage and walking amongst his fans. There are obviously a lot of people for whom Simple Minds playing a venue the size of the Phil is a Big Deal, and he is greeted like a homecoming hero. He obviously thrives on it and displays all the signs of being a great frontman.
Guitarist and Simple Minds' mainstay Charlie Burchill's intricate guitar lines are well suited to an acoustic guitar and his skill on the fretboard is a joy to watch and listen too. A chance for him to shine away from the pounding bass and drums and the multi-layered keyboards much loved of Simple Minds' usual environment.
Chelsea Girl is an early highlight and American also shows that the bands electronic era are suitable material for remodeling. Classic after classic fly past and we are reminded just how many hits the band have had. Someone, Somewhere, in Summertime, New Gold Dream, Glittering Prize, Don't You Forget About Me are all paraded before us and still the hits keep coming. Will they ever end?
Actually yes – things fall into a slump during a mid set karaoke session, as guitarist Gordy is, for some reason, given the job of singing Bowie's Andy Warhol, followed by the band's backing singer also getting her own turn in the spotlight. Maybe Jim needs a wee break these days. The audience certainly seem to, as many choose this time to leave the auditorium for the attractions of the Phil's toilets. But Simple Minds have a rich vein of classics to mine, so by the time we get to Sanctify Yourself all is forgiven and everyone is back on speaking terms.
The encore of Speed Your Love To Me and Alive and Kicking relights the opening levels of excitement and closes the show in suitable style. By now we have had 90 minutes of music and have journeyed through almost forty years of Simple Minds. A remarkable feat by anyone's standards, but when you consider that the band have just reinvented themselves and made the songs sound fresh all over again, you have to take your hat off to the blighters.
Photos by Getintothis' Peter Goodbody.
Comments
comments