As Dead Good Gathering announce their 2017 line up, Getintothis' Jessica Borden has the lowdown on what looks to be a dead good line-up.
Dead Good Gathering enters its third year as a festival and the line up doesn't disappoint.
The festival is hosted over a weekend in November across Liverpool, Maguire's Pizza Bar, Constellations and Liverpool Social Centre to be specific.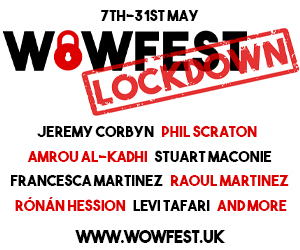 The festival focuses on the Punk, Ska, Hardcore and Folk music scenes with the DIY spirit. The headliners include; Oi Polloi, Scottish punk heroes who have been DIY touring for 35 years, The Restarts representing the 90's Punk re-emergence and the underground london scene. Also headlining, Propaganda and Information Network (P.A.I.N.), the punk rock band with a mixture of heavy dub reggae and ska deliver the furious melodies and messages. 
  Need more gigs? We have got you covered with the Liverpool gig guide
Also on the bill, the Kitchencore creators Pete Bentham and the Dinner Ladies with their poppy punk melodies and anicdotal tales, alongside Queen Zee and the Sasstones with storming power punk and attitude which takes over any stage.
More acts on the line up over the weekend include; The Roughneck Riot, Burning Flag, Bolshy, Wadeye, Natterers, Pizzatramp, Efa Supertramp, Molotov, Dawn Ray'd, The Mighty Bossmags, Cav Kelly, Sheepy, Habits, Hello Mabel, Villy Raze and Incisions(Acoustic) Jordan Thomas.
This will be a line up, not to be missed as it takes over Liverpool November 17 – 19.
Comments
comments