Metal time! Getintothis' Mark Davies returns to give us our monthly dose of metallurgical goodness, so straighten that back and perk those ears!
The summer is in full swing, quite inexplicably so, if we're being honest here.
The beers are flowing and your skin is most likely a shade of pink from overexposure to that thing we see sometimes, it's called the sun? Maybe?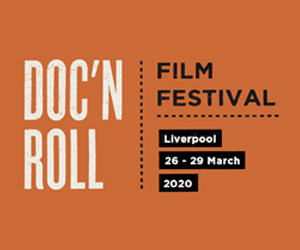 Indeed, where there is sun and beers, there is often a little hazy green accompaniment, one which you may or may not partake in of course. Bands from that particularly smoky genre however, tend to thrive in the summer months. What better way to celebrate our continued warmth and inebriation than with stoner/doom metal outfit Destroyer of Light with their monumental new album Chamber of Horrors? There is no better way, so light up, sit back, and be ready to have your face destroyed by riffage.
These fellas from Austin, Texas have been laying down the law using their fairly unique blend of traditional rock, and hazy doom with hints of theatricality since their full-length, self-titled debut Destroyer of Light back in 2012, making Chamber of Horrors their second LP.
The first thing we noticed, (and certainly goes to show why that horrendously overused idiom "don't judge a book etc." is still relevant) is the album art. If we're being honest, an impressionistic ruined city, replete with broken columns and a moody sky backdrop doesn't exactly evoke the stoner/doom spirit of psychedelia and excess, but we think it's that very same theatrical edge which sets Destroyer of Light apart from their contemporaries.
Our featured single from the chaps is essentially the very embodiment of the bands sound. Hulking, lurching riffs loom through a haze of smoke and sludge, gritty yet strong vocals blast from on high, and the drums reverberate for miles. This could be the most succinct summation of a band's sound we have heard thus far, and we loved every second. Be sure to check the video out too, which features two stoner buddies on a munchies-fuelled eating rampage, and the inevitable unpleasant aftermath that follows.
Chamber of Horrors is out now via Heavy Friends Records.
Destroyer of Light – Into The Smoke (Heavy Friends Records)
Quickening the pace a little, and leaving the ashes where they lie, we bring you news of a new Septicflesh album Codex Omega on the darkened horizon, due for a September 2017 release. Accompanying that bombshell, is the first utterly crushing single 3rd Testament. The band, hailing from Athens, are among a select few Greek metal bands to have reached elite status amongst their peers, and this new album will be their tenth since their inception in 1990, so it is most definitely going to be something special.
The single itself completely destroys. Arm-splitting tremolo riffs carried on precision drumming, that moves into a flurry of palm-muted chugs, the gutteralast of the gutteral vocals hacking away whilst furious horns bellow in the background; this track is the aural embodiment of Hell, and we haven't stopped listening to it since it dropped five days ago. Satan only knows what the rest of the album will bring, but if it's more of this, count us in.
Septicflesh – 3rd Testament (Prosthetic Records)
Those stalwarts of the noise metal scene, Boris, have been around for a very long time, and never in the same way twice it would seem. Gliding easily between noise-pop, rock, drone-metal, and sludge, they have always excelled at whatever they turned their hands to, and their latest sludge-noise effort Dear, released mere days ago on their long-time label Sargent House, is absolutely no exception, marking the band's 24th(!) full-length non-collaborative album. These guys have gone beyond prolific in terms out output.
Long, drawn-out drones and fuzzed-to-the-max guitar riffs, tom and cymbals-heavy drumming, are at the forefront on Dear along with bassist Takeshi's strident yelling vox, often accompanied by drummer Atsuo to create compelling and powerful harmonies. This album is sheer bliss, and often feels like a transcendental experience in many ways. This is a three-piece band that easily feels like an orchestra at times with how full your ears are.
Our featured track Abolutego, named after their very first LP from 1996, gives you only a small glimpse into the soundscapes Boris are capable of, but it's a tasty chunk nonetheless, so check it out and be sure to pick up Dear as soon as humanly possible, no regrets on our part.
Metal, metal and more metal – check out the storied history of Dysgeusia here
Boris – Absolutego (Sargent House)
Speaking of sludgy trios, Sargent House label-mates and New York's finest Mutoid Man, are back this month following their 2015 debut LP Bleeder with their sophomore effort War Moans out now via Sargent House, bringing more of their cerebral rock'n'roll antics along for the ride.
Standing proudly among the likes of Torche, High On Fire, Converge and Red Fang, Mutoid Man have really done well to carve their own little niche in the scene, in thanks partly to their unique blend of hardcore punk, heavy metal and elements of math-rock and psychedelia thrown in for good measure.
Our track Kiss Of Death, really foregrounds the sludginess the band is capable of, which you can hear especially in those chugging sections of the intro, the depth of fuzz there is almost at progressive metal levels. Superb stuff, and leaves a good taste in the mouth, so check out War Moans pronto!
Mutoid Man – Kiss Of Death (Sargent House)
Rounding out our quintet of releases this month we bring you death metal titans Broken Hope with their new album Mutilated And Assimilated out now via Century Media Records. Despite having been around since the late 80s/early 90s, Broken Hope had all but ceased to exist by the the turn of the century. Following rumours of a possible reunion being quashed by the early death of vocalist Joe Ptacek to suicide, and unexpected passing of former drummer Ryan Stanek, it wasn't until the stars had aligned in 2012 and the band formed anew, releasing Omen of Disease the following year.
They are back again, once more with nostrils flaring and pinch-harmonics squealing, to bring us the latest, and most ferocious offering of the year. The Carrion Eaters, our featured track, is a visceral offering with plenty of tasty grooves to mosh to, and those gutteral vocals are chunkier than a Big Soup! Short but sweet, and very moreish, give Broken Hope a try, and don't be put off by their legible logo either, it doesn't make them any less BRUTAL.
Broken Hope – The Carrion Eaters (Century Media Records) 
Comments
comments