The Afghan Whigs release their new album and Getintothis' Christian Bragg recalls a personal journey with a band like no other.
Thirty years from where they all began and currently promoting their eighth album, In Spades, The Afghan Whigs remain as relevant as ever. They are one of the must under-rated bands to surface from the 1990's and very often overlooked with a body of work that their contemporaries could only dream of
My first encounter with The Afghan Whigs started sometime in late 1996.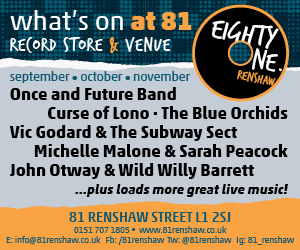 I was watching late night MTV and had just come home from doing a weekly DJ set at the Loose Moose in Ormskirk. A now-unknown presenter announced 'Up next are The Afghan Whigs'; a band I'd heard of but never actually taken the time or effort to listen to.
The bass player in my band at the time had been going on at me for ages in an attempt to get me into them, but I'd bracketed them into the same set as Primus and Ministry and dismissed them as 'too difficult'. Not only that, but I'd always been put off with their name as it reminded me of Afghan rugs.
However, it kicked off on MTV and within the next 15 minutes my preconceptions were washed away.  The lead single Honky's Ladder from the album Black Love blasted out of the TV with the opening line of 'Got you where I want you motherfucker'. This was followed by Gentleman and Debonair, two tracks from the bands previous critically acclaimed album Gentleman.
I was mesmerised at what I'd just heard. This was a life-changing moment and all I could think about was getting to Quirks Records in Ormskirk the very next morning.
For the next few weeks Black Love was all I could listen to. It was an album as important as Nirvana's Nevermind or Pearl Jam's Ten yet although it sounded nothing like the Seattle scene's big hitters it still had the same danger. It was deeper, more mature and it had the mark of implosion. It was dark, soulful, lyrically aggressive and cinematic. It was unique and unmistakable.
As a bit of background The Afghan Whigs were formed in Cincinnati in 1986 after the breakup of frontman Greg Dulli's first band The Black Republicans, evolving from a garage band in the vein of  The Replacements and Dinosaur Jr, into an angst, soul-inflected post-grunge quartet. If you've never heard them before then describing them as a cross between The Temptations and The Clash or the missing link between Hüsker Dü and Prince is not too far off the mark.
1988 saw the release of their debut album, Big Top Halloween , on their own independent record label, Ultrasuede. A copy of the record worked its way to the influential Seattle-based independent record label Sub Pop and the label arranged for a one-off single and in turn this led to a full-blown record contract.
Their first album for Sub Pop, Up In It was released in 1990 and recorded by Nirvana producer Jack Endino.  It's a punk-fuelled album with a whiff of Killing Joke and Sonic Youth and almost unrecognisable to how the band sounds these days.
In 1992, their third album Congregation was released. The Afghan Whigs had embraced a more soulful sound with Stax and Motown influences to the fore. I'd picked up a copy of it for a mere £2 but hadn't really given it much of a go. It was the sound of a band finding its feet and showing signs of what was to come. Dulli's skill with lyrics started to shine and the band as a whole seemed more confident.
After its release, the band were courted by a number of major labels although they released one more record on Sub Pop, an e.p. of soul and r & b covers including Al Green's Beware, The Temptations Come and See Me and the always magnificent Band of Gold by Freda Payne. This covering of classic songs set a practice the band still do to this day both as part of their live sets and recordings.
After a bidding war with a number of labels, the band signed to Elektra Records with the strange condition that Dulli would be given a budget to write a screenplay. Dulli has confirmed in interviews this indeed was case yet the script never saw the light of day. According to Dulli, Sub Pop had run out of cash just as the band started recording the follow-up to the e.p.so a move to another label was always inevitable.
The band's major-label debut, Gentleman was released to considerable critical acclaim in 1993. Again another bargain purchase, this time from Action Records in Preston; and that's what's great about being into a band you love, you remember where you were when you bought the record! For me it wasn't quite as good as Black Love, but it's still seen as the band's finest hour and was the biggest commercial success.
Although previous releases explored liquor-drenched obsession, secrets and misery, 1996's Black Love stepped into a darker, seedier and more complex side of Dulli's persona and took his obsession with murder and paranoia to their logical ends. Other inspirations included the troubled life of Temptations singer David Ruffin for the song Blame, Etc. and opener Crime Scene Part One.
The band again toured the album constantly across the globe and supported Neil Young on the American legs. For myself, the ep's from this album – Going To Town, Honkeys Ladder and Live in New Orleans are truly a must and the latter in particular shows the band in its full glory. It's the sound of a band at a pinnacle – soul, funk and blues all mixed into a sonic pot of gumbo and coming out as a sonic juggernaut.
Because of this and because of the connection with New Orleans, The Afghan Whigs led me and my band to visit the city, play some gigs and do a DJ set with the legendary Meters. That's why it is important to have bands like the Whigs, bands who send you on adventures around the world visiting record shops looking for the imported hidden gems that you just couldn't get in Quirks. They inspire you to want to make music and take you to places you could have never dreamed of visiting.
Unbelievably Black Love turned out to be a commercial disappointment. Elektra and the band parted ways with latter alleging neglect and dishonest business and they signed to Columbia Records for their next album, 1965.
1965 seemed more slick and more polished than Black Love and what it lacked in grit it had songs. In a recent interview Dulli stated 'It was the first time (I) really worked hard at creating conventional radio style structures for the songs and worked on big hooks…' ; an experiment he enjoyed but would never enforce on the Whigs music again
During the live dates for 1965, Dulli was attacked in Austin, Texas at a concert by a member of the security team and suffered a head injury that left him in a coma for two months. After Dulli's recovery, the group returned to the road in February of 2001 but shortly after they called it quits, citing geographical separation.
Dulli claimed after his assault he found it hard to focus and then embarked on finishing his first album with his side project The Twilight Singers. There might be new solo music and side projects but I was devastated; no more new music from The Afghan Whigs.
Yet in 2006 there came a sign of hope. A compilation was due to be released and  it  featured two newly recorded tracks: I'm a Soldier and Magazine. Picking up a copy on a trip to LA at Amoeba rekindled my love for the band. Those two new tracks left me praying there might just one day be another Afghan Whigs album
Elvis Week 2017: Where does the King of Rock and Roll fit in the 21st Century?
And to my delight in 2011, the group announced that they had recorded their first album in some 16 years and had returned to the label that had originally launched them, Sub Pop. 'Do The Beast' was released April 2014. The album featured a new line up of the band. Gregg Dulli and John Curley were the only original members to return for the album while their accompanists included guitarist Dave Rosser from the Twilight Singers and Gutter Twins .
Do To The Beast is an r& b, soul-tinged art rock album with a fresh sound to it. The music industry might have changed since they last released an album but they still remained as relevant as ever relevant as ever and this was by no means a nostalgic listen a welcome return with some standout tracks like Matamoros and Algiers which headed straight onto my Best of Afghan's playlist on my iPod.
Which leads me to the point we are at now in 2017.
I was lying up in hospital when the new single Demon in Profile  dropped and it blew me away . I was so excited. This was the song I'd been waiting for since hearing Going To Town back in 1996. I'd  heard the future – a song full of menace and an explosion to the ears. This was still a band so uncompromising and getting better with age while the industry stagnates relying on bands with no substance or longevity
Two weeks later and I was still stuck in hospital when the album dropped. At midnight and for the next fifty minutes I was transported back into the world of Greg Dulli and was utterly lost in a trance.
Like its 2014 predecessor, In Spades is closer in sound and atmosphere to Dulli's other group, the Twilight Singers, than it is to the dirty r & b funk of Black Love yet what Do the Beast possibly lacked was a signature sounding single like Demon In Profile.
It's a song unmistakable in its sound and possibly the strongest one the band have ever recorded. In Spades, as a whole, casts a spell that challenges the listener to unpack its dark metaphors and spectral imagery.
Gregg Dulli's voice sounds better than it ever has and is akin to Marvin Gaye on steroids meeting Screaming Jay Hawkins. Every word is delivered with conviction of a man as his soul pours out with every word. This is Voodoo Soul and the resurrection of the Afghan Whigs is built on a band comfortable with their past and extremely confident for their future.
Comments
comments