As Alex Cameron and co take over the basement of Shipping Forecast, Getintothis' Jessica Borden is on hand to experience the wonders.
Harvest Sun returns with an incredible bank holiday gig in the form of Alex Cameron.
Sunday night of a bank holiday is always a night to behold, when absolutely anything can happen, and this weekend this was Alex Cameron. 
Alex Cameron took to the already sweltering stage and delivered a set full of grooves and melodies which made it impossible to not dance and be lost in this intimate setting. The crowd gathered as close as humanly possible to the stage, soaking up every minute of this show.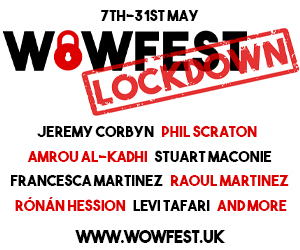 Every song was met with cheers as the crowd welcomed Cameron as one of their own, watching every one of his moves in awe and some even trying to emulate those very actions. With vocals which appeared to capture every mood perfectly the show was an explosion of joy and the freeing from inhibitions.
Roy Molloy on saxophone could not be missed out, as we are now fully set in our ways that tracks sound 10 times better with a saxophone, these moments propelled the set to even greater heights adding a new level of spirit to the tracks live.
As the heat built up so did the raw passion exuded on the stage culminating in the perfect bank holiday gig.
Earlier in the night played host to Jack Ladder featuring a stage diving guitar, some unusual conversation with the audience about long train journeys and being told he looked like Bono, he didn't.  Alone on stage, Ladder seemed at a loss without his band around him with occasional pauses and trailing off. The tracks seemed at home in the setting as his baritone vocals drawled their way through his own plethora of tracks including cover of Conway Twitty.
Photographs by Getintothis' Lucy Mclachlan

Comments
comments