As  Leaf screen Brass Eye in its full glory, Getintothis' Paul Fitzgerald popped a couple of Yellow Bentines and headed down there in search of cake and outrage.
The seats were laid out cinema style under the fairy lights at Leaf for a screening of Oxide Ghosts, Michael  Cumming's film of unseen footage and outtakes from Brass Eye.
1995, and a jobbing freelance film director, fresh on the heels of his latest work – a promo film for British Gas – sits and waits in a Soho cafe. He's come to meet someone he's never met, but whose work he admires. That work was the brilliantly incisive news spoof The Day Today, the man in the cafe Chris Morris, and the meeting would produce a unique creative partnership which would go on to rewrite the rulebook on British broadcast comedy.
They would create Brass Eye. Celebrities would be upset, boundaries broken, questions asked in the House of Commons, lawyers overworked and greatly enriched, and legions of fans won over for years to come.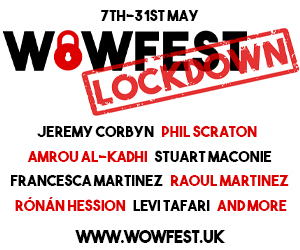 2017 and director Michael Cumming has pieced together an hour's worth of unseen footage, outtakes, mistakes and hilarious outrages from the Brass Eye vaults into a new film, Oxide Ghosts. There will be no cinema release, it won't be shown on TV or networked anywhere. There won't be a dvd release, and you won't be able to find it online. Instead, Cumming is doing a tour of selected venues and offering this very special moment to small audiences only. "The film we never thought we'd see", as Mike Neary, the presenter and host of the Leaf screening, would describe it.
Oxide Ghosts is indeed just that. A chance to peek backstage, to listen in on the meetings, and to marvel at how they managed to pull it all together. A chance to hear the story we never thought we'd hear. To watch the film, and to hear the charming interview between Cumming and Neary was a privilege. To the packed room of admiring fans of the show, the whole evening felt very special.
The film gives a unique insight to the making of Brass Eye. It felt strange to see the characteristically straight faced Morris laughing at his mistakes and corpsing his way through the scripts. One of the things that was absolutely clear was that they seemed to have such a good time recording these sketches. Hardly surprising really, given the extremes they were going to. There were outtakes of 'Peter Sutcliffe The Musical', featuring the cast rehearsals, and the imaginary show's title written in lights above Shaftesbury Avenue. Nobody noticed, but the fun was in doing it. And who wouldn't see the fun in hiring a Mandrill for £2000, just to film it walking through a housing estate at night for a sketch about how dealers were using Mandrills to move drugs about.
With Brass Eye, Chris Morris wanted to find the nation's nerve, to see how far we, the audience, would go. How much would we allow? How much could we take? We were being tested. Our collective moral compass was the real target. What would we make of the spoof advert for a new family board game based on the Nazi atrocities and called Horrorcaust, for instance? A fun family moment is pictured with the family all dressed as Nazis, laughing and enjoying good times together, as the son throws the dice but lands on the Straight To Gas Chamber square. There was real potential with Brass Eye that what they were creating could be career ending material. It was a massive gamble in so many ways and for so many people.
Ever wondered about the back catalogue of The Fall, well we have got you covered
The original series was pulled only a couple of days before broadcast, as Michael Grade, then Chief Executive at Channel 4 got the jitters having seen the first show. The lawyers were kept busy throughout, and the legal ramifications were still spinning out a couple of years after the final episode went out. It must be said, though, Grade was broadly supported of the risk and the gamble of Brass Eye. Channel 4′s remit back then was to challenge, to provoke debate and offer a truly modern way of broadcasting with a strong focus on the arts, so really, Grade had little choice but to put the show out. The shake up was long overdue.Comedy needed it. The world of television needed it. And we, the viewing public, needed it. In some ways, we still do.
The way TV is made and broadcast has changed so much since 1997, but the Oxide Ghosts screening didn't feel sentimental or nostalgic. It felt like just another chapter of a fascinating story. A real one-off in the truest sense. Mike Neary's conversation with Michael Cumming was a perfect example of that. Cumming seemed genuinely thrilled that people still care about this groundbreaking period of his working life. He clearly feels privileged to have played his part. Just as we were to have the opportunity for that final sneaky glimpse under the curtain. Nothing quite like it will ever happen again. And that's a good thing.
Comments
comments