As 80s survivors Blancmange prepare for a short UK tour, Getinothis' Banjo looks into why this should be a must see gig.
Blancmange have always been a little, well, odd. They first came to the nation's attention as part of the 80s synth pop revolution, but even they then never seemed to fit in with their peers.
Not arty enough to be aligned with Visage or Heaven 17, too scruffy for the likes of Depeche Mode or Human League and too funny for the likes of Eurythmics, they were left to plough their own furrow through the early 80s. The songs they created were inventive, dancey pop with arch lyrics, sang by Neil Arthur with an oversize suit and a knowing grin. Blancmange were great fun.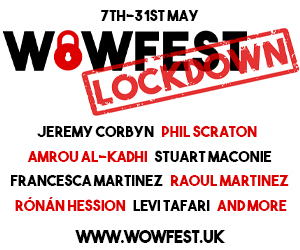 They were also very popular. This writer remembers seeing them at the Futurama Festival in Deeside Leisure centre back in 1982, playing after New Order's headline slot. I can clearly remember thinking that, as New Order's audience started to drift away, poor Blancmange would end up playing the a near empty hall, but then a strange thing happened. Blancmange, it seemed, had their own audience, and as one crowd left, another filled up stage front and they played to one of the largest non-headliner crowds of the weekend.
Then only on their 2nd single, God's Kitchen, Blancmange were already on the verge of crossing over from cult band to chart stars.
An impressive run of singles followed. The excellent Feel Me was followed by their breakthrough 4th single, Living on the Ceiling, which was a worldwide hit. Their debut album Happy Families summed up everything that was good about the best of synth pop and comes strongly recommended.
But, the fickle finger of fashion never lingers long, and the synth pop pioneers soon found that they were out of favour. After album 3, Believe You Me, Blancmange decided to call it a day. By this time they had proved so popular that their farewell gig was held at the Royal Albert Hall.
Then, after a 25 year absence, Blancmange decided to reform. Again catching them at a festival, I was lucky enough to see this return for myself at 2011's Bestival, where they delivered updated, gutsy performances of their hits and new songs in one of the festival's highlight sets.
Since then, instrumentalist Stephen Luscombe was forced to leave the band due to health issues, leaving Neil Arthur to carry on with Blancmange as an almost solo project, bringing in other musicians where needed.
Latest album Unfurnished Rooms sees Blancmange still going against the grain. Where a retread of earlier glories may be the safe option, Arthur has continued to release music that does not fit easily with his peers. Blending 80s technology with more modern sounds, Unfurnished Rooms is an odd gem, full of personal lyrics delivered in Arthur's still present northern brogue.
That Blancmange are still releasing records this long after they started is surprising enough, but that they are this strong, this individual and this good is nothing short of amazing.
Full tour dates are:
Birmingham – Hare & Hounds March 8
London – Under the Bridge March 9
Sheffield – O2 Academy March 22
Manchester – Band on the Wall March 23
Liverpool – Arts Club March 24
Norwich – Waterfront April 8
Comments
comments