80s synthpop legends Heaven 17 brought the party to Liverpool and Getintothis' Del Pike was there to enjoy every damn second.
The idea of 80s revivalists may be enough to turn some folk to drink, but there are exceptions to the rule. Sheffield Electronica icons Heaven 17 have every right to still be performing 35 year old music when it is still as relevant and powerful as their debut album, Penthouse and Pavement.
The first half of tonight's show (not a word to use lightly but it was a show in the best sense of the word), was made up of a track by track retelling of that great album, with a few minor tweaks. Opener (We Don't Need This) Fascist Groove Thang has never sounded so relevant in these Brexit / almost-Trump times.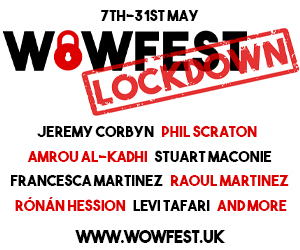 Released on the eve of Ronald Reagan's succession to presidency in 1981 and during the reign of Mrs Thatcher, there is more than just a sense of deja-vu at large. Lines like "Evil men with racist views / spreading all across the land" and "History will repeat itself / crisis point we're near the hour" resonate hard in 2016.
Penthouse and Pavement and Play to Win were sharp observations on the yuppie culture of the early 80s, a half-ridiculed movement that, as Dominic Sandbrook points out has, become the norm, (Filofaxes and mobiles = smartphones). We have all unknowingly become those office-bound train-monkeys, tied to our work via social networking and outlook accounts however much we wish to play hard.
The delivery of these songs is so true, Glenn Gregory still means every word with ridiculously high leg kicks and deeply intoned vocals that sound even better than back in the day, punctuate each relevant point.
The opening theme music and dialogue of A Clockwork Orange that welcomes the band to the stage is not just there to remind us of where they got their name from, but also a massive I told you so, as we rapidly decline into a Burgess-like dystopia.
Despite these warnings from history, the atmosphere tonight is incredibly positive and Glenn Gregory and Martyn Ware are bringing a party that really did need to come to Liverpool first. When we interviewed Gregory earlier in the year he wanted to make it so clear that the decision to start the tour here was vital and unanimous. They make it abundantly clear throughout the night that they love the city and the crowd blatantly love them back.
As they rattle their way through the remainder of the album with absolute class, one false start and the rest is perfect, we are reminded of what a great (lost?) classic this is. Soul Warfare is hard hitting and funky as hell, Geisha Boys and Temple Girls is campy and Let's All Make a Bomb is another track that has become even more pertinent in the 21st century.
The Height of the Fighting calls for mass audience participation and Song With No Name gives the duo an opportunity to reminisce about sharing studio time with The Human League. We are told how both bands worked alternate twelve hour shifts in the same space on Penthouse and Pavement and Dare.
As Heaven 17 was the lovechild of a fall out between the members of The Human League, there is much playful jibing at Oakey's band. The recording of Song with no name apparently led to the band messing with the labels on the mixing deck to confuse their rivals.
Dare was the most successful of the two albums by far, leaving Heaven 17's Penthouse in the shade somewhat, which is a shame as closing track We're Going to Live for a Very Long Time is equally as worthy as anything from Dare.
A bonus outing of Let Me Go, dedicated to Sumo on the front row who was enjoying his 150th Heaven 17 gig, is as fresh and sharp as it always was, when NOW albums were still called Now That's What I Call Music.
During Heaven 17's golden years, Martyn Ware's side project, British Electric Foundation (B.E.F.), provided an alternative take on the electro scene. Recruiting seemingly random vocalists to perform cover songs over Ware's arrangements was an inspired move; a star-studded karaoke. Many see Tina Turner's involvement in the project as a pivotal point in re-launching her career. The good (Sandie Shaw, Billy Mackenzie) and the bad (Gary Glitter!!!) proved there was life in some grand old songs and the album, Music of Quality and Distinction Vol. 1 became something of a cult favourite.
After a short interval, the Heaven 17 hoardings are changed to B.E.F. and the same band appears but under a different guise. Gregory is replaced by the former beehive (now less impressive) wearing Mari Wilson. Starting with her 1983 chart hit Just What I Always Wanted and following on with a romping version of Fontella Bass's Rescue Me, Wilson wins over the crowd by chirping up "I'm married to a scouser so I know what you're like"
Martyn Ware, resplendent in gold lamé jacket, takes on the role of variety club compere and his camp intonations would make him perfect for a BBC Saturday teatime in the 70s. It's mad, but it works. Seemingly random singers come out do one song of their own and a popular standard and make way for the next one. This really could catch on.
Peter Hooton's up next with All together now, a song which Ware compliments by heralding it one of the best songs to ever come out of Liverpool. Peter loves it and starts jibing the other members of The Farm in the audience "Sounds good this doesn't it?" It's a bit surreal to see Carl Hunter stood in the audience nodding away to All Together Now but it's that kind of night. A blinding version of Bank Robber concludes Peter Hooton's set before former Sex Pistol, Glen Matlock takes the mic, banging his head on it. "He's a big bloke isn't he", he fires back at Hooton.
Looking strangely mellow with his grey tache, Matlock pleases the crowd straight away with a faithful rendition of Pretty Vacant. Brilliant stuff. The strangest moment of the night is upon us however. Odd enough seeing a Sex Pistol on stage with Martyn Ware, but his second song is off the scale. At first it's hard to tell what it is. An old time RnB singalong??? Yep, it's Pharrell's Happy.
Who would have thought that those serious, suited Sheffield lads from the 80s could bring on such a fun night in this dourest of years?
Glen Matlock is replaced by Glenn Gregory once more singing a Glenn Campbell song, the first song Gregory and Ware ever recorded together as B.E.F. prior to Heaven 17. Wichita Lineman is just stunning, the surprises never stop. Holding an acoustic guitar, Gregory makes an impromptu decision to play a pared down version of Don't You Want Me? It's uncertain if this is a piss-take or a homage, as Ware complains "This is going to cost us in PRS"
A Bowie tribute was almost inevitable and Ashes to Ashes may have been better without Gregory attempting to emulate the Bowie warble, but it's faithful and moving.
As promised in our interview with Glenn Gregory, an equally inevitable Temptation is delivered with so much passion and energy it's hard to believe this is a man nearing his sixties. The backing singers come to the fore in a wailing, beautiful cacophony and Gregory weaves between them purring Donna Summer's Love To Love You Baby, segueing into the opening lines of their biggest hit. The crowd takes over and the party reaches its natural climax.
A one song encore is all we need, and what a choice. In tribute to the recently deceased Colin Vearncombe, all the guests return to the stage to join in on a moving version of Black's Wonderful Life. It's stirring stuff and a beautiful tribute to one of our own.
It's difficult to imagine anyone going home disappointed tonight, with Heaven 17 delivering not only a seriously political album in these darkest of days, but also succeeding in bringing the closest thing to an old time variety show to town. They enjoyed it; we enjoyed it, goodnight and thank you.
Pictures by Getintothis' Keith Ainsworth
Comments
comments