Oh, L'Amour what a to do when eighties synth pop legends parade into town, Getintothis' Howard Doupé hotfoots it to the Phil.
Are you sure they've got the right venue?
Erasure, in the Phil, surely someone's made a right mess of billing this particular eighties chart conquering heavyweight duo, champion of the LGBT community known for their vibrancy, colour, and flamboyance.
Surely a club venue is where their faithful fans would flock? Known for their tours of yesteryear where burlesque costumes and glitzy-glam were a-go-go, can an all-seated concert hall really be the right ticket?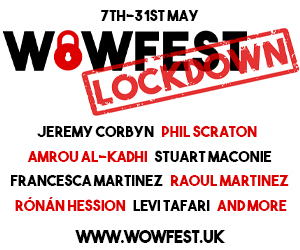 As the Philharmonic was still filling up Bright Light Bright Light kicked tonight off with a blast of colour and energy. Turned into a live three-piece, Rod Thomas certainly knows how to engage and own a stage. Heralding from a small Welsh mining town it's clear to see how he credits Erasure as being the inspiration for his own brand of nu-disco synthpop. The up-tempo delivery matched only by his multi-coloured two piece suit.
With synths rooted firmly in American RnB, any one of their tunes could be lifted off a dance floor montage scene from any generic eighties feel good box-office blockbuster. In fact one tune directly inspired by Kim Cattrall's performance in Mannequin. With sax solo's making you want to throw on a skin-tight white vest and fist-pump the air to a chorus' of 'whoa' – pop socks and day-glow sweat bands are all that's missing from this feel-good performance.
Set highlight Open Heart from 2014's Life is Easy was the perfect example of bringing a sound so associated with a past era and blending it into a more modern progression.
Bang on ten to nine the lights go down revealing silhouetted dancers in 10 foot neon-edged frames moving to the theme tune of Tales of the Unexpected. In a blink Erasure fly into the instantly familiar Oh L'Amour followed by Ship of Fools, they sound fresh and joyous. Each one earning a crowd singalong- can these tunes really be thirty years old? Come on, surely not?!
Dancing back and forth through their admirable back catalogue you're reminded of how much Erasure are responsible for shining the pioneering light on how synthpop could nestle into our everyday listening. These other worldly nuggets that would evolve into mainstream sounds that we hear in so many contemporary tracks.
Just a Little Love was tonight's first track out the gates from last year's World Be Gone, a true Erasure classic that would have sat just as comfortably on their 1986 debut. 'Your colours are magnificent, from Magenta to bright blue' sings Bell during In My Arms from 2003's 'best of' compilation, Hits!
It's the old classics that the crowd have evidently come to hear and it's Chains of Love that gets everyone on their feet. Wham!, it's this moment that the Phil reveals its masterful self- the bass reverberates through your chest giving the track an immediacy your memory doesn't recall it ever having.
Whether the sounds venture through synthpop, to techno and soul it's that unmistakable voice that underpins each delivery. At one point Andy Bell expresses a shred of doubt as to whether this 'southerner can come (to Liverpool) and entertain'. Well, if they're voting with their feet, going into Victim of Love causes a stampede.
The persistent dozen gathered at the front of the stage, refusing to move are welcomed with a Cilla-style 'meet and greet' led by Bell. One by one down the line stories are told of the reasons people have come to the show- some travelling miles. It's not surprising that there's an eager fan who hedges their bets at stealing a cheeky kiss. Cue the amateur dramatics!
Ending their set with Sometimes and the obvious following encore, tonight felt more like the delivery of a birthday gift- full of warmth and sincere thanks. After thirty years of making music there's much to be thankful for.
Photos by Getintothis' Warren Millar
Comments
comments