Back with another new music roundup, Getintothis' Matthew Wood enjoys a super strong week for music across the British Isles.
Single of the Week
Kidsmoke – Sister Sadness
Hailing from Wrexham, North Wales, Kidsmoke are equipped with crisp and serene shoegaze-tinged pop tunes.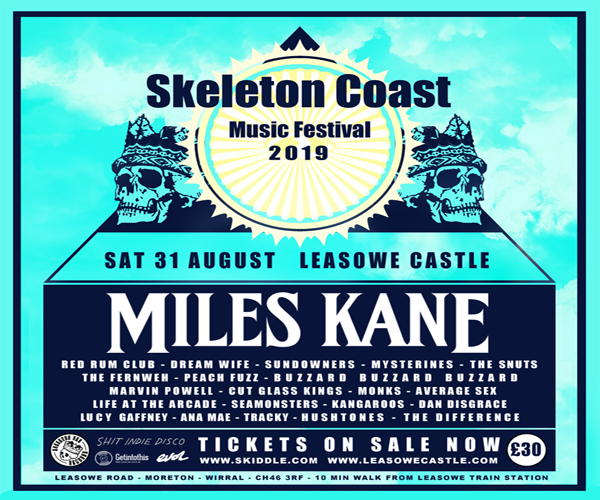 Sister Sadness is instantly gratifying. Glittering tones, soothing vocals and oozing nostalgia combine and encrust this uplifting, yet subtly somber number.
"Sister Sadness, send me to the moon, in the waiting room" shines the chorus, finding momentary beauty and escapism from solitary sadness.
Hookworms – Each Time We Pass
Leeds-based psych heads Hookworms released their third record, Microshift this month and Each Time We Pass is like nothing we've heard from them before.
While we're used to their hypnotic concoction of delayed yelps, intensely burning synths, and pulsing percussion, here they've painted a serene dreamscape opting for sugar-coated vocals and swirling atmospherics.
What differs further is the song's mellow tempo, plodding without care on a buoyant beat while the lyrics recall Ben Gibbard of Death Cab For Cutie; light in delivery yet doused in emotion.
Fear not if you were craving some lunatic lashings of psych to demolish the weekend to, there'll be plenty more where that came from, but for now wallow in the versatile capacities of one of the best British psych bands to date.
Frank Turner – 1933

Frank Turner is back. And with this leaked offering from his 7th studio album, Be More Kind, he makes a gallant return to former glory.
1933 is a militant tune: a response to an article that referred to the alt-right movement as 'punk rock', Turner describing it as a 'traditional angry punk song.'
And he isn't wrong.
Begging us to listen to the lyrics which convey underlying political themes, provoking socially charged thoughts that rouse the listener to question everything, to stand up for what's right, and to take off their proverbial blinkers.
It's not Love Ire and Song, it's more progressive than that – and it definitely sticks.
With an infectious drumbeat holding the whole song together, and a hook that is reminiscent of tracks from his first few albums, Turner's recognisable voice spits out his aggressive, accusational lyrics, climaxing in a chorus that audiences will surely be shouting back to him during his upcoming tour. – Words by Getintothis' Amy Farnworth
Half Waif – Keep It Out
Nandi Rose Plunkett's synth project Half Waif began out of a period of disarray, a method of healing and self-repair, and for us as listeners it had similar effects: blissful, expertly weaved tracks combining largely modern sound motifs with more traditional, folk melodies.
Keep It Out continues in a similar vein, well textured with bubbling synths that tickle the eardrums while well-trained vocal soars effortlessly through crystallised melodies.
Building with intensity, we are then launched into a mighty chorus, hammering guitars and atmospheric synth work create a whirlwind of sound, Plunkett's vocal our clear beacon of light through to the eventual calm.
 Cosmo Sheldrake – Wriggle
I don't know if any of you used to play Insaniaquarium but they should definitely remake it with Cosmo Sheldrake's very own artwork and music.
By far one of the most progressive, unique artists in the industry, Wriggle comes with sounds of the orient. Various wind instruments chatter as Wes Anderson-esque fishes sail past and will feature on his upcoming record The Much Much How How and I, out April 6.
The multi-talented Londoner marks this one again with his trademark, nursery rhyme style vocals; simple in their rhythm and oddly infectious, urging us to 'get a wriggle on, have a sing-a-long, put some pickles on(?) and play the mellotron'.
All in a days work…
Peace – Power 
Following up From Under Liquid Glass, our first flavour of Peace's new material and the most in-depth insight into Harrison Koisser's psyche, the B-Town quartet have penned this empowering anthem that'll without doubt be the perfect tonic for some, and infuriate others.
Inspired by a ferocious lightning storm, Power is indeed electrically charged. The hefty chorus sure to be resounding around Leeds & Reading Festival and on the lips of every 15 year old 'indie kid' this summer is their biggest yet.
Overly polished and complete with booming fills, Douglas Castle's simmering guitar work, and Koisser's velvety smooth vocal; Peace once again keep it simple and prove it's all in the delivery.
DZ Deathrays – Like People
Admittedly DZ Deathrays fell of my radar a while back, Bloodstreams was a top record and the Aussie duo have just released their third record, Bloody Lovely, which sounds even better in an Aussie accent and is rife with clamorous, ball-busting riffs.
Like People is a super-tanked up track, opening with a sludgy, hammered out guitar riff and dropping into a grimy verse with lead vocalist Shane Parsons snarling 'I don't really like people'.
It's the chorus that becomes central to our attention, tittering on the boundaries of hardcore punk and surf, met with a positive change of heart from Parsons and something quite 'Cribs-y' about its delivery, it'll be rattling around your bonce for a while I'm sure.
GoGo Penguin – Bardo
Last week saw masterful jazz/math rock trio GoGo Penguin release their fourth record A Humdrum Star on Blue Note Records.
From University of Manchester jazz nerds to modest rock stars, the Manc wizards continue to carve out mightily complex pieces with an enduring appeal to the mainstream; both ambient and infectious.
Bardo feels typically spacious and tranquil, mind-muddling piano parts hark to elements of trance and the Hacienda nightclub scene, while sublime double bass and drum parts sketch out musical riddles for you to try and bend your head around.
It's in their power to make such frantic and high tempo work, that you'd think would be beyond human ability feel (and look) so effortless and relaxing.
Comments
comments