As Once And Future Band land their time-travel machine in Liverpool for the night, Getintothis' Mark Rowley finds the spirit of punk DIY.

For a band that cooks up a stew of 1960s pop and 1970s psychedelic prog-rock, Oakland quartet Once And Future Band meld a mix of influences from the past, to forge a fresh noise for the present.
On the penultimate night of a two-week UK tour promoting their debut, self-titled album for Castle Face Records, the band were clearly happy to be performing in the home of The Beatles, a major influence of theirs.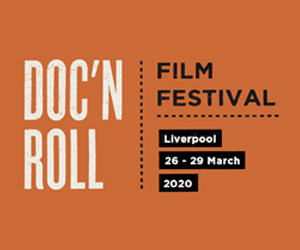 The mushy pulp of Electric Light Orchestra, Supertramp, Barclay James Harvest. Yes and Queen, (all bands to which comparisons have been drawn with Once And Future Band), would be enough to send most of us diving for cover.
That list is likely to cause shivers to the spine and be a nightmare to restful sleep for even the most tolerant of folk, but especially those amongst us with memories stretching back to the 1970s and beyond.
Thankfully, punk rock came along to save us, whilst blowing these bands into oblivion; along with Elvis, Beatles and The Rolling Stones. Well, for a short while, at least!
The DIY spirit of punk however, does remain throughout music to this day, and is something that Once And Future Band rather curiously appear to embrace, with their simple set presentation and pub rock-style approach.
A piece of jazz-clarinet music welcomed the band on stage, prior to frontman Joel Robinow's greeting and introduction to the first song, The Old Brain, which was all about 'stickin' it the man, right' … cue plenty of cheers!
Whilst the hour long set was incredibly tight, showcasing the band's superb rhythm section, fine instrumental jams with highly-accomplished musicianship; not least during set closer Brain (Watching Your Eyes) from the Brain EP reissue, the band's sound really appeals to a niche prog-rock audience.
That said, Once and Future have the potential to fill arenas (just like some of those aforementioned bands do), which makes seeing them in a small independent music venue such as The Shipping Forecast, a pleasing aspect.
Also on the bill for this evening's entertainment were Rongorongo, The Blurred Sun Band, and Jamie, a carefully curated lineup of Liverpool-based acts put together by Harvest Sun Promotions, all complimenting each other.
Rongorongo filled the role of main support perfectly, with their brand of mid-tempo, mesmeric killer tunes. The six-piece have a large following in Liverpool, as was clear by the numbers that had turned up especially to see them.
In a set shorter than we've become accustomed to seeing the band play, Rongorongo wrapped up their slot with crowd favourite, Slice Of Heart. With its slow and intense build up, and frontman Mick Chrysalid menacingly resembling a wily bird of prey, a controlled guitar whine echoes eerily throughout, as the imaginary slice is cut and taken.
Just after their set had closed, a random conversation was had with a chap who had never seen nor heard of Rongorongo previously. He was advised to find the band on SoundCloud, hit play, sit back and listen to a run of ten tunes on the bounce.
Prior to the main support was a very pleasant surprise in the calming sound and vibe of quartet, The Blurred Sun Band. Describing themselves as a psych-jazz ensemble, their sandal-sock rock was heart-warming and endearing.
After starting out by their own admission as a set of musicians attempting to emulate the sound of Tame Impala, the band has clearly matured with a much more progressive, experimental and improvised sound. The influence of jazz is very evident, and attempts at jazz-scat during their set are to be commended.
The Blurred Sun Band has the talent to develop further, particularly as they offer something that is a marked difference to everything around them.
First act of night and charged with the responsibility of warming up the crowd was Jamie. A side-project of Wild Fruit Art Collective's Jamie Roberts, this was Jamie's second live performance. The performance had plenty of highlights, and from the buzz at the end of the set, their mission was achieved. For each song, the number of band members varied as did the instruments played, with synth and sax added at different intervals.
Jamie also featured a guest appearance by Beija Flo, confidently showcasing her newest release, Mary. Last song of the set, Blood Boy had Jamie sounding quite Morriseyesque. The introduction to the song lead us to deduce that an improved libido might be achieved by injecting blood from young people into the old … Blood Transfusion Service please take note!
Photos by Getintothis'  Lucy McLachlan
Comments
comments