A summer of exciting new finds is ahead as festival season begins and the Getintothis team have got their hottest April picks, giving you a flavour of who to look out for when you're in the fields. 
The joy of discovering new music never diminishes for me. It doesn't matter how many years I have been consuming and chasing music, finding that song or track that instantly buzzes the brain and kicks off endorphin rushes is a continual joy.
If I was to over-sell this sensation I would be saying it's akin to an Edwardian explorer emerging into an ancient jungle clearing and discovering a long-lost Mayan temple, a building that could be Eldorado or an ancient hellmouth – all very Indiana Jones.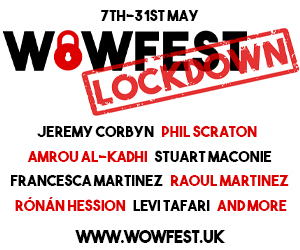 That is the excitement, the thrill. Then telling people about this discovery just adds to it all 'cos sharing is good right? This is why I write Unknown Pleasures, this is why I produce my own music show every month, sharing new and undiscovered sounds.
It would probably have been around 1984 when I really started to expand my listening beyond the confines of Radio 1 or Top Of The Pops. From around 1985 for about three years commercial music really took a nosedive.
'85 in particular was a poor year for music (certainly music played on the nation's favourite radio station and beamed into homes every Thursday evening). So I started to explore. John Peel, obviously, was a huge help and it was through his shows and trawling fanzines (Music From The Empty Quarter anyone?) and magazines that I started to collate a knowledge of the underground.
It all started with Cabaret Voltaire and the album Micro-Phonies. This was me breaking out beyond Depeche Mode, Gary Numan and a whole slew of synthpop bands to find pastures new. The Cabs (as I like to call them) were my first dalliance with industrial which lead to Skinny Puppy, Front 242, Frontline Assembly and Ministry.
Unknown Pleasures #158 ft. The Holy Knives, Bear With Me, Saltwater Sun
Novelty records were everywhere during the 80's, particularly the mid 80's and it was this drek that spurred me on to find something new, unusual and weird. The memory of naively taking into school at the age of 12 my Star Wars soundtrack album and innocently offering it to be played on the last day of term in our music lesson and the stinging rebukes from my classmates at how 'uncool' this was still haunts me today.
I am the eldest of three so didn't have an older sibling to draw the cool sounds from, I had to forge my own path. Friends tended to listen to exactly what I was listening to and where thus my own private echo chamber.
My dad's taste in music didn't excite me; Status Quo, Dire Straits etc. However he did open the door of electronic music to me through the Rick Wakeman album The Myths and Legends of King Arthur and the Knights of the Round Table. That album was a revelation to my 10 year old ears and I played the synth solos constantly. My dad also listened to Jean Michel Jarre and Vangelis which further sated my need for electronic music, something I was now becoming obsessed with.
And then a couple of years back, on a visit to my parents' home I heard, as I walked through the front door, what can only be described as banging techno pumping out of my dad's office. I was stupefied. There had been no clues that at the age of 73 my father would suddenly embrace techno. When I spoke to him about this he was buzzing, having discovered something new and so different to what he normally listens to that it was a trip for him.
This is the exact same reaction I have when finding new music.
It must be genetic.
With Deep Cuts this joy and reward is abundant. Here we have a collection of new sounds, new discoveries. A feeling harkening back to flipping through LP racks in Probe, finding something similar to artists you already love, hearing a new album being spun on the decks on the counter and asking the staff who it is.
This is the joy of joys. Go out and discover. Be brave, be bold and be like my septuagenarian father and find your new sound. – Mike Stanton
URF – For The Ride
An exclusive hot premiere is gracing this month's Deep Cuts as URF showcase their brand new EP, For The Ride.
The Manchester-based five piece present an amalgamation of dreamy pop guitar, shoegaze listening and intense 90s psychedelia that together create a hypnotic and enticing EP, and one we would urge you to listen to.
The first track on the EP, Say You Don't Mind, plays with the listener as it dips in and out of the above, first lulling you into a relaxing rhythm only to whip you in another direction by planting on a heavy guitar riff and drumming that's more akin to a metal track than the emotive retro sound the rest of the track has.
The next track, Night Driving, is, like the other tracks on the EP, underpinned by a dystopian feel. The track builds in the same was as Say You Don't Mind, with lead singer Abbi Parcel's hauntingly mesmerising vocals over-laying each step, leading us to get sucked deeper and deeper in until an abrupt stop jolts you back to reality, then easing itself back over once more with a twangy guitar ending.
Title track For The Ride works along similar lines as the EPs other songs, although this time you're relaxed into the song with a spellbinding intro and lyrics that talk about the unknown, indecision and inner confusion. This is definitely the more emotive of the three tracks as the piercing notes convey precisely an inner turmoil. The second half of the track speeds it into a more intense place as a warping guitar takes over and builds it to the end.
If you're desperate for a band to get excited about, URF is it.
Molly – No Soul Will Remember
Heavenly dream pop duo Molly are Lars Andersson and Phillip Dornauer fresh from the Austrian Alps with a floating yet cavernous post punk sound.
With three EPs under their belt so far, Sun Sun Sun, As Years Go By and Glimpse, the band have gained quite the buzz whilst extensively touring Europe and the festival circuit in 2017.
Their newest release No Soul Will Remember is an ethereal shoegaze track with jangly chorus laden guitars, dreamy hazy vocals and echoing drum beats. What starts off quiet and airily beautiful slowly transforms into a crescendo of shimmering, atmospheric, textured guitar sounds.
With the promise of a debut album on the way, we can't wait to get lost among Molly's mountainous soundscapes.
LUNA – Fire
The last time Getintothis saw Luna, we described her as 'glitchy' and 'unsettling'. New track Fire sees us reaching for new descriptions, as it shows a more poppy, accessible sound.
This is not to say that Luna is light sounding or easy on the ear, hers is a sound of hi sheen and ultramodern pop gloss. Fire is a track that not only takes on the mainstream, it shows that Luna has a place there if she wants it.
Starting with a bass & keyboard pulse, along with a vaguely middle eastern vocal motif, Fire soon gives way to a glacial vocal. The chorus is one that will take up residence in your mind and may not leave for some time.
There is a depth and intelligence here, along with evidence that Luna is aware of the craft of songwriting.  Luna's sound is evidently not one that comes about as a result of endless jamming, but rather as the result of creative mind that applies itself to its art. If there is a certain sound or texture in a Luna song, you can rest assured that it was meant to be there.
After just a few plays, Fire has made me thirsty for more Luna material. One track is simply not enough once the craving has started.
Fire is the kind of song that we should be hearing pumped out of a million speakers and headphones the world over.  This may well turn out to be the case.
Biig Piig – Perdida
Neo soul, electronic hip hop-R&B. How do I describe Biig Piig? 20 year old Jess Smyth, born in Spain, now living in London, her stage name taken from a pizza menu, she's a member of the West London Nine8 Collective. The collaborative group of musicians, artists, clothing designers, filmmakers and creatives heavily influence her work and creative process; meeting the group's founder MC Lava La Rue inspired her move into hip hop. Biig Piig brought out her debut EP – Big Fan of the Sesh, Vol 1 – last week.
Perdida, taken from it, is a smoky sadness of a song, so real you can taste the bitter tang of her cigarette as she grieves for her lost love. We find Smyth freshly post break up, and sucking on a Superkings 'I just wanna lay here, smoke my cig, drink my wine until my hurting's done' she intones, before rapping in Spanish, to get the anger and grief out, who knows?
It's actually pretty nice not to know; breakups can be messy, bloody affairs, perhaps it's more rewarding to imagine. And although we get the confession later 'I should've never let you in', delivered with more urgency, Perdida is a smooth, slow, cool jazzy drink of a comfort to anyone who's done heartbreak, and the first nudge of a formidable young talent.
Monks – Dreamboat
Dreamboat is the debut single from young Liverpool five-piece, Monks. It fuses a range of influences, such as psych, rock, jazz and dream-pop to make a distinct Monks' sound.
It opens with a sample of an old voice reel about dreaming before it picks up its rhythm, and Joe Fay's trumpet curls into the vocals of George Pomford.
Weighing in at a hefty 5 minutes 47 seconds long, the song plays like a journey through different moods in a dream. As it meanders through dreamy synth and psych guitar, the tune periodically returns to the distinctive heavy beat that binds it together throughout.
Towards the end, there's an outstanding trumpet solo, before that familiar beat comes crashing back to eventually fade out the song.
Dreamboat works on so many levels and is a bold and confident statement from one of Liverpool's array of young talented artists. Live Monks are especially commanding and they can be seen at Sound City Festival on Saturday May 5, or supporting The Mysterines in the Arts Club Loft on June 8.
Harry Miller – The 15th 
Having only started his solo career in September last year, Harry Miller has managed to safely secure his place on Liverpool's music scene.
His debut single, The 15th, consists of gently strummed, soft acoustic guitar and showcases Miller's skills to write a good pop song that leaves you reaching for the replay button.
The breezy feel to the song contrasts Miller's harsher vocals, leading to a unique sound.
Last year, Miller came out of a band that he said "had been massively uncommitted to making music." He added: "I just turned my frustration to writing my own music about the last year and all the things I'd been through." If this song is anything to go by, it's a good job he decided to carry on with his love of music.
Sundance Kid – I Just Can't Keep Away
Welsh outfit Sundance Kid have released their first single in the form of I Just Can't Keep Away. The jolty track strikes shades of The Strokes, muffled vocals provide a raw, spare room rock and roll vibe.
Hailing from Bangor in North Wales, Sundance Kid are proud of their routes and record bilingually in both English and Welsh. This is the first work we've seen from the band, and small local dates have dominated their live appearances.
They have a sound that will prove to be popular, though, in the north west. One can hope that more of their work is made available to the masses and they build on what is a solid debut single.
Three From Above – Hail Caesar
Three from Above are a three piece from Liverpool with ex-members of Generation and Gentle Scars in their ranks. They have been making a name for themselves for the last year or so, playing gigs wherever they can, honing their craft on stage and, as a result, are as tight a band as you are ever likely to hear, stopping and starting their songs with needle sharp precision.
On the strength of debut single Hail Caesar, they seem to be mixing classic riffs and vocals with post Royal Blood rock. Hail Caesar will get its riff firmly hooked in your consciousness and may never let go.
Hail Caesar lasts for an impressive 2 minutes and 20 seconds, adhering to the rule of 'say what you've got to say and get out'.  But in that short time, they cram colossal riffs, huge drums, more stops and starts than most band's entire catalogue of songs and an impressive range of screams.
Live however, Three from Above are not all sturm und drang, they have well written songs that are measured and intelligent alongside the songs that sound like they might march up to you in the street and start a fight over your shoes.
Three from Above create a hugely impressive sound and 2018 should see them head for much bigger things. See them now and boast about it to your grandchildren later.
Witch Fever – Toothless
Manchester-based Witch Fever eagerly release their mission statement Toothless – a ferocious dose of raw-fuzzed punk that has long been a highlight of their live sets. Never a band to be pigeon-holed or told what to do or how to do it, their punk creation delivers a sharp-edged blast of angst and grit.
With this live favourite, Amy, Alisha, Annabelle and Alex channel their Pussy Riot and Kim Gordon influences to deliver a deafening slice of shrieking visceral vocals, riff-heavy animalistic drumming sonic sound.
Fully of swagger, intent, purpose and sneer it'll make you want to evaluate whether or not you've listened to a back-handed compliment or a 4-min goading session. Either way, with statements like this I doubt Witch Fever give a toss what you think.
Magnificently so, this is them. They won't be deterred, silenced or labelled. Like it or do one.
Brad Stank – Pond Weed
Brad Stank has proved with his latest release that his talents extend far beyond just being the drummer for rock four-piece Trudy and the Romance.
Pond Weed is a hazy internal monologue come to life as lackadaisical interpretation of one off misty thoughts.
Stank explained it to be "half love song, half diss track to a certain herbal tycoon" as well as "a confessional slice of Saturday morning R'n'B from me to you."
Whether you're a smoker or not, there's something to be said for Stank's messages, proclaiming we should "profite des petites choses; love thyself; be honest and clear about your feelings".
Give this soulful and sexy track a listen on a chill Sunday afternoon to fully immerse yourself.
Luna Pines – Medics
Luna Pines are the Leeds-based four piece who are mixing electronica and pop to form some fiercely intense and poetic creations.
Their latest sings, Medics, is softly hypnotic and ebbing, leading you to believe it's just about to disappear completely before swooping back in with an ambient melancholy. The lead singer's voice is able to hook a listener in like a haunting lullaby while the notes of each beat
The at-first guitar led song soon succumbs to an electronic tone which pulsates into a The Japanese House style crescendo, before ending completely.
The result is a song that wants you leaving more of their unique sound, a requirement of any deep cut.
The Kairos – Flying High
Recent winners of Liverpool Rocks Battle of the Bands, The Kairos, released their first single, Flying High last month, and what a raucous rock n roll debut it is.
The four young lads from Liverpool fuse early The Music with more recent laments of Arctic Monkeys to offer an alternative guitar heavy, drum-loaded track.
Sitting at 5:49, the tune is unconventionally long, however, the echoey riffs, tight drumming, and strong vocals makes it work somehow.
From a 52 second intro that fills your ears with crashing symbols and a trumpet cameo; to the choral climax at around 3:30; right through to an impressive showy display of fret wielding, reverb, drum pounding talent in the 1:10 instrumental at 4:13, the boys chant: "come on, come on, come on, we're flying high, we're flying…tell me are you meant for me," and end the song on a display of rock n roll machoism that is bound to see fans watching
their live set crowd surfing, beer launching and generally causing unadulterated gig-participation chaos.
Comments
comments