As Katy Perry gets set for a Liverpool date, Getintothis' Luke Chandley scours her back catalogue and chooses ten of her best songs.
On June 21 this year, Katy Perry brings her massive pop chops to the shores of Liverpool for what will probably be one of the biggest mainstream shows of the year. Yes, there may be better and sure, there might be bigger, but there's few artists that have littered the charts with more solid gold bangers than Miss Perry herself. And it is along those lines that we bring to you our top 10 Katy Perry tracks.
Firstly, we want to let you know that there's no I Kissed A Girl in here. It's just a bad song. Offensive lyrics. General bad vibe. So let us move on from that.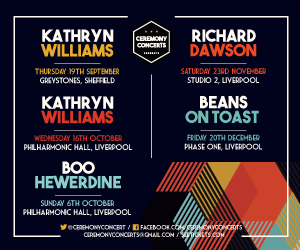 BUT – there are plenty of other songs to dance to, so without a further wait, here's our top Katy Perry tunes in no particular order.
Hot N' Cold
Good God this song is a big one. I honestly can't remember many other songs as catchy as this in the popsphere in recent memory. A mesmerizing electric drum carries the song early doors, with the chorus nestling into your ear-holes before you even really notice then BAM – you're stuck forever singing "You're hot then you're cold, you're yes then you're no…"
Whoever Katy is talking about in this song is seriously indecisive. That, we do know.
E.T (feat. Kanye West)
This song is probably the perfect jam for Kayne to jump in on. You can just see that he would turn his nose up at the upbeat sun-laden tracks of early Perry, and whilst this semi-hip-hop flavoured beauty isn't exactly vintage West, it has all the hallmarks of a KP classic – booming drums, lyrics that don't make loads of sense and a truly gigantic chorus. KanYAY indeed.
Part of Me
A strumming guitar and a powerful (kind of?) message about female strength is what Katy Perry lives for. And that message is pretty empowering and probably resonates well with younger audiences, which is what we want our popstars to do.
Whilst I was listening to this song again during writing, I took a guess at when it was released, and my guess was right: 2012. Part of Me by Katy Perry is the most 2012 song ever written. A song I imagine still does very well on university student nights.
Waking Up in Vegas
Waking Up in Vegas is probably this writers favourite Katy Perry song. It reeks of sunshine Americana and, unlike a lot of Perry's newer material, you can actually hear specific instruments amongst each part. As far as feel-good tracks go, you needn't look much further than this worldie. Extra points for:
The little laugh KP does in between the lyrics "send out an S.O.S" and "and get some cash out" – not sure why but it's really fun.
The fact it makes us want to wake up in Vegas even though Katy and her friend/date have clearly woken up skint, possibly married and they've lost their motel key. Nightmare.
Peacock
We've put this in here because it's a fucking mental song. But it's also a massive tune. Whoever Katy Perry is talking to in this track, she wants to see their "peacock", which we can all guess isn't literally the flamboyant bird we know and love, but in fact something a little more sexual. Although nuance may not be her thing, Perry (or her producer?) knows how to make almost anything sound catchy, and this is no different. I'm going to pop a swift NSFW (not safe for work) label on this one. You'll thank me later.
We love Top 10's at Getintothis- browse our massive archive here
The One That Got Away
Label this song firmly underneath the heading of lovely but tinged with sadness (an elaborate heading indeed). Here, our pop heroine is singing about a love that got away. I've not really got anything sarcastic to say about this. She's pining too much to deserve any kind of gentle jesting here. On your way to the next one, reader.
Firework
You didn't honestly think you would get through this list without seeing this track, did you? If there's a more euphoric, entirely pure pop song out there, we don't want to hear it. The build-up just before the chorus could raise someone from their deepest despair, and the chorus itself was written to be belted out bladdered at 2 am at every Edge Hill University freshers ball for the next 30 years. Also gains points for featuring in under-rated comedy of the decade The Interview. If you haven't seen that film, you're terrible. After this, go and watch. Once again, you'll thank me later.
Teenage Dream
One of the softer tracks in Katy Perry's back-catalogue, but all the same, it's a good'n. A cheery love track, the type we've all got time for (even if we aren't admitting it WHICH WE ARE). Perry does nostalgic pop better than anyone else and it's tunes like this that ensure we'll have some half-decent pop to look back on in 2026 when we realise that everything else on the radio was mostly dreadful. Sorry to get bleak there, reader, but it's true. Blame the Black-Eyed Peas.
Last Friday Night (T.G.I.F)
It's got a bit of a saxophone solo in it. Need I say more?
California Gurls (feat. Snoop Dogg)
Katy Perry's parts in this song are mostly fine and the music makes this a massive banger. Snoop Dogg brings the vibe down quite a lot with his part which maybe shouldn't have ever gotten serious radio airtime ("I'm all up on ya, you're representin' California" is a low point), but we all make mistakes, so we'll let Perry off. The sheer urge to go swimming this song gives us is a testament to how summery it is, and as we know that's really the most important part of any KP vehicle. So even though Mr. Dogg nearly blows it completely, this song sneaks into our top 10.
Comments
comments