Minami Deutsch – the Japanese kosmische, space rockers stormed into town, Getintothis' Mark Rowley was there for the heavenly, aural ambush that ensued.
Despite performing a memorable set at the 2016 Liverpool International Festival Of Psychedelia, the gathering attracted by Minami Deutsch for their return visit to the city was pleasantly intimate, but at the same time, disappointingly sparse.
This was the third and last date of the British leg of the quartet's extensive 6-week European tour, promoting their second album, With Dim Light. Immediately the band took to the stage, the Liverpool community of psych aficionados stepped forward as one, in anticipation of the exciting live show they were about to bear witness to.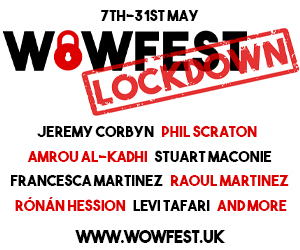 By way of a warm up, the band's first tune was an instrumental that featured a funky psych guitar jam. Following on, their next contained a soaring psych rhythm, which exploded two-thirds through, to ring in a guitar solo that sounded (and felt0 like an electric chain saw, with silencer removed and pickup and amplifier attached.
With obvious krautrock influences (from Kraftwerk to Godspeed You! Black Emporer), awash with motorik driven beats, the band's hour long set showcased a distinctive brand of guitar-drenched, psych-fuzz that contained plently of decibel-high, ear-splitting crescendos, backed by an awesomely proficient and effortlessly tight, rhythm section.
From the country that gave us Datsuns, Mazdas and Kawasakis, before completely revolutionising the motor vehicle manufacturing industry, Minami Deutsch is a pioneering guitar band, at the vanguard of unchartered frontiers and boundaries of traditional psych rock. During the set there was experimentation with improvised jazz inflections, before rounding off with a pumping psych thrash so fast it made punk rock by The Ramones seem like a slow waltz.
The band left the stage to rapturous applause and insatiated cries for more. Hopefully, this wish will be granted at the 2019 Liverpool Psych Fest, following 2018's fallow year.
Support on the night was a short solo set from local Liverpool band Cavalier Song's guitarist and Mugstar collaborator, Luke Mawdsley. Remaining seated for the majority of his time on stage, Luke took us on an ethereal journey through various moods and emotions, aided by controlled feedback fuzz, tremolo effects and oscillating hypnotic vibrato guitar sounds.
The single piece, lasting the duration of the set, was experimental, improvised and as yet, untitled. It was a decidedly pleasant way to get the evening started.
Images by Getintothis' Gary Coughlan
Comments
comments