Roy Orbison came back from the grave in an evening of musical nostalgia but as Getintothis' Luke Vance Barr reports, he failed fully to win over the Liverpool crowd.
Despite passing away 30 years ago, the Big O was back thanks to forward-thinking technology and years of intricate planning, as his hologram paired up with the Royal Philharmonic Concert Orchestra for the In Dreams tour.
Holographic appearances have often caught the eye in recent years, with the likes of 2Pac and Michael Jackson all taking to the stage after death, however, this tour was billed as a first-of-its-kind.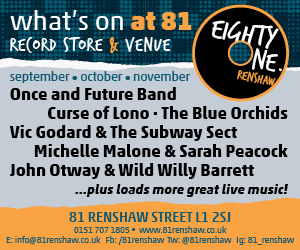 Taking part in the seventh UK date and singing through an hour-long repertoire of undeniable classics, Roy's holographic stand-in did a fine job of getting heads bobbing, toes tapping and hips clunking, however, as we all really knew already, it just wasn't the same.
It wasn't until the closing belter of Oh, Pretty Woman that people really started to groove, although who can blame them? Do you applaud a hologram? Do you shout for your favourite song? Do you call for an encore? The night felt almost like a pantomime but without the panto; apprehension in the air throughout.
Record Store Day exclude Liverpool's 3B Records – shock as indie shop is axed from official list
"We were robbed," muttered one attendee as the lights went up, with the sense of disappointment noticeable after the hour-long gig came to a close. Questionably, Orbison was only on stage for about 40 to 45 minutes in all, which is unforgivable considering the inflated ticket prices.
However, one must appreciate that the show was on point from a musical perspective, containing well-known ballads and some irresistible hits, initially beginning with Only the Lonely and a golden voice could draw anyone in.
Rising up through the stage like a gimmicky-gospel angel, Orbison donned a silver suit and a bright-red guitar, with the confused crowd greeting 'him' with a mix of childlike chuckles and embarrassed excitement.
The sound was unsurprisingly emphatic as Orbison began belting his songs around the arena, with the orchestra supporting his recorded harmonies well along with the soothing backing singers.
Roy Orbison hologram show at The Echo Arena tonight if there are any fans of light entertainment

— Paul_Ed (@eddo75) April 17, 2018
Inevitably, it took time for the audience to relax and re-embrace their resurrected idol, although, normality took over as the classics continued. Running Scared and Crying kept the crowd captivated, while it was also fascinating to witness Orbison's interaction with the orchestra, continuously nodding in their direction and keeping them in check.
The scripted setlist also included well-timed thank you's to the audience, although they were largely futile in keeping the crowd convinced. It was rather their favourite songs that that won them over most. I Drove All Night was a real winner and consequently received one of the biggest ovations of the night.
However, this spell of reality was sadly broken as the hologram took several intervals. Just as the best sections of the gig would get going and the crowd eased in, Orbison would wave goodbye and disappear down his ghost-like lift.
The breaks were filled with orchestral instrumentals and some interesting interviews with the likes of Bono and Tom Petty, although these unwanted intervals were undoubtedly disruptive.
For a gig so short and tickets so steep, fans needed more than just a digital spectacle, proving that full flesh-and-blood input is still essential for live music. Technology failed to triumph on Tuesday and nostalgia met its match, something that will give the holographic masterminds something to certainly think about in the future.
Comments
comments